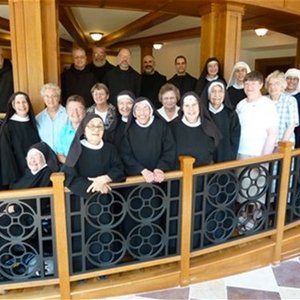 Joy, peace, dedication, and family are just a few words among many that can describe St. Scholastica Priory.
St. Scholastica Priory is named after St. Scholastica who was a 6th century nun and the twin sister of St. Benedict; the patron saint of Europe. There is very little known about St. Scholastica, yet statues and paintings of her are found in monastic churches throughout the world.
Located in the timeless town of Petersham, Massachusetts, St. Scholastica Priory has been affected by the harsh winter weather every year. Each winter season, ice and snow builds up on their patio area of St. Scholastica called the Refectory. This poses a serious danger to their beloved 96-year old Sister as well as to others who enjoyed going out for fresh air.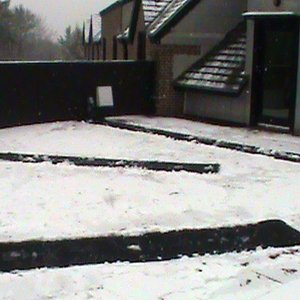 In order to ensure safety and comfort for the residents at St. Scholastica, WarmlyYours donated our Gutter and Snow Deicing System. They also decided to install our HeatTrak Mats so they can have snow free pathways.
Sr. Gemma not only shared an abundance of photos of the installation process but she also kindly chose to share her experience of working with WarmlyYours:
"Three years ago, we decided to install, an outdoor, heated handicap walkway, to the entrance of our monastery. Our building contractor has an account with WarmlyYours and he purchased all the materials needed for the installation. We were so impressed with the end result, and how magnificently the heated walkway works during the harsh winter; even with 5 feet of snow during the winter of 2010-2011, that we decided to approach WarmlyYours once again."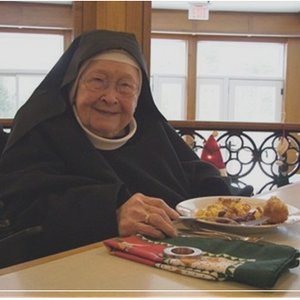 Our walkout garden patio, otherwise known as the Refectory, was proving to be dangerous during the winter months with the accumulation of ice and snow. At first, we were not quite sure, how to approach the needs of the walkout garden patio. Through the professional advice and courteous staff of WarmlyYours, in particular, Chad Braker and Linnay Grosche, and their many conversations with us, we decided on deicing cables for the 3 drains, and on 3 walkout HeatTrak Mats."
Once again, it was a very pleasurable experience, with ease of ordering the materials, installation and set up. The staff at WarmlyYours follows through and really cares about the customer, customer satisfaction, and a job well done.
I highly recommend Warmly Yours and the products they offer, to anyone who has need of them, as they work, and it is a no hassle experience. You will be highly satisfied, and may even find yourself, a "repeat customer," as we did. Now, that's always a sign of good business!"
A pleasurable experience it was, as WarmlyYours can now rest assured that the residents at St. Scholastica are free to be outside safely as well as comfortably.
For more photos of the project, check out our St. Scholastica Album on Flickr.
---
Tell us About your Project
Our team of Radiant Experts is ready to help! Just tell us a little about yourself and your project to get started.
---
Did you find this post helpful?
Let us know by giving it some applause.
---
---