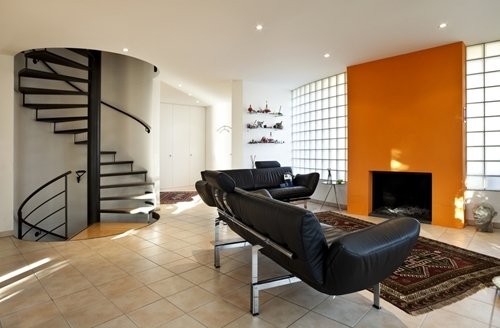 Professional decorators often have insight into what colors will have long-lasting appeal in home design. Trends come and go, but some color combinations stand the test of time. From monochromatic design schemes to rich hues that convey a certain atmosphere, these are combos that turn up as designers' favorites over and over.
Ebony and Ivory
Black and white may be the most classic pair of all. It goes with virtually any accent color, and by itself, has a dramatic, elegant effect. With the right style of furnishings, a black-and-white design plan creates a memorable impression.
HGTV featured one such design for a lengthy front porch on a colonial home. In addition to black shutters and a period wrought iron lantern for lighting, the white home and porch railings were offset by black rocking chairs and a white porch swing with black and white decorative pillows.
Black and white also go well with metallics. These hues may not typically spring to mind for bathroom decor, but any fixture or cabinet hardware would go well with this color scheme. Add a heated towel rack and bathroom floor heating, and homeowners also have the comfort of warm towels and floors when they step out of the shower or tub.
Monochromatic, Light or Dark
Dark colors aren't for everyone, but those who have their doubts may change their minds when they see a dark monochromatic color scheme. Light, single-hue designs give a bright and airy look to a room, but darker hues often have a touch of sophistication.
Homeowners who aren't ready to take the dark color plunge can still achieve the elegance of a monochromatic color scheme in any color of their choice. Different shades of white and off-white are another timeless combination that goes well with any style of furnishings.
America's Favorite Color
Americans aren't alone in choosing blue as their favorite color. Worldwide, about 40 percent of people say the color of the ocean is their top choice, reported AOL Lifestyle. From navy blue to turquoise, it's no wonder that homeowners often embrace blue for their decorating plans.
Both contemporary and traditional design schemes easily incorporate the many shades of blue. From country-style wicker furniture to metallic finishes, there's a tone of this perennial favorite that will goes with many furniture styles.
For a bold accessory hue, homeowners can throw in a few splashes of orange, which is blue's complement on the color wheel. Blue also lends itself naturally to a beach theme, with accents of yellow and sandy brown.
Not Just for Holidays
Many people assume that decorating with red and green makes a room look like it's decorated for Christmas. But it's also a color pair that can range from homey, country style to subdued and elegant. It just depends on which greens and reds one uses.
Don't think in terms of traditional Christmas tones and this color combination won't come across that way. Maroon has an undertone of red and it's a versatile neutral for a host of hues that include green accents.
In a red and off-white color scheme suggested by Better Homes and Gardens magazine, many shades of green can easily be incorporated with a backdrop of indoor plants. With this subtle approach, red and green will work throughout the year without a thought given to the holidays.
Moss green has a gray-green tone that looks particularly good with deep cranberry red, camel, beige and black, and that's just the start of the list that can be matched up with this versatile hue. Light moss green is an unexpected accent, while the grayed-down version works as a neutral.
---
Tell us About your Project
Our team of Radiant Experts is ready to help! Just tell us a little about yourself and your project to get started.
---
Did you find this post helpful?
Let us know by giving it some applause.
---
---