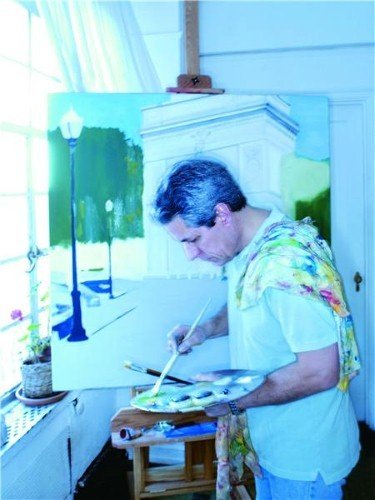 We all have dreams and aspirations that just don't line up with our practical, work-a-day lives. After all, making it as a painter or hobbyist in our current economic climate isn't conducive to supporting a family or even making much of a living solo. Nonetheless, we all need a good outlet for our interests, hobbies and personal pursuits. And given the time and space to pursue what you want to do most, who knows what great experiences may germinate out of it? Perhaps you'll publish a short story, begin selling your jewelry online or have a gallery showing at a nearby coffee shop.
Consider the sorts of spaces you'll want to build around each of these pursuits. But while a writing room and a painter's studio are inherently different in layout and decor, they do share one thing - especially during the winter months - a need for cozy warmth. As you go about your renovations, keep your space green and energy efficient with radiant floor heating.
Writing studio
Writing studios are - for most people - going to be centered around silence and equilibrium. You'll need a good-sized desk to hold your computer as well as plenty of space for your array of note cards, books and whatever else you're using for inspiration. Perhaps lots of shelving will give you enough room to store your favorite books, so you've got them at hand to take down off the shelf whenever you're dealing with. You'll also want to be sure that your space has an arm chair. The key to creativity is having somewhere to relax once in awhile.
Crafts studio
Craft studios require a massive amount of work space, so you may want to consider crafting a large island in the middle of the room on which you can spread your various tools and accoutrements. To hold tools you're not in the process of using, consider constructing some pegboard storage. You'll also want excellent lighting over your work space and numerous drawers and cupboards for extra storage.
Painting studio
Painting is all about light, so rule number one of any painting studio is to be sure you've got plenty of it. Natural light will always be better than artificial, so work with your windows as best you can to let in the maximum amount of full spectrum lighting. Painters will also need good canvas storage, perhaps in the room itself. Why not install a canvas storage rack in a closet space?
---
Tell us About your Project
Our team of Radiant Experts is ready to help! Just tell us a little about yourself and your project to get started.
---
Did you find this post helpful?
Let us know by giving it some applause.
---
---