Sprawling along Lake Ontario's northwestern shore, Toronto, the provincial capital of Ontario, is a dynamic metropolis with a foundation of soaring skyscrapers that serve as a backdrop to the iconic CN Tower. It also features abundant green spaces, from the oval of Queen's Park to the expansive 400-acre High Park with its trails, sports facilities and zoo.
But during the cold Toronto winter those green spaces are frequently covered with snow. Snowstorms, sometimes mixed with ice and rain, can disrupt work and travel schedules, while accumulating snow can fall anytime from November until mid-April. In addition, throughout the winter months, temperatures usually fall below 0 degrees Celsius (32 degrees Fahrenheit). On occasion Toronto experiences cold snaps when maximum temperatures remain below −10 degrees Celsius (14 degrees Fahrenheit) that often feel colder due to the wind chill factor. In fact, they can even drop below −25 degrees Celsius (−13 degrees Fahrenheit). But there's relief from all that cold. Bringing radiant floor heating into your home can easily offset the bitter effects of winter.
Instant Quote and Custom Installation Plan Make Ordering Easy
WarmlyYours free online Instant Quote Tool simplifies the process of getting a quote for any room in your home. Just enter your project information and you'll receive a side-by-side comparison of the recommended products along with their costs.
Although this Toronto homeowner chose the Environ™ Flex Roll option, the comparison shows the selected option along with the alternative choice of an Environ™ Easy Mat.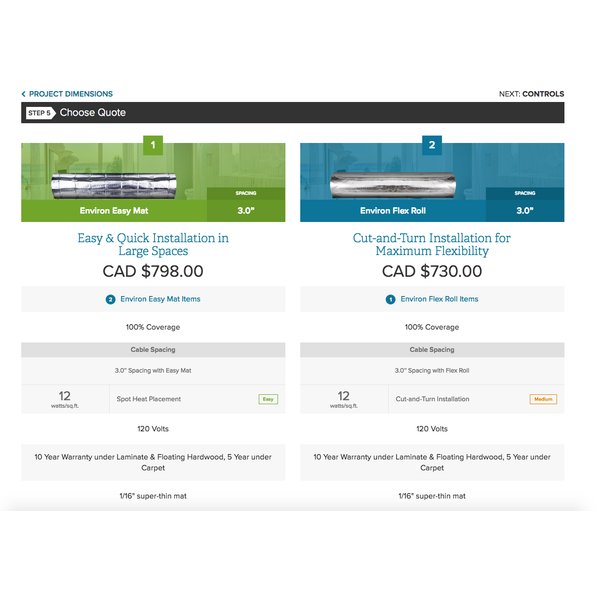 Option 1: Environ™ Easy Mat - $798.00 
Provides Easy and Quick Installation in Large Spaces
100% Coverage
3.0" spacing with easy mat
12 watts/sq ft²
Option 2: Environ™ Flex Roll - $730.00 
Cut and Turn Installation for Maximum Flexibility
100% Coverage
3.0" spacing with flex roll
12 watts/sq ft²
Both options provide the same coverage, but with the Easy Mat you pay more for the quickest installation. The Instant Quote Tool allows you to choose whatever option best fits your budget and your project time frame.
In addition, the tool can give you quotes on more than just in-floor heating projects. With the frequency of snow cover during the winter, Toronto homeowners may want to consider installing a snow-melting system to save them the backbreaking labor of shoveling or plowing snow from their driveways, walkways and patios. Just as it does with floor heating, the Instant Quote Tool will provide product recommendations and their costs for snow-melting applications.
To further assist you in getting your project smoothly underway, WarmlyYours suggests you get a SmartPlan™ custom installation plan for your room. For your convenience, there are several ways to send in your plan; you can submit a floor plan online or send it to your account manager via email (sales@warmlyyours.com) or just fax it (800-408-1100). 
Low Cost Floor Heating Creates a Functional Home Office 
In this case, these Toronto homeowners had recently decided to convert an unused bedroom into a home office. The problem was that the room faced the northeast and was always colder than the rest of the house. Since they had planned to pull up the old carpeting in the room, they decided to replace it with floating wood flooring and add electric floor heating to insure that the room was a comfortable temperature to work in. They chose a 1.5- by 45-foot Environ™ Flex Roll to install in the 112-ft² space for $730.00 at a cost of just under $11.00 per square foot. The Flex Roll consists of an insulated heating cable sandwiched between two layers of reinforced, durable aluminum foil that radiates 12 watts per square foot. (see floor plan)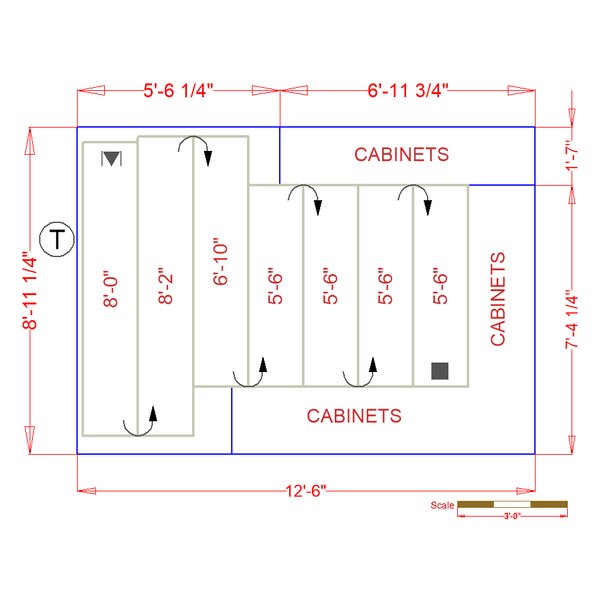 It's also important to take into account the cost to operate the system. According to WarmlyYours's Energy Use Calculator it only costs 40 cents to heat this office for eight hours a day and our Heat Loss Calculator suggests it costs just $29.82 to heat the office during the coldest month of the year. An added bonus is that this system can be a primary heat source for the room without incurring additional heating bills.  
Commercial offices can benefit too by adding radiant floor heating to their office floors so workers are fully pampered during their work hours. Research proves that cold and chilly rooms reduce work efficiency and productivity, so what better way to increase workers' productivity in an office while also providing them with luxury and comfort?
There are several ways to reach us if you have any questions; 1) You can just call us at 800-875-5285, 2) live chat us at www.warmlyyours.com, or 3) email us sales@warmlyyours.com. Whether you live in Toronto or another city that could benefit from heated floors or other related products, www.warmlyyours.com has a radiant solution for you.
Related articles:

Cost for Adding Radiant Heat to these Cold Toronto Kitchen Floors
Radiant Heating Costs for a Milwaukee Bathroom
Easily Calculate the Floor Heating Cost in a Montreal Living Room
---
Tell us About your Project
Our team of Radiant Experts is ready to help! Just tell us a little about yourself and your project to get started.
---
Did you find this post helpful?
Let us know by giving it some applause.
---
---