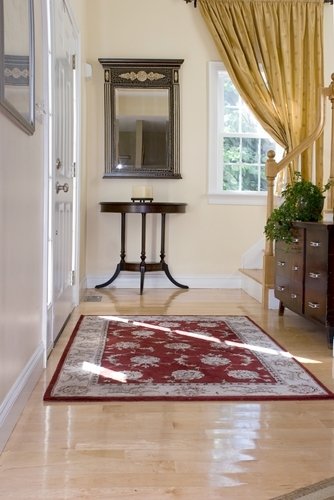 Your foyer is one of the most frequented areas of your home by default. This is where everyone runs in and out of the house, making it a space worth decorating in detail. Doing so can ensure you make a memorable impression on everyone who comes through the front door.
Even if you aren't a professional interior designer, there are a few tweaks that can instantly improve the look and feel of your foyer or mudroom. Radiant floor heating, reflective surfaces and statement furniture can all make a noticeable difference in this area of the home.
Making it warm and cozy
Nothing compares to stepping through the front door and feeling warmth as soon as you enter the house. If you don't have radiant heat in your foyer, installing it sooner rather than later can have a positive impact in this space. Warm floors are not only pleasant to the touch, but create an inviting atmosphere that makes you want to settle in and relax.
Utilizing reflective surfaces
If you don't have an ample amount of natural light flowing through your mudroom, it may feel dark and dreary when you initially walk into your home. In addition to placing a few lighting fixtures in the area, think about bringing in reflective surfaces. For example, mirrors on the wall can create the illusion of more space while bouncing around the existing light in the space.
Choosing vibrant colors
Want to make a big impact in your foyer but you don't have the room to bring in large statement furniture? House Beautiful magazine recommends using color. Bold hues on your walls can do wonders for your mudroom and truly make an impact on everyone the moment they walk into the space. If you're afraid of one color becoming too overwhelming, choose two that contrast each other and use this theme throughout the mudroom instead.
Sprucing up your walls
Just because your foyer isn't a room you'll be sitting in for hours at a time doesn't mean its walls don't deserve a little love! Real Simple magazine recommends displaying photos in frames and picture boxes to add a little personalization to the space. If you have a collection of paintings you would like you display, this is also a great place to utilize.
By taking these tips into account, you can create a foyer that wows your family as well as your guests.
---
Tell us About your Project
Our team of Radiant Experts is ready to help! Just tell us a little about yourself and your project to get started.
---
Did you find this post helpful?
Let us know by giving it some applause.
---
---