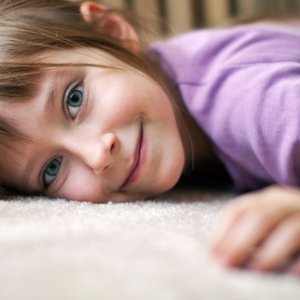 There are a variety of different carpets out there, some more popular than others. When choosing the right carpet, you may ask yourself about the benefits or disadvantages as well as the durability of each carpet type. If you are also considering installing electric radiant floor heating, this choice, along with the other features, plays a big role in your decision process.
When installing electric radiant floor heating, some of you may have more questions if choosing to install a type of carpet that is not as popular as others. Recently, WarmlyYours was asked if wool carpet could be installed over electric radiant floor heating.
To answer the question, we first need to understand the fundamentals of wool carpeting.
Wool is a natural fiber that is biodegradable as well as recyclable. It can absorb about 30% of its weight in moisture without feeling damp and can also absorb some of the moisture in the air, making it feel cooler.
In contrast to the synthetic fibers that are manufactured in long, continuous filaments, wool fiber is a staple fiber, which has shorter filaments wound into yarn that's made into the carpet's pile. Carpets made from staple fibers can shed some of the filaments as they naturally work themselves loose from the yarn that makes up the carpet.
Now, is it safe and effective to install over electric radiant floor heating?
Yes, but keep in mind, when you choose to install wool carpeting it's important to note that since wool has a higher thermal resistance than synthetic carpeting, it may not transfer the heat as effectively. A study was done on 5 different types of wool carpet that were tested over an under floor heating system in a 4m square by 3m high test chamber. The results showed that each type of wool carpet proved to have a high thermal resistance, which actually holds more heat in.
To safely and effectively install wool over electric radiant floor heating, it is best to have the wool carpet at 3/8", which will give it an R-value of 1.575. If the carpet is ½" thick then the R-value is 2.1, a significant increase that will build a higher thermal resistance. In order to find the R-value, a study by the Georgia Institute of Technology School of Textile Engineering, commissioned by the Carpet & Rug Institute, found that the total thickness of the carpet in inches multiplied by 2.6 gives a good indication of the R-value of the carpet.
You should also make sure that if you are installing wool carpet, that the carpet does not have a pre-attached rubber or foam backing because then the backing would trap too much heat. Lastly, when choosing a carpet pad, it is important to note that Bonded or Prime Urethane has the same R-Value of ½" wool carpet which you may want to steer away from. You should stick with pads with a lower R-value such as a synthetic fiber or polyurethane pad or a wool carpet that isn't very thick. The pad should be at least ¼" in thickness and it should also weigh between 6-8 lbs. per cubic inch.
Also note that when making a join (or "seam") in the carpet, always use a good quality heat-bond tape, and use an ultra-wide tape when joining heavy wool or similar carpets.
So there you have it! Although wool may not be the optimal choice for radiant floor heating due to it's high thermal resistance, most carpets are compatible with our Environ II™ electric floor heating system and it is our goal to bring you warmth and comfort in your home under almost any surface.
---
Tell us About your Project
Our team of Radiant Experts is ready to help! Just tell us a little about yourself and your project to get started.
---
Did you find this post helpful?
Let us know by giving it some applause.
---
---