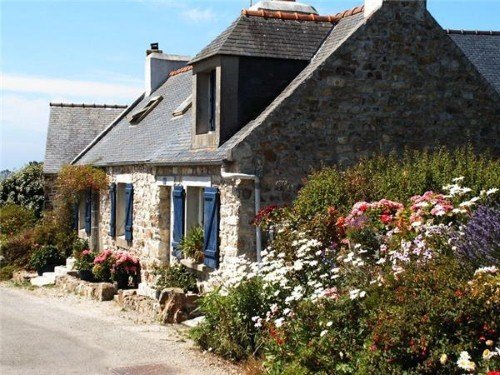 A summer cottage may be the ideal vacation destination for most folks feeling the 9-to-5 blues. But unfortunately, it's not always a viable reality. When the economy, overtime and packed schedules get in your way, how do you find time to relax?
Giving your living room a comfortable cottage feeling can make all the difference. Despite their name, living rooms often feel like austere and unapproachable spaces. While the den or family room may be where all the fun takes place, there's no reason your living room can't be accessible and gorgeous. A cottage aesthetic can help with this - Just consider a few of these comfortable touches along the way.
1. Pick your brand of rustic. When we talk about cottages, we often imagine something rustic and small. But that can take a variety of shapes - woodsy cabin, seaside beach house, lakefront home? Figure out what kind of cottage you're crafting in your living room and go with it.
2. Go antiquing. The aesthetic of a cottage should be that of accumulated décor. Rather than a Pottery Barn shopping spree, gather your fixtures, furniture and stylish decorations from a variety of sources. Antique shops and flea markets are perfect for this!
3. Go green with your heating. You'll want wood floors for your new cottage-like living room, and while you're at it, why not put in some eco-friendly radiant floor heating underneath your new set of planks? The high tech will contrast well with your room's country touch, and you're sure to be warm year long.
4. Go natural with the lighting. Big windows are a must, and to really give your space the cottage feel, try and take advantage of your view. Even if you're looking out on a fence, why not touch that up with a little ivy or a few climbing plants? Take advantage of summer lighting, but have atmospheric back up fixtures and bulbs. Go with a warm orange glow for a comfortable nighttime vibe.
5. Match your furniture with new upholstery. Looking for a great way to get that antique sofa and ottoman to look great together? Upholstery is a fantastic option to tie together a room's aesthetic motifs without having to scour boutiques and eBay looking for the ideal match.
---
Tell us About your Project
Our team of Radiant Experts is ready to help! Just tell us a little about yourself and your project to get started.
---
Did you find this post helpful?
Let us know by giving it some applause.
---
---