Luxury vinyl tile (LVT) and luxury vinyl planks (LVP) are taking the remodeling industry by storm. It's the fastest-growing flooring category, according to Zack Zehner, Vice President of Commercial Hard Surfaces for Mannington Commercial. In a Floor Trends magazine article, he said: "Residentially, LVT has enjoyed strong double-digit growth, even throughout these past few economically challenging years. Like the commercial segment, consumers are drawn to LVT for its incredibly realistic designs, ease of maintenance, superior performance, water resistant, characteristics and installation options."

Floor Coverings International affirms this trend, noting some background information about the growing flooring type. The company explains that vinyl floors first became popular in the 1920s because of its durability and affordability, but in 2006 it got a major makeover. This allowed it to obtain the look of hardwood, stone and other flooring options but with the same durability and affordability of vinyl tile — a win-win for homeowners and commercial offices alike.
"Now, with DIY projects on the rise, LVT's ease of installation has also become a point of sale. The tile can be affixed to the subfloor with adhesive strips, glued down or locked together. Some types can even be grouted for an authentic tile look! Installing a new floor couldn't be easier"
On top of all that, LVT can even accommodate electric underfloor heating. Below are eight steps to do so and get you closer to that luxury look and feel you've been seeking. 
Photo by A & E Flooring 
Step 1: Prepare the subfloor.
Start by clearing the subfloor of any debris. You will also want to dam off any areas like air vents or entryways that you don't want self-leveling cement to flow into.
Then, use a marker to indicate how the heating element will be laid out per your custom installation plan.
Step 2: Test the heating element.
Using a digital ohmmeter, test the heating element to be sure it is fully operational.
At this time, you can also run the cold lead from the heating element up through the thermostat box if it's present. Then, attach your Circuit Check and turn it on.
Step 3: Install the heating element.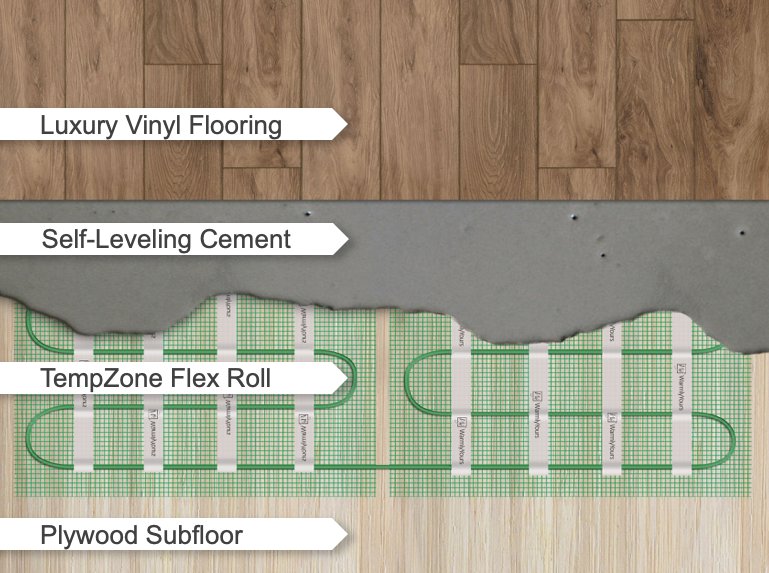 Lay out the heating element according to your installation plan and floor markings. Use hot glue, staples or duct tape to secure the mesh part of the heating roll to the underlayment or subfloor every 6-8 inches, being sure never to staple the heating cable.
This is very important because the heating element will want to float to the top of the self-leveling cement that will be used later in the process. 
Step 4: Place the sensor wire.
WarmlyYours recommends using a sensor wire when heating under LVT, in order to ensure that your floor never reaches a temperature higher than the floor's maximum threshold.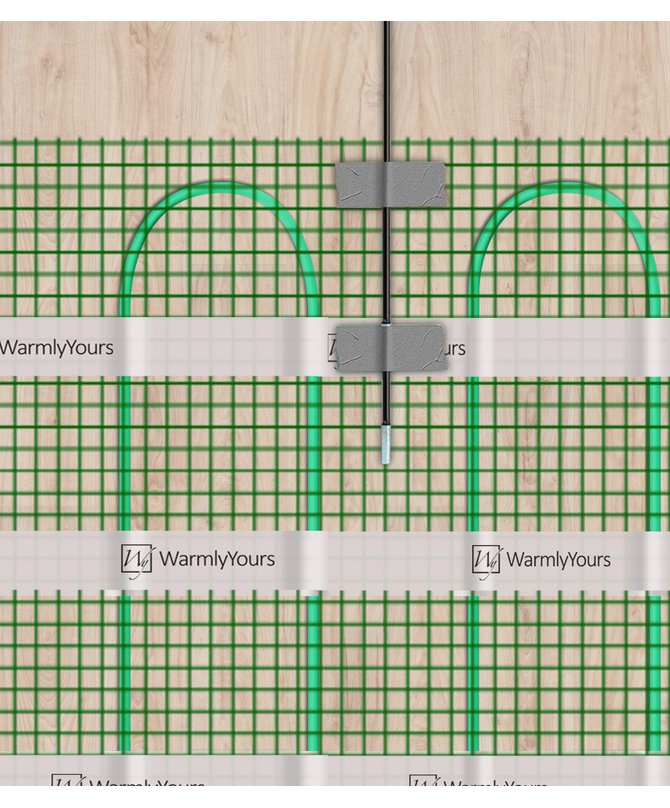 To install the sensor wire, place it at least 6 inches into the heating area and lay it evenly between — and parallel with — the heating cable. It's vital that the sensor wire not cross the heating element. Hold the sensor wire in place by using hot glue. Test the sensor with a digital ohmmeter before and after installation to make sure that the readings are comparable to your previous readings. 

Step 5: Affix cold leads.
A 15-foot cold lead is factory pre-attached at the start of the heating element. This wire will connect to your thermostat, so you'll need to run it above the subfloor, while not crossing over the heating wire on its way back to the thermostat. Secure it with tape or hot glue so that it doesn't move when the self-leveling cement is applied over the heating element. Test the system again using a digital ohmmeter to make sure no damage has occurred. If there are any problems, you want to discover them now — before the cement is applied! 
Step 6: Embed the heating element.
Once you've verified that the system has been fully tested, it's time to apply the self-leveling cement.
Embed the heating element in a 3/8 inch layer of self-leveling cement. This will allow you to obtain a smooth, flat surface for installing the LVT in the next step. 
Step 7: Install the LVT.
Finally, you can install the LVT! As mentioned earlier, this could be done a few different ways — adhered, locked in place, etc. Follow the flooring manufacturer's instructions to see how they recommend it to be installed.
Step 8: Connect the thermostat.
Once the floor is in place, have a licensed electrician hook the thermostat up to the underfloor system and you're in business! Don't forget to setup the temperature limitations on the thermostat according to the flooring manufacturer's instructions.
Check out some of our most popular floor heating thermostats. 
For full, detailed instructions, please reference WarmlyYours's Installation Manual.

---
Tell us About your Project
Our team of Radiant Experts is ready to help! Just tell us a little about yourself and your project to get started.
---
Did you find this post helpful?
Let us know by giving it some applause.
---
---