WarmlyYours is excited to announce the launch of our newest product line, the Marquee Series of LED Mirrors.
The Marquee Series is made up of four unique models, which have each been named after famous actresses from Hollywood's Golden Era. This launch is particularly exciting for WarmlyYours because this series of lighted mirrors represents our first foray into non-radiant heating products. However, carrying these hardwired mirrors is not as great of a departure as it might seem, as they are a natural fit into almost any remodeling project. With nearly 20 years of floor heating experience, WarmlyYours has always felt a close association with remodeling and remodelers.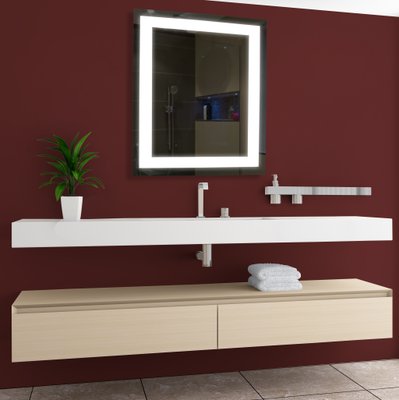 "A lot of our customers are in some stage of a remodel," she said. "We want to be able to provide these customers with everything they need to make sure their remodel is special and unique. The Marquee Series will help to do just that. Imagine stepping into a newly renovated bathroom that radiates heat from the floor and light from the mirror. That's an experience that we knew we had to be able to offer to our customers," said Julia Billen, the owner and president of WarmlyYours.
The Marquee Series models come in both circular and rectangular shapes, which means that you'll be able to find a model that perfectly suits the design theme of your project. While these models are different in their shape and in the orientation of their lights, they all share a lot of similarities particularly in the quality of the light that they emit. The LED light used in the Marquee Series has the same color temperature as natural daylight. What this means is that the light from your mirror won't be overly "yellow" like a traditional light bulb, washed out like fluorescent lighting, or blue like some other LEDs. You can start your day off with the same natural tone as daylight, which has been proven to increase mood, energy, and productivity—which can definitely come in handy in the morning, according to an article by MBA@UNC, UNC Kenan-Flagler's online MBA program.
The Audrey
The Audrey is a timeless, rectangular model with all the linear charm of traditional design with the modern twist of crisp, clean LED light.
-       Classic, elegant shape blends well with any design theme
-       1.5" frosted inner frame warmly diffuses LED light
The Marilyn
We all know that curves are beautiful, and this model proves it. The only circular model in the Marquee Series, the Marilyn is as unique as it is striking.
-       Distinctive, circular shape provides a natural focal point for room design
-       2" frosted inner circle warmly diffuses LED light
The Grace
This mirror isn't just the perfect blend of form and function—it's also a seamless marriage of class and elegance. With its wide lighting frame around the perimeter, the Grace also provides the most light in the Marquee Series.
-       Elegant design provides large, uninterrupted reflective surface
-       3" frosted exterior frame warmly diffuses LED light in all directions
The Ingrid
When it comes to décor, sometimes a light touch is all that's needed. With its two vertical lighted bars, the Ingrid both blends into its surroundings and instantly augments them.
-       Minimalist design easily incorporates into any aesthetic
For more information about the Marquee Series of LED Mirrors, call WarmlyYours at 1-800-875-5285.

---
Tell us About your Project
Our team of Radiant Experts is ready to help! Just tell us a little about yourself and your project to get started.
---
Did you find this post helpful?
Let us know by giving it some applause.
---
---