Toronto, the capital of the province of Ontario, is a major Canadian city along Lake Ontario's northwestern shore. It's a dynamic metropolis with a core of soaring skyscrapers, crowned by the iconic CN Tower. Widely recognized as one of the most multicultural and cosmopolitan cities in the world, Toronto is an international centre of business, finance, arts, and culture. 
While many people are drawn to Toronto for its culture and diversity, the winters can be tough to take. During the winter months, Toronto temperatures are usually below 0 degrees Celsius (32 degrees Fahrenheit). Occasionally there are cold snaps when maximum temperatures remain below −10 degrees Celsius (14 degrees Fahrenheit) and often feel colder due to the wind chill. In fact, temperatures can even drop below −25 degrees Celsius (−13 degrees Fahrenheit). Snowstorms, sometimes mixed with ice and rain, can disrupt work and travel schedules, while accumulating snow can fall anytime from November until mid-April. With these extremes radiant heating is a welcome remedy for warming cold floors anywhere in your home.
Underfloor Heating Raises the Bar in this Toronto Bathroom
These Toronto homeowners wanted to bring the relaxing warmth and comfort of floor heating to their daily lives. Adding in-floor heat to their master bathroom was both an affordable and efficient way to achieve this goal. They installed TempZone™ floor heating cable in their 70-square-foot bathroom for $528.00 at a cost of only $8.12 per square foot to warm their cold tile floors. (see floor plan).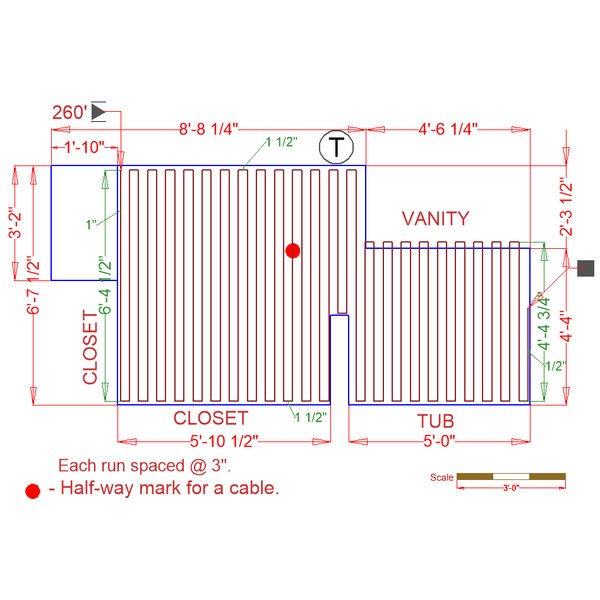 Now that you know the low cost of floor heating materials, check out the economical operating cost. Based on WarmlyYours's Operating Cost Calculator, it only costs 26 cents a day to heat this bathroom for four hours and according to our Heat Loss Calculations, it costs $74.92 to heat the bathroom during the coldest month of the year. Overall, it's a very affordable way to add the comfort and luxury of a radiantly heated bathroom with soothing warm floors while upgrading your home at the same time.
When remodeling your bathroom you might consider creating your own in-home spa with the simple addition of a towel warmer or mirror defogger. To complete the effect, there are shower floor and bench mat heating systems. Your comfort is well worth the small additional cost.
Side-by-Side Comparisons Make Your Decision Easier
You might be interested to learn just how much it would cost to add in-floor heating to a bathroom or any room in your home. You can find out quickly and easily with WarmlyYours' Instant Quote Tool. Just fill in some details about your project and this tool will give you a side-by-side comparison of the recommended products for your room along with the corresponding costs.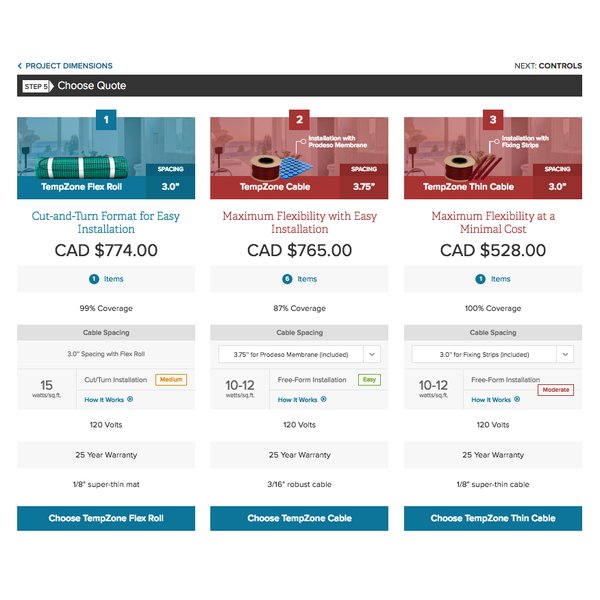 The Option 1 TempZone™ Flex Roll costs more for 15 watts/sq ft², the highest of the three options and offers 99% coverage. Option 2 TempZone™ Cable with Prodeso Membrane provides 87% coverage at a slightly lower cost but has the easiest free-form installation. These Toronto homeowners chose Option 3 with the TempZone™ Cable because they wanted 100% coverage at the lowest price for their bathroom. For information on your own project explore the Instant Quote Tool for yourself. 
Free Installation Plan Guides Your Project from Start to Finish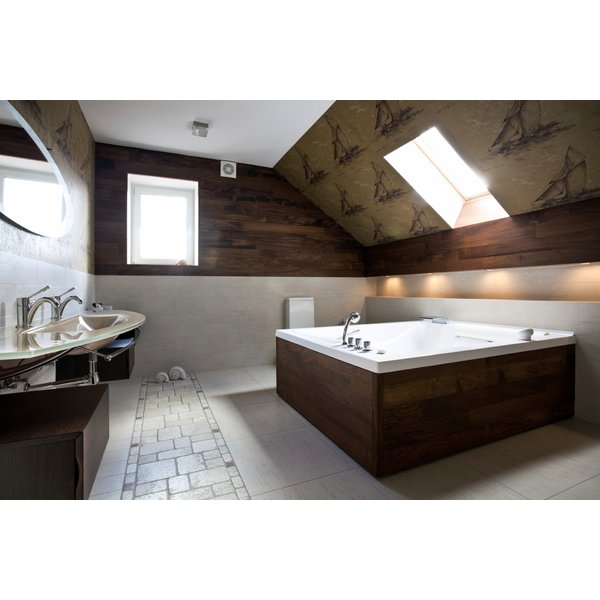 WarmlyYours is committed to ensuring that you start smart. One way is to obtain a custom installation plan for your room. Simply submit a floorplan online  or send it to your account manager via email (sales@warmlyyours.com) or fax (800-408-1100). When you get a SmartPlan™ installation plan, you have all the necessary information to get your project smoothly underway. 
And best of all, when you are ready to install we have 24/7 technical support specialists to help you whenever you need them. If you have any questions along the way, there are several ways to reach us. 1) You can just call us at 800-875-5285, 2) live chat us at www.warmlyyours.com, or 3) email us sales@warmlyyours.com.
Whether you live in the Toronto area or some other place that could benefit from radiant heat, WarmlyYours has a wide variety of solutions to meet any of your needs.
---
Tell us About your Project
Our team of Radiant Experts is ready to help! Just tell us a little about yourself and your project to get started.
---
Did you find this post helpful?
Let us know by giving it some applause.
---
---