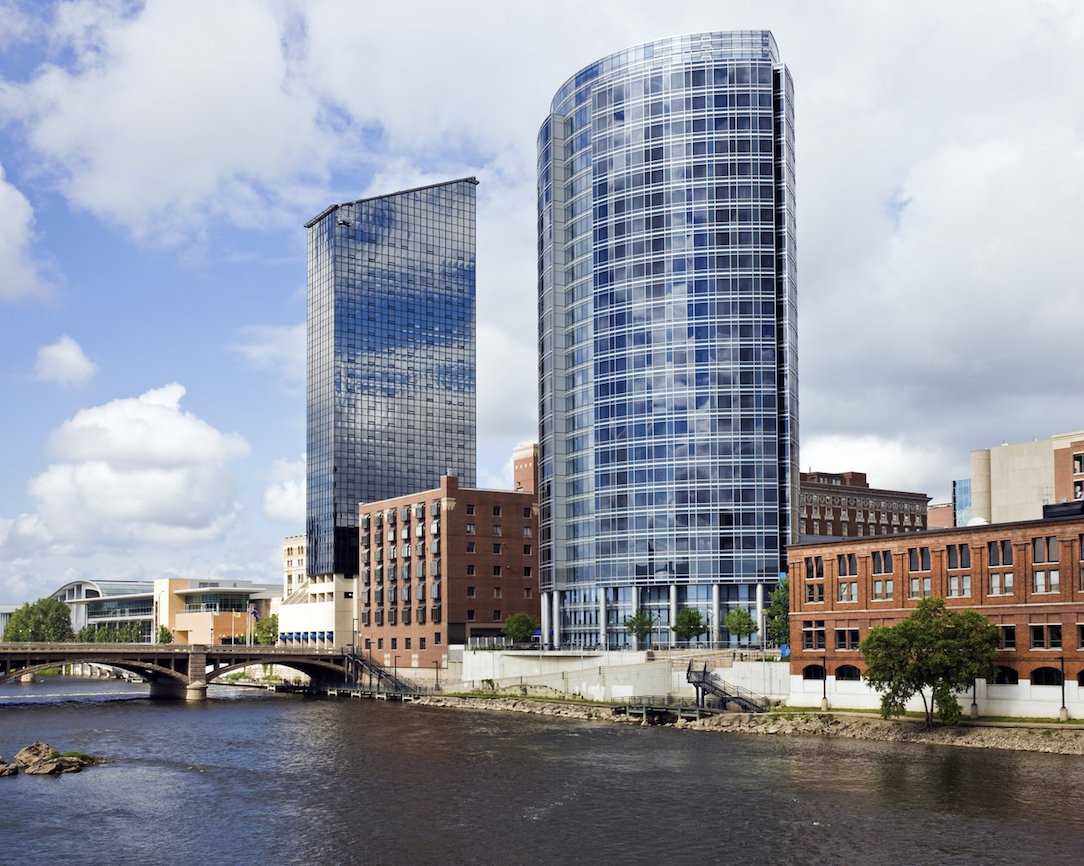 Grand Rapids is the second-largest city in the state of Michigan, and the largest city in West Michigan. It is located on the Grand River about 30 miles east of Lake Michigan. During the second half of the 19th century, the city became a major lumbering center, processing timber harvested in the region. Logs were floated down the Grand River to be milled in the city and shipped via the Great Lakes. The city became a center of fine wood products as well. By the end of the century, it was established as the premier furniture-manufacturing city of the United States. It was nicknamed "Furniture City" and exhibited many of its products at the Centennial Exposition in Philadelphia in 1876 gaining worldwide recognition as a leader in the production of fine furniture. It incorporated trends to use steel and other manufactured materials in furniture, with ergonomic designs for chairs, computer stations, and other furnishings to keep pace with changing demands.
Grand Rapids has a humid continental climate with very warm and humid summers, cold and snowy winters, and short and mild springs and autumns. As a result of the lake effect snow from Lake Michigan, the city averages 75.6 inches of snow a year. The area often receives quick and sudden lake effect snowstorms, producing significant amounts of snowfall. According to currentresults.com, the coldest month is January with an average high of 31 degrees Fahrenheit and low of 18 degrees Fahrenheit. Freezing temperatures in Grand Rapids can occur from October until May. The city averages 127 frosty nights per year primarily between December and March. With unpredictable cold weather like that, adding radiant floor heating should be on every homeowners 'to do' list.
Cost of Adding Radiant Heat to a Kitchen
This Grand Rapids homeowner decided to update her kitchen with beautiful tile flooring. Since the winters are long and the flooring would be cold underfoot, it made sense to add in-floor heating to her remodeling project (refer to floor plan).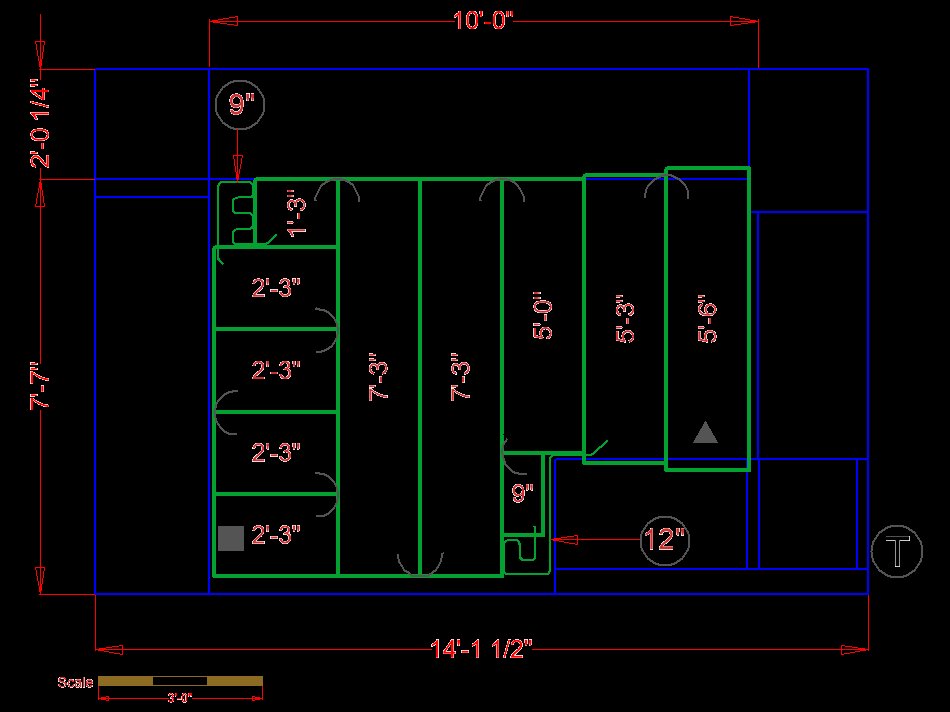 So, she purchased a WarmlyYours TempZone™ Flex Roll to keep her kitchen warm and cozy during the frigid winter months. The 1.5- by 43-foot Flex Roll covers 64.5 square feet of floor space and cost $645.00, which amounts to just $10.00 per square foot. In addition, the TempZone™ Flex Roll allowed the installer the flexibility to cut and turn the roll to effectively fill the floor space with warm radiant heat.
The radiant heating system is also very economical to operate. According to WarmlyYours' Energy Use Calculator, which factors in the average kWh cost in Grand Rapids, it only costs 51 cents a day to heat this kitchen for eight hours every day. Using WarmlyYours' Heat Loss Calculator, heating this room would cost only $35.83 during the coldest month of the year. And, annually, that comes out to $188.22, a small price to pay for the additional comfort it's added to one of the most used rooms in the home.
It's Easy to Get a Quote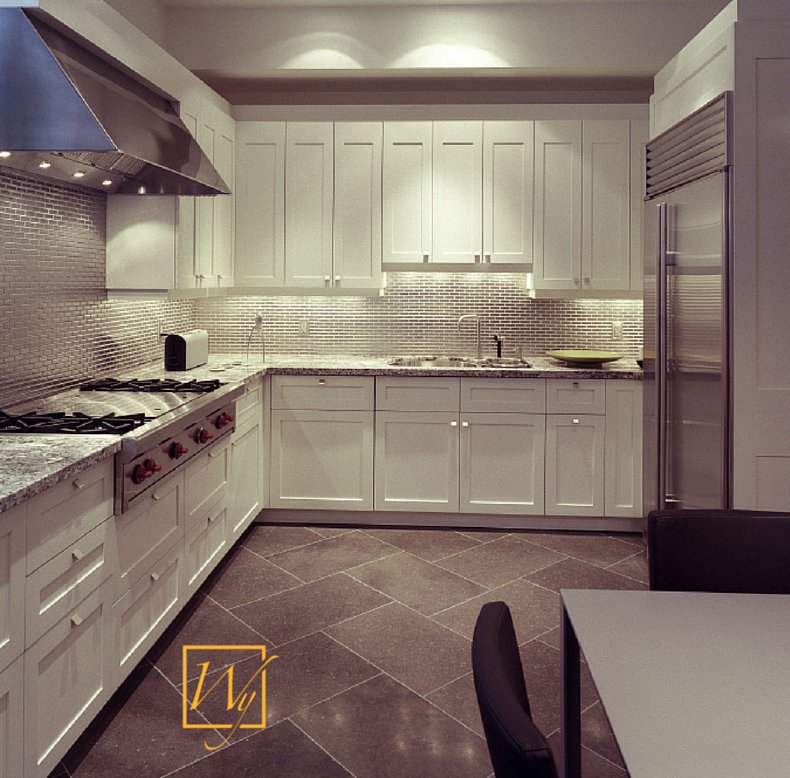 The best place to get started with your project is to check out WarmlyYours' Instant Quote tool. It will figure out precisely how much it would cost to add radiant in-floor heating to your kitchen. Just type in your project information and the tool will show you the recommended products for your room along with how much they will cost.
The tool also gives you the added option of a custom installation plan by simply uploading a floor plan of your room. This plan offers more detail than the Instant Quote, illustrating exactly how the floor-heating system should be laid out for optimal performance including the electrical plan. This detailed information makes installation even easier, allowing our technical experts to better guide you through the installation process.
Plus, the tool can quote you on more than just in-floor heating. With an average annual snowfall of 75.6 inches, Grand Rapids homeowners may want to consider installing a snow-melting system to save them the backbreaking labor of shoveling or plowing snow from their driveways, walkways and patios. Just like it does with floor heating, the Instant Quote tool can provide product recommendations and their costs for snow-melting applications.
There's no need to wonder exactly how much it would cost to add heated floors or a heated driveway to your home. Find out on www.warmlyyours.com!
If you have any questions during installation, you can reach our knowledgeable technical support team at your convenience 24 hours a day, 7 days a week at 800-875-5285.
Related articles:

What Does It Cost to Heat Up these Buffalo Bathroom Floors
It only costs 57 cents a day to heat this Madison home office
Four Signs You Should Invest in Heated Floors
What Does it Cost to Warm Up these Colorado Springs Kitchen Floors?
Sources:
wikipedia.org
currentresults.com
---
Tell us About your Project
Our team of Radiant Experts is ready to help! Just tell us a little about yourself and your project to get started.
---
Did you find this post helpful?
Let us know by giving it some applause.
---
---