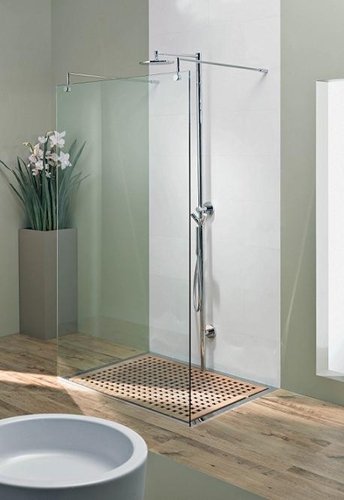 Bathrooms are among the most-often renovated rooms in any home.
Even though the typical bathroom measures just eight feet by five feet, renovations can be expensive. According to a recent survey conducted by Houzz.com, the average bathroom remodel costs more than $11,000. 
Although some choose to expand the size of their bathrooms, the key for many people embarking on a bathroom makeover is to maximize the space they have and create a room they actually look forward to using.
"Homeowners are working more and have busier lifestyles now more than ever, and are realizing the value of having a soothing and luxurious bathroom to start and end their day," designer Leslie Molloy recently told the Chicago Tribune. 
Regardless of budget, there are many ways that homeowners can make their bathrooms functional, beautiful and spa-like.
Hire a professional designer
Because of their small size and the amount of required items, a professional designer can help make the most of the space. 
"You're putting a lot of components in a fairly tight space," designer and National Kitchen and Bath Association president Sara Ann Busby told HGTV. 
In addition to knowing specifics on building codes, including how far away components need to be from each other, a pro can help create a more usable space. Just remember, moving plumbing will increase the cost of the project.
Consider expanding
Adding space by bumping out an exterior wall or "borrowing" space from a neighboring room can make a big impact on a bathroom. 
Experts say many homeowners are opting for larger spaces that can accommodate two people getting ready at the same time. 
"People are tired of cramped his and her bathrooms, where they're tripping over each other and staggering wake-up and shower times," Molloy said. 
They're solving the problem by adding his and her vanities as well as large, double showers, complete with two shower heads.
Those who can't expand can achieve a similar design by eliminating the bathtub and focusing on a large shower.
Add luxury 
There are countless ways to increase the comfort, spa-like vibe in a bathroom.
Instead of using a traditional duct-based system for bathroom heating, many choose to install a floor heating system. These easy-to-install and efficient systems add a relaxing warmth to any bathroom. They can even be programmed to turn on and heat up before users enter the room. 
Individuals who don't have the budget for radiant floor heating can ensure their towels are warm each time they get out of the shower by purchasing a heated towel rack. 
These warming touches aren't the only way to add luxury. Many high-tech systems are available today that will truly make any bathroom seem like a top-notch hotel. For instance, homeowners can incorporate waterproof speakers into their shower as well as add televisions, computers and other electronic components to the space.
This Old House reports that some new medicine cabinets also include a refrigerated section - perfect for keeping a drink as well as storing nail polish, certain medications and organic skin care products.
Be efficient
It's easier than ever to find high-quality plumbing fixtures that also help save water. Low-flow toilets, faucets and shower heads are available anywhere plumbing fixtures are sold. 
Also, looking for products that are labeled certified by the U.S. Environmental Protection Agency's WaterSense program can ensure shoppers make eco-conscious decisions.
Consider incorporating universal design elements
Because of the costs involved, many bathroom renovations are a one-time only project. In other words, most people probably won't be renovating again in a few years. 
Experts suggest individuals consider making changes that will make it possible for them to safely use the bathroom as they age. Design experts can offer hints and tips for making a bathroom both stylish and safe for older individuals.
---
Tell us About your Project
Our team of Radiant Experts is ready to help! Just tell us a little about yourself and your project to get started.
---
Did you find this post helpful?
Let us know by giving it some applause.
---
---