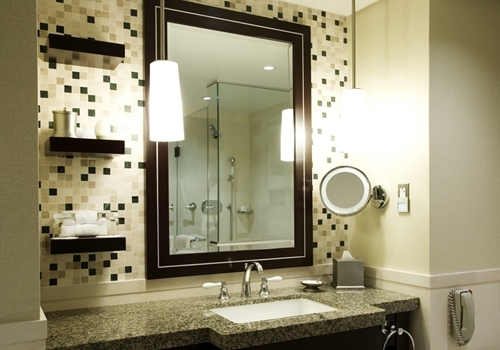 Changing cabinet hardware, adding open shelves and refinishing an old vanity are some easy ways to update a bathroom quickly and without the mess of a full-scale renovation.
To begin, consider the existing style of the bathroom to integrate some changes into the current design as much as possible. Choose a color palette that will coordinate with the main elements, such as tile, fixtures and architectural features. If the bath has a distinctive period look, accessories may be added that are reminiscent of a previous era.
New Look for the Vanity
Painting a vanity is a quick fix that homeowners can undertake to give their bathrooms an updated look, but it will require products that will stand up to the moist atmosphere of the bath.  HGTV recommends using a high-adhesion primer, followed by semi-gloss latex paint and finished with a non-yellowing, water-based polyurethane are the paint products homeowners should use to make an old vanity look new again.
A simple change in the hardware on bathroom cabinets can change the look of a wood vanity and storage closets from contemporary to traditional, or vice versa. Knobs and drawer pulls come in a variety of metal finishes, ceramic, glass or wood that can be stained or painted to match the cabinets.
Warmer Bath
To give bathrooms a warmer look, home decorators can add texture to the walls by hanging fabric rather than wallpaper, the website suggests. Soaking fabric in liquid starch will cause it to adhere to the wall easily, which can later be removed just as easily with water and a sponge. Cotton works best in a moist environment. 
Nothing provides comforting warmth to a bathroom better than heated towel racks that supply warm towels to bathers as soon as they step out of the bath or shower. Installing towel warmers is another easy change that adds luxury to a home bath.
Functional, but Stylish Shelves
Some ideas for open shelving include free-standing floor-to-ceiling units, adding a marble shelf along the tub or encasing large tubs or whirlpools with wall shelving at both ends. A series of glass "floating" shelves can be installed in a vertical or horizontal configuration. The additional storage space for towels, as well as items such as candles and bath oils, is both functional and attractive.
"Open shelving is now being integrated into bathroom designs as another architectural element, particularly in line with today's modern decorating style," Deborah Burnett, spokeswoman for the American Society of Interior Designers (ASID) told HGTV.
Like this post? Subscribe for regular updates
Make sure you don't miss out on the latest news in radiant heating by subscribing to our blog. We'll send you an email with links to the newest posts from WarmlyYours.
We won't share your information and you can unsubscribe at any time with a single click.
---
Did you find this post helpful?
Let us know by giving it some applause.
---
---