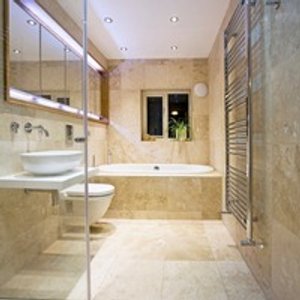 Radiant heating is still considered to be a relatively new product, particularly to the US market. Ancient Romans originally invented it. Technology has improved so much that now there are many companies that offer radiant heating in a variety of different ways for use with different flooring materials.
Here are some selling points to help you sell radiant heating:
"An affordable luxury"
Although most people think of floor heating being an expensive luxury, radiant heating has become more affordable. For example, in a standard bathroom it can cost roughly $1,000.
Radiant heating warms the surface of the floor, keeping your feet warm, which makes you feel warmer at a cooler temperature. Using programmable thermostats also makes it easy to track heat into certain rooms as needed. All this saves the consumer on energy usage, making the benefit outweigh the expense. Radiant heating works well underneath carpet, hardwood floors, tile, stone, concrete, and floating wood floors. It can be installed in any room in the home.
"Two Price Points"
There are two different price points for which radiant heating is typically sold. Standard and stock roll mats are less expensive than custom and/or cut and turn mats. Stock roll mats are standard size heating cable mats instead of custom or cut and turn mats.
Custom and cut and turn mats are generally around the same price point. Custom mats are designed specifically to fit the dimensions of a room. Cut and turn mats can become custom and more flexible, by simply cutting and turning at a 90° and 180° to cover the area that needs to be heated.
" Voltage Requirements "
120 volts are usually standard for 50 square feet and under. For 60 square feet and up, a 240-volt system is used. It is possible to use 120 volts in a larger room but it will probably need a dedicated circuit.
Programmable thermostats aren't new, but the ability to regulate temperature is. It puts more control into the homeowner hands to adjust the temperature throughout the day, utilizing the heat only when and where it's needed. The newer systems are very user-friendly with a wide variety of options.
WarmlyYours is proud to offer a radiant solution for every area of life. We work closely with our valued trade professionals from project start to finish to make it easy to provide radiant warmth to your clients. 99 percent of our customers report complete satisfaction with our product and a happy customer is a repeat customer.
---
Tell us About your Project
Our team of Radiant Experts is ready to help! Just tell us a little about yourself and your project to get started.
---
Did you find this post helpful?
Let us know by giving it some applause.
---
---