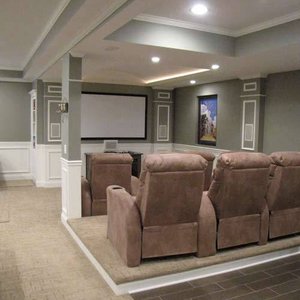 Here at WarmlyYours adding extra warmth and comfort to any room in our customer's home is our commitment. Comfort is the bare necessity that our customers deserve in the midst of the hustle and bustle of everyday life. Installing radiant heating in certain cooler areas, especially a basement, will replace the heat that is often lost throughout the house.
Our most recent "Share Your Story" winner is from Cottage Grove, MN, Brad Randall, who installed WarmlyYours Environ II™ Floor Heating in his home theatre located in the lower level. Brad is also a trade professional who offers WarmlyYours Radiant Heating to his own customers.
Take a moment to read Brad Randall's story:
I installed WarmlyYours radiant heat in my own home three years ago. We have a home theatre in our basement and enjoy watching movies down there often. On some sunny winter days our forced air heat doesn't run a lot - this is a result of our thermostat being located in the main floor living room that is heated by the sun coming through the windows.
The rest of the house suffers because of this setup. And, as a result, our basement has been as low as 58°F on some occasions, which isn't a very comfortable temperature to sit and watch a movie.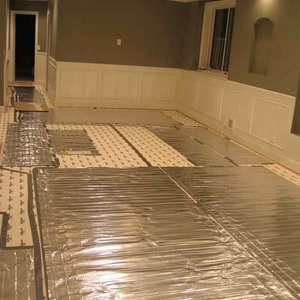 Installing the Environ II™ Floor Heating system in our basement allows us the ability to maintain a very comfortable setting while enjoying our lower level. It is very easy to educate my customers on the benefits of this system because I get to enjoy it myself.
We are on our fourth install since this summer and I just proposed it to another homeowner who asked for a basement finish bid. The ease of installation and help from the Technical Support Team at WarmlyYours makes this the first choice for my company and customers.
The Environ II™ Floor Heating system sets me apart from my competition by allowing me to offer maximum comfort to my clients. After all, who wants to invest in a remodeling project to realize it's not a comfortable space to relax and enjoy?!
--------------------
Discover more about radiant heating, and why installing WarmlyYours is the right choice.
If you enjoyed this story, you may also enjoy reading about the last Share Your Story feature, "A Porch Becomes a Radiant Sunroom" or feel free to read through all of our stories.
Go ahead and Share YOUR Story with us.
---
Tell us About your Project
Our team of Radiant Experts is ready to help! Just tell us a little about yourself and your project to get started.
---
Did you find this post helpful?
Let us know by giving it some applause.
---
---