WarmlyYours prides itself on empowering our customers to take on their radiant heating projects themselves. Our latest "Share Your Story" winning entry comes to us from Sten Lefseson, a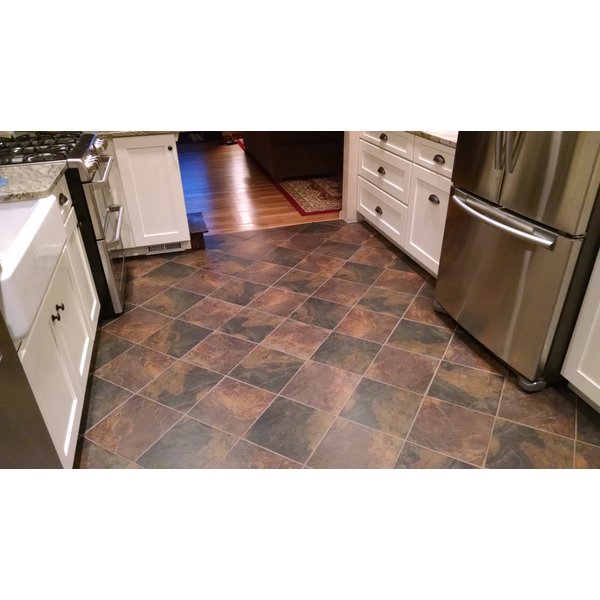 woodworker and former forester, from Duluth, Minnesota. This DIY story shows that WarmlyYours is here to help however we can. 
Sten's Story:
Our house is old, with poor insulation, and an uncomfortable forced air furnace. Because I've always had an interest in in-floor radiant heating, I took the opportunity to incorporate the WarmlyYours TempZone™ Flex Roll system into our kitchen's full remodel.
The plywood sub-floor was exposed along the walls where the old cabinets were removed. But the rest of the kitchen had four old floor coverings: an original linoleum that was tarred into place, another layer of linoleum affixed with some sort of asbestos adhesive, a fully-glued vinyl layer, and lastly, an edge-glued vinyl layer. I pulled the top-most flooring, but left the rest in place.
I put a layer of floor leveler across nearly the whole floor (thickest, atop the exposed sub-floor, then feathered into the center of the room to remove irregularities in the old flooring) to make the space level from wall to wall.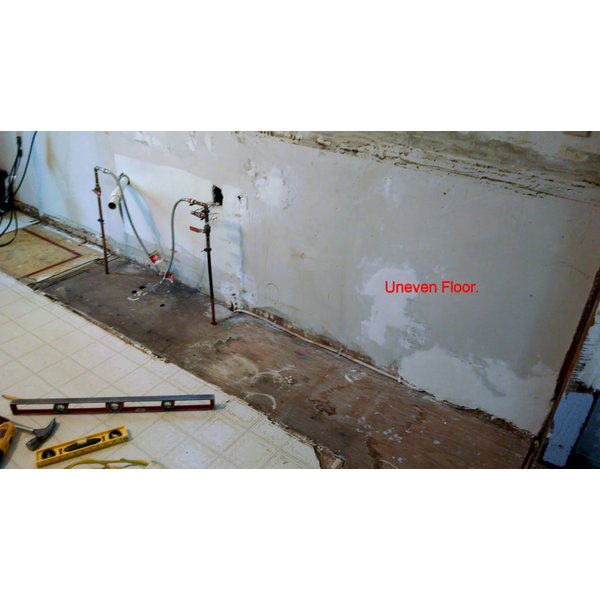 Using a marking pen, I drafted bold lines directly onto the floor, outlining the footprint of what would eventually become, after the new cabinets were installed, the open floor space of the kitchen. I reproduced the drawing, to scale, using Google SketchUp (though graph paper would work) with the dimensions noted, and sent it to WarmlyYours.
WarmlyYours, in return, sent me the number of rolls I needed (two), a color-coded, detailed drawing, showing me where and how each roll should be positioned, and a detailed manual (among other items). Their drawing, manual, and online how-to videos, were clear, precise, and easy to follow.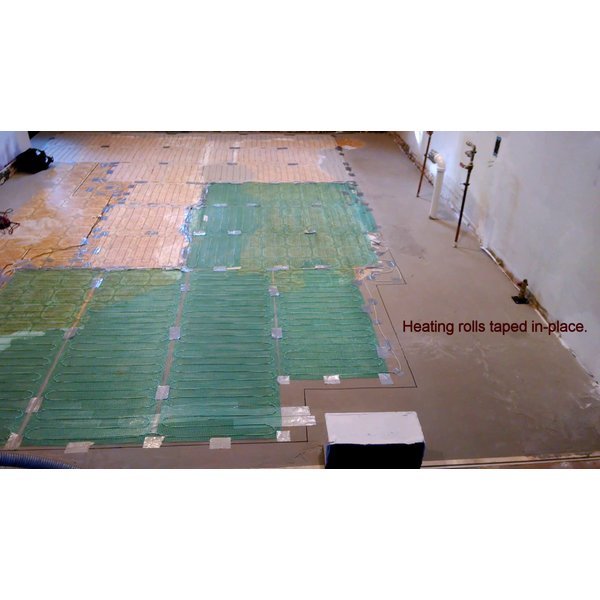 Guided by WarmlyYours' drawing, and my ink lines on the floor, I laid down the two rolls of heating element without a problem. After the rolls were fully laid-out, I tweaked their positioning some (making the layout neat and even), and when I was satisfied, I fastened the mats to the floor using short strips of duct tape. If I did this again, I'd probably skip the duct tape and use double-sided tape instead.
With the heating rolls fastened, I then positioned and taped the cold leads. The cold leads connect the ends of the heating cables enmeshed in the mats, to the thermostat/power on the wall. They're called "cold leads" because they don't get hot. The cold leads are laid such that they don't cross themselves, nor any of the heating element wires, while on their way to the thermostat.
With the heating mats in-place, I carefully put a skim coat of thinset across the whole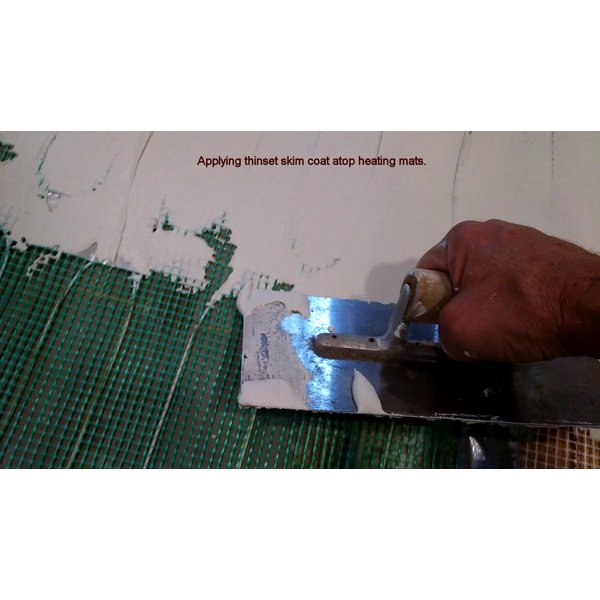 floor, to a depth that just covered the heating mats. I didn't use floor leveler again, because it dries too fast for me. I like thinset because you have a chance to work it. Once dry, I used a second application of thinset to lay down my tile flooring.
During my ordering and installation, I had three or four telephone conversation with WarmlyYours staff. The individuals on the WarmlyYours Installation Support Team were not only friendly and helpful, but because they were simply there, I was enjoying the reassurance of having a Journeyman at my elbow guiding me through a new endeavor.
At one point, I made a call to WarmlyYours at 7:00 p.m., and got a live person immediately. He was there to answer my questions, right when I needed it: I had been near the end of my install (the heating rolls were already embedded in thinset), and I had been concerned because one of the Circuit Checks had beeped while I had been handling it. The devices were sensitive, and he reassured me that a false signal could happen. To confirm the situation, one way or the other, all I had to do was to use my multi-tester on the cold leads to see if, indeed, there was any problem in the mats (the manual explains how to perform all the electrical tests). I did so, and found all was OK. When I hooked up the Circuit Checks again, the false signal did not sound again. I was able to go to bed that night with peace of mind.
If I were to do another in-floor, electric radiant heating project, I'd use WarmlyYours, again.
WarmlyYours wants you to Share Your Story, too! Provide a description of your story and photos, and you could win $100.
---
Tell us About your Project
Our team of Radiant Experts is ready to help! Just tell us a little about yourself and your project to get started.
---
Did you find this post helpful?
Let us know by giving it some applause.
---
---