What is Ground Fault Protection?
Ground fault protection or ground fault circuit interrupter (GFCI) is a device designed to provide protection and to prevent electrical shock by breaking the circuit once a difference in currents between hot and neutral wires occurs.
A GFCI is constantly monitoring the amount of electricity that is flowing into a circuit and also monitoring when the current is lost. So if the amount of current flowing doesn't return back to the GFCI unit, it immediately stops supplying power. By immediately cutting off the power, this saves you from electric shock or electrocution.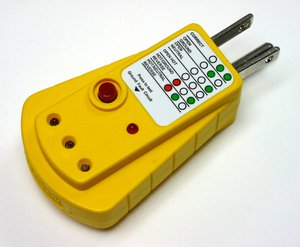 Developed in the 1960s, the GFCI became a success soon after it was developed into a commercial product by a handful of companies, including several circuit breaker manufacturers. The GFCI was first required by the National Electric Code (NEC) to be installed for underwater swimming pool lighting fixtures, because backyard swimming pools were becoming very popular. In subsequent years, the NEC made it a requirement to have GFCIs in other areas of your house, especially in locations where people would be standing on earth, cement ground, or near water. Just 25 years after the GFCI was first introduced, the use of electricity had doubled but the number of accidental electrocutions in the U.S. had dropped in half in that same time period.
So why is ground fault protection important and necessary for electric radiant floor heating?
Electric radiant floor heating is a heating system that consists of electric cables built into the floor. The electric cables or mats warm your floor and are controlled by a thermostat that has a GFCI installed in it for optimal safety and comfort.
If you have radiant floor heating and an imbalance within the electrical currents occurs, the GFCI in the radiant heat thermostat will automatically and instantly disconnect the electrical lines from the radiant heating system. The WarmlyYours thermostats are GFCI protected and a GFCI breaker is not necessary. And, we recommend only one GFCI device on the circuit be used to provide power to the heating element.
The U.S. Consumer Product Safety Commission believes that by installing GFCIs in every home in the United States, more than two-thirds of the approximately 300 electrocutions occurring each year could be prevented.
So, when you are shopping around for electric floor heating, be sure that the product has GFCI protection as a standard. Here at WarmlyYours Radiant, protecting our installers and customer is top of mind when we develop and sell our products. And that's why we ensure that our floor heating and snow melting products are GFCI protected and come with all of the important safety certifications such as, C/UL/us and UL listings, as well as RoHS compliance.
---
Tell us About your Project
Our team of Radiant Experts is ready to help! Just tell us a little about yourself and your project to get started.
---
Did you find this post helpful?
Let us know by giving it some applause.
---
---