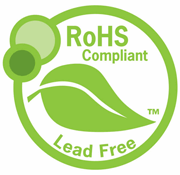 WarmlyYours Certified RoHS Compliant
Being "green" is a value of ours at WarmlyYours. Environmental responsibility is top of mind for us from product conception, manufacturing, and selling. For that very reason, we are always innovating and improving our products in order to continue on this journey to a greener WarmlyYours. And, that's why we're pleased to announce that our TempZone™ mats, Slab heating mats, and Snow Melting cables systems have been certified RoHS compliant.
We are committed to full compliance with environmental and health standards for our floor heating systems. And, those who know and love WarmlyYours have the confidence that our products are energy efficient and environmentally friendly.
And, it is our promise to you that our floor heating products and electrical components are and always will be completely free of harmful materials such as, lead, mercury, cadmium, hexavalent chromium, polybromo biphenyls (PBB), and polybromo diphenyl ethers (PBDE). Our products are manufactured with the highest level of product and environmental integrity.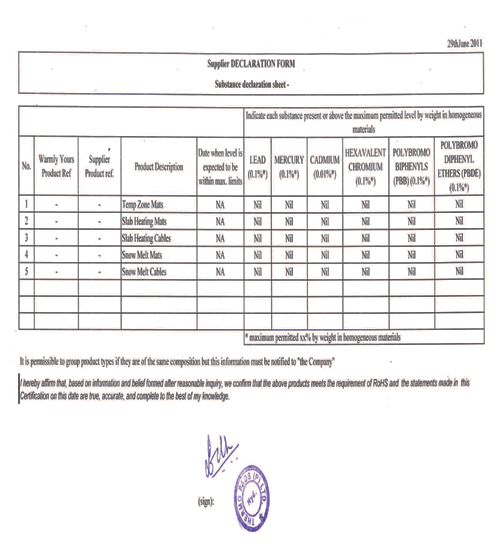 So why is this compliance certification so important to us? Because, as electric radiant heat leaders, this is just one more way we work diligently to pioneer environmental sustainability and responsibility with our products and in our industry.
We believe in producing and selling products that help to create healthy environments where our customers can thrive and flourish.
--------------------
More about RoHS Compliance
RoHS, which stands for the Restriction of the Use of Certain Hazardous Substances in Electrical and Electronic Equipment, is an initiative and regulation that began in the United Kingdom on July 1, 2006.
Like this post? Subscribe for regular updates
Make sure you don't miss out on the latest news in radiant heating by subscribing to our blog. We'll send you an email with links to the newest posts from WarmlyYours.
We won't share your information and you can unsubscribe at any time with a single click.
---
Did you find this post helpful?
Let us know by giving it some applause.
---
---