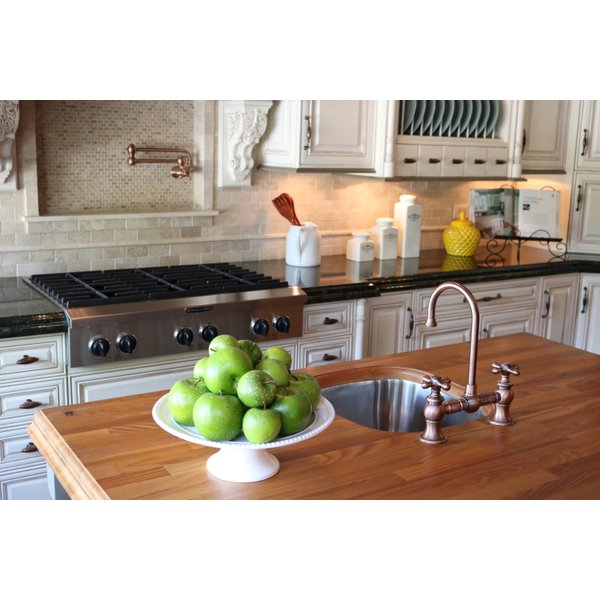 Whether it's the dead of winter or the height of summer, tile floors will feel cool if the sun isn't shining directly on them. And when you spend a great amount of time in a tiled room, a chilly floor makes a big difference. A great way to heat it up is with electric floor heat.
When you think of cold tile, two rooms probably come to mind: bathrooms and kitchens. Nowadays, families and friends are spending a lot more time in the kitchen — entertaining, doing homework and using the computer. That makes it even more important to create a comfortable space. WarmlyYours floor heating is an affordable solution.
The Cost of Floor Heating
It costs just more than $500 to heat a small kitchen. This homeowner used a 1.5- by 30-foot TempZone™ Flex Roll to heat her 79-square-foot kitchen (see floor plan). The Flex Roll cost $517.50, which is less than the price of any of her appliances! Adding a SmartStat™programmable thermostat adds $169 to the purchase, which brings the total to $686.50. Without the thermostat included, the price of the heating element equates to just $11.50 per square foot.
Plus, the cost to operate the floor-heating system is very low. It costs less than a quarter to heat the kitchen floors for eight hours a day. To be precise, it costs 23 cents a day, according to WarmlyYours' Energy Use Calculator.
How to Get a Quote
To find out how much it would cost to heat the floors in your kitchen, check out WarmlyYours' Instant Quote tool. The tool will result in a side-by-side comparison of recommended heating products and their costs in just five steps:
Select Indoor Floor Heating and name your project.
Select the room type.
Enter your role in the project, the project zip code, whether or not you'd like the floor-warming system to be your primary source of heat, what the subfloor is made of, and what the floor covering is.
Submit the project dimensions by either entering the square footage or width and length of the area, or by drawing the room, uploading your floor plan or scheduling an in-home measurement.
Get your quote!
Once you've received your quote, we encourage you to get more details with a custom installation plan. You can do so online or by reaching out to your account manager. If you don't have an account manager or don't know who your account manager is, you can reach out to sales@warmlyyours.com and one of our friendly sales staff will be happy to assist you. A custom installation plan is important to have because it shows you exactly how your floor-heating system should be laid out for optimal functionality. This will be very helpful during installation for both the installer and our technical team, in case any assistance is requested.
Don't forget that our technical support team is available 24/7 to answer any installation questions you have. Feel free to give them a call any time at 800-875-5285.


Links:
Instant Quote: www.warmlyyours.com/my_projects/new
Energy Use Calculator: www.warmlyyours.com/floor-heating/cost-calculator
Heat Loss Calculator: www.warmlyyours.com/floor-heating/heatloss-calculator
---
Tell us About your Project
Our team of Radiant Experts is ready to help! Just tell us a little about yourself and your project to get started.
---
Did you find this post helpful?
Let us know by giving it some applause.
---
---