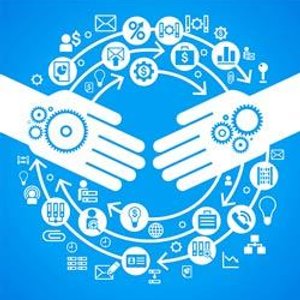 The use of Internet has become a regular part of everyday life. It has quickly become the standard of our communication and business operations.
Web users are constantly innovating new and different ways to use social media as a part of life and business. They know that it is not only important to simply be present in social media but it is equally important to be active and engaged in social media throughout your sales process.
According to Chris Marentis of Sunfire Social, people are the new "content links" to social media.
Being aware of different social media networks and actively engaging with customers through the sales process is how everything and everyone is linked together. Social media is used to express thoughts, concerns, ideas, and opinions that can easily be shared with friends, followers, and fans alike.
It is beneficial and important to allow customers to give reviews and open feedback about your business, and social media is an excellent tool for open dialogue. Providing this for your customers can give you good publicity and is also a source for excellent advertising.
Allow your customers to "work for you" by giving them a voice through social media, and in doing this, you let others see, hear, and know a little more about your business.
Using sites like Google+ and other social media review sites, as a social networking platform is another way to create new "content links." Your online profiles will help build your company's reputation.
Open reviews of your business will help reinforce trust in your company, and will encourage transparency in your business practices.
As a way to drive more traffic to your website, connect your social media profiles back to the company's website to increase traffic and to validate the information about your products, services, and company background.
Interacting and engaging with customers on social media sites can improve sales and your company's prominence in the industry.
At WarmlyYours, we are proactive and committed to integrating social media with our company's core culture. We use social sites like Facebook, Twitter, Instagram, Google+, Houzz, LinkedIn, and Pinterest. We engage with our customers through social media because we believe in being connected, present, and engaged with our valued potential, present, and future customers.
We encourage you to use social media sites to link your company with customers, you will find it to be beneficial, and we promise that you will be glad that you jumped into the social media world with both feet.
---
Tell us About your Project
Our team of Radiant Experts is ready to help! Just tell us a little about yourself and your project to get started.
---
Did you find this post helpful?
Let us know by giving it some applause.
---
---