Stepping out of a shower or bath becomes one of the most luxurious and comforting experiences with a cozy, warm towel. The WarmlyYours Cosmopolitan collection of towel warmers delivers a spa experience in the comfort and convenience of your own home. 
Spa Bathrooms from Towel Warmers and Beyond
Creating a spa bathroom has been a growing trend in remodeling projects as shown here among these bathroom trends to keep on your radar in 2019. You may also find some inspiration from these Pinterest spa bathroom photos.
 
If you are replacing your floor in your bathroom remodeling project, consider adding radiant floor heating underneath to keep you warm as you step from the shower or bath. It is a perfect addition to the towel warmer as part of the complete in-home spa effect. But if you are limited to just a few upgrades, adding a towel warmer can be an affordable luxurious bathroom improvement. On a budget? You can find useful tips for creating a spa bathroom on a budget here.
The Cosmopolitan Collection
This collection is unique as the Cosmopolitan line of Towel Warmers are sold exclusively by authorized WarmlyYours dealers. Specifically created to provide exclusive models to our professional customers (ranging from kitchen and bath showrooms to installers) at a competitive price, it allows these dealers to pass the savings on to their customers.

The Cosmopolitan towel warmer collection provides numerous options to satisfy your customers' needs while adding warmth and luxury to any bathroom project. 
 
If you prefer, please view our video.

There are seven unique models and multiple finishes to choose from:
 
The Bellagio

An electric towel warmer with 20 curved bars offering a high heat output and extra room to dry your bath towels or bathrobes. Available in polished stainless steel and oil-rubbed bronze finishes.
 
The Malta
Functionality blended with aesthetic appeal. Available in polished stainless steel or matte black finishes.
The 8 flat heated bars, in either polished stainless steel or matte black finish, offer quick heat due to the increased surface area.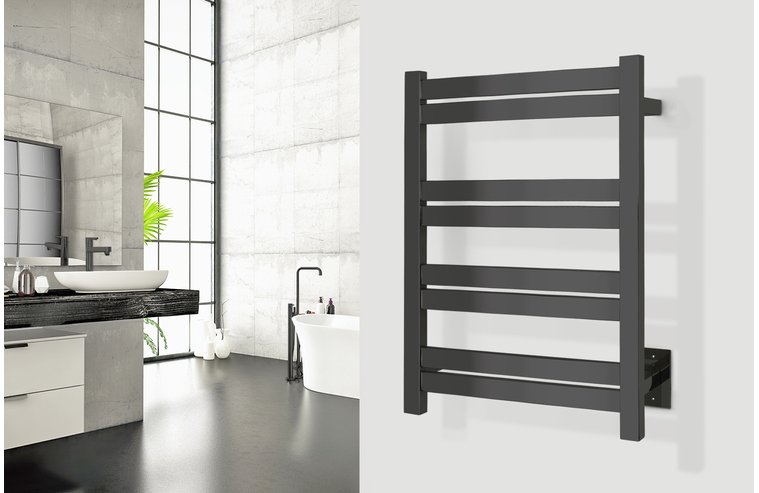 14 flat heated polished stainless steel bars quickly dry large bath towels or bathrobes.  
London
A clean, modern design featuring 11 heated, square polished stainless steel bars.

Rome
10 round heated brushed stainless steel bars combine elegant style with high performance.


A compact wall mounted towel warmer with a built-in, non-heating storage shelf for the convenience of storing extra towels. Available in a polished stainless steel finish.
 
The black Malta and Maple options have become very popular with current bathroom design trends. Although polished and brushed Stainless Steel finishes are still in demand. 
Choose the Right Control for your Towel Warmer
The Cosmopolitan towel warmers can be paired with a choice of three hardwired controls to suit your lifestyle preferences
·      4-Setting Countdown Timer – 4 preset heating duration options: 2 hour, 1 hour, 30 and 15 minutes
 
·      Programmable Timer – Easy to program your towel warmer with a timer that contains up to 50 on/off events possible.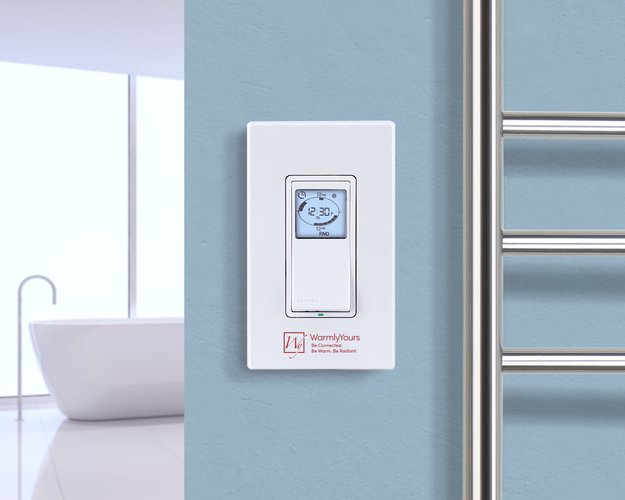 ·      WiFi Switch – Works with Amazon's Alexa, Google Assistant, or the Nest thermostat (no hub required). Can be controlled/programmed remotely via a smart device. 
Here are some Frequently Asked Questions we Receive about Towel Warmers
Are towel warmers as good as radiators?
Towel warmers can add supplemental heat to small bathrooms in most homes that have central heat. Typically they warm or dry out the towels or bathrobes placed on them for an enveloping warmth upon leaving your bath or shower.
Does the towel warmer have an automatic shut off function?
The towel warmers are designed to stay on at a relatively constant temperature to keep your bathrobes and towels fresh, warm, and dry. However, should you need to turn the unit off for any reason, you can use the integrated on/off switch on the unit. If you're using a control for your towel warmer, you may need to shut off the unit there as well. 
Towel warmer models from the Premier, Elevate or Cosmopolitan Collections come with built-in TempSmart™ overheat protection to prevent the unit's surface temperature from overheating ) by shutting the unit down automatically at a certain temp. Models from the Classic Collection do not come with this feature.
How heavy/large are the towel warmers?
 
Weights vary based on design but typically range from 9 to 29 pounds. Even larger towel warmers will not be a problem when attaching to the wall. As indicated in the instruction manual, you just need to make sure that at least two of the four brackets are attached to a stud in the wall.
Reviews for Towel Warmers
Best thing ever for my master bath!
Kathryn W., Wilmington, DE
Best thing ever for my master bath! Toasty towels are a real treat this winter, and I am now thinking of purchasing another unit for the downstairs bath. I have also used the towel warmer for drying delicate clothing items and "fat quarters" of fabric (I am a quilter). I wish that it were about 4" wider, to hold 2 of my largest bath towels.
Thank goodness for this towel warmer!
Kathryn S., EVANSTON, IL
Thank goodness for this towel warmer! It is the basic source of heat for my first floor powder room - added on in the 1950's and lacking any built in heat source. The towel warmer is handsome and fits in perfectly. During the winter we can keep the door closed and the pipes won't freeze. What a great addition to any bathroom!

WarmlyYours still believes in customer care!
Rosalie C., Issaquah, WA
Loving our towel warmer! Working with our contractor to figure out the viability of getting electricity to two other bathroom locations for additional ones in the home. But, our experience goes beyond the product itself. Customer service is truly old school, and hard to find such customer oriented companies these days. So happy WarmlyYours still believes in customer care! Thanks for a great product, and great service!
Read more reviews here.
 
If you're curious and would like to know more about towel warmers in general, check out our 'Everything You Need To Know' blog.
To shop for Cosmopolitan Collection towel warmers you can click here. 
If you'd like more information about how to become an authorized WarmlyYours dealer, visit our Pro page. 
---
Tell us About your Project
Our team of Radiant Experts is ready to help! Just tell us a little about yourself and your project to get started.
---
Did you find this post helpful?
Let us know by giving it some applause.
---
---