There's almost nothing better than stepping out of the shower and wrapping yourself in a warm and toasty towel. As an experience, it's the definition of luxury. If you've never heard of a towel warmer, it's something that you need to have in your life! And if you have heard of towel warmers--maybe you've even used one--you might be wondering which is the best towel warmer for you and your home. So before you buy, take a look at the topics below to see what options are available, and determine which towel warmer is right for you.
Freestanding vs Wall-mounted
Perhaps the first thing you need to decide is where the towel warmer will be used. Most towel racks are mounted on walls, and most towel warmers are mounted on walls as well--but not all. There are some very high quality towel warmers that are freestanding. These freestanding towel warmers make the most sense for larger bathrooms where you may need to move the towel warmer to different outlets from time to time. Maybe you have a certain decor that you want the towel warmer to fit into. Or perhaps your wall space is limited. Whatever the reason, there is always the option of having a freestanding towel warmer and, while they represent the minority of towel warmers on the market, they are definitely perfect options for some people. WarmlyYours offers the Barcelona and the Ibiza, which are both freestanding options.
As previously mentioned, wall-mounted towel warmers are the most popular option on the market so there's a wider range of options in terms of models and finishes. This can be particularly important if you're trying to match the decor of an existing bathroom. Another advantage of wall-mounted towel warmers is that they don't take up any floor space, which can be very important in smaller bathrooms. WarmlyYours has a wide array of wall-mounted towel warmers that you can check out here by using the "Mounting" filter.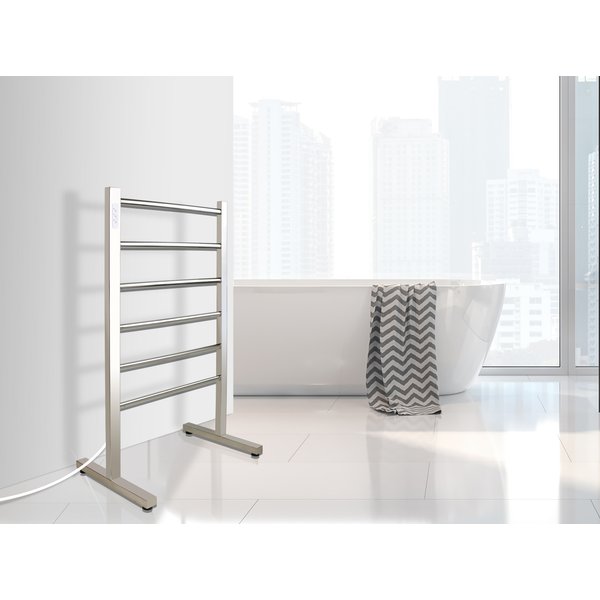 Electrical Connection
Next you'll want to know if you want your towel warmer to be hardwired (that is, connected directly into the electrical system through the wall), plug in (just plugged into an outlet), or dual connection (these are towel warmers that come with a plug-in connection but they can be modified for a hardwired connection). There is no right or wrong answer here, although there are reasons one option might be better suited to your needs.
A plug-in towel rack is the easiest to set up as it doesn't require an electrician to install it, but can simply be mounted (this step can be skipped for freestanding models) on the wall and then plugged right in. This is very DIY-friendly and is a good option if you don't have a power line in the wall where you want to install the towel warmer.
On the other hand, many people don't like the look of a towel warmer cord trailing out and away from their towel warmer in a bathroom that has been carefully designed to look perfect. Another upside to hardwired electrical connections is that it frees up an outlet in your bathroom. One downside is that it is obviously much harder to move the towel warmer once it's installed because you'd have to find another electrical line behind the wall and then patch the area where it was previously connected. It is also recommended that the electrical connection for your hardwired towel warmer be performed by a licensed electrician which is another expense to keep in mind.
Dual connection towel warmers provide the greatest degree of flexibility because you're able to either use the towel warmer as is with its provided plug-in connection, or you can have an electrician modify the device so that it can have a hardwired connection.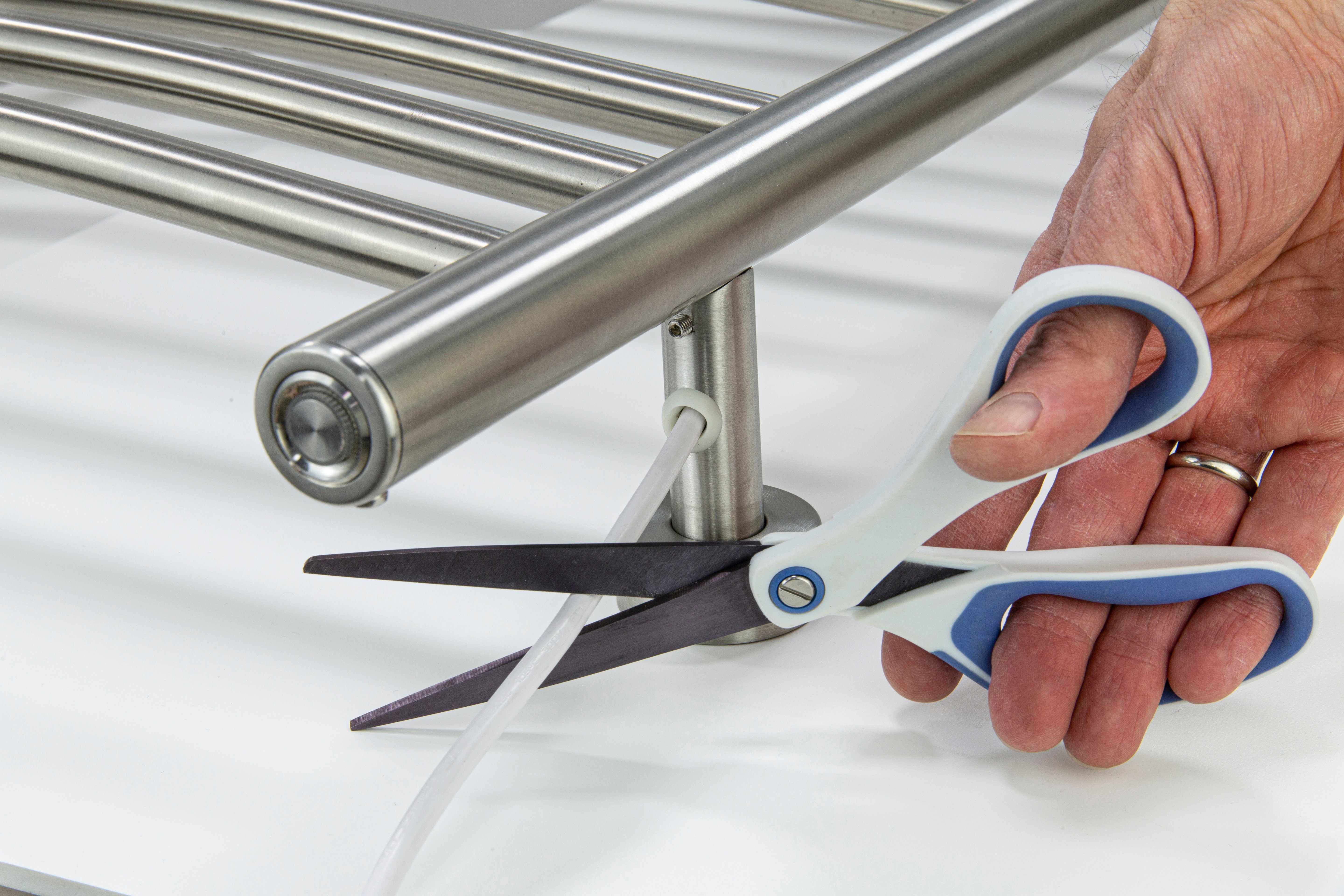 Width
The width of your towel warmer is important mainly just so you can know the size of the towels you can spread across it to warm up. Most towel warmers range in width from 17" to 30" across. The choice here is not merely functional but also aesthetic because it will help determine how you want your bathroom to look. Choosing the perfect wall for your towel warmer is an important decision from a design point of view, so selecting the right width to fit in the right place on your wall is essential.
Height
Height is also about function and form. From a form point of view, towel warmers can range from just a few bars with no more than 19" in height up to models with dozens of bars that are nearly 5' in height. Each offers a unique look--a short towel warmer might fit snugly on a wall next to the vanity, while a much larger towel warmer will look great on a wide marble wall next to the tub.
But from a function perspective, a tall towel warmer serves an important role. You see, each rung of the towel warmer emanates heat, and if you have a short towel warmer, where the heat is only in contact with the rung on which it is hanging, then a smaller portion of the towel will be warmed. On the other hand, if you have a longer towel warmer, then you can hang a towel on the top run and every single rung below it that is in contact with it will heat the towel and make the entire towel a warm delight.
So, while a shorter towel warmer may make good design sense by fitting into just the right space, you might find that a taller towel warmer will provide you with a more luxuriant experience.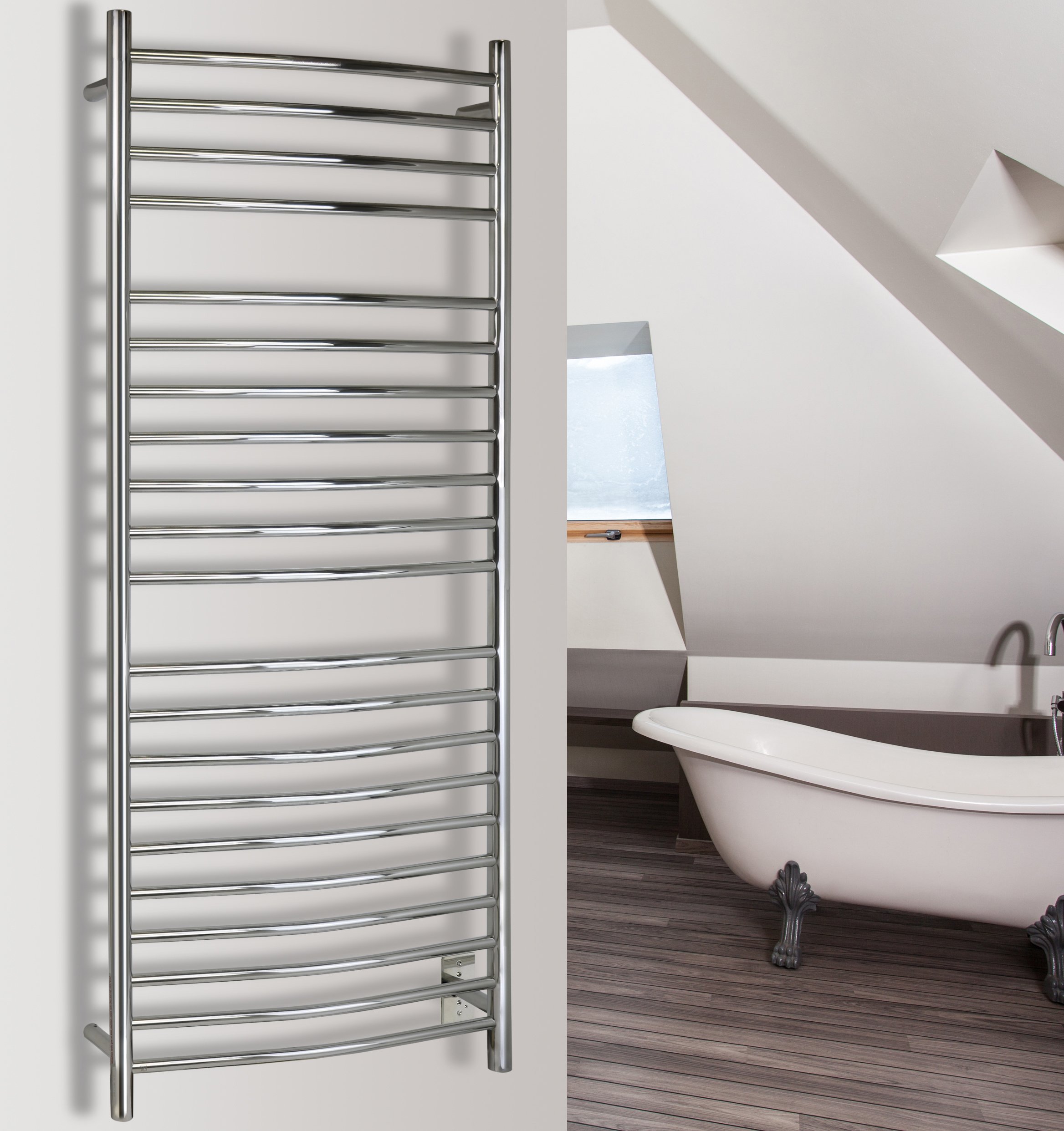 Controls
Finally, you should consider how you want to operate your towel warmer. Nearly all heated towel racks come with some form of an integrated switch. For example, most WarmlyYours towel warmers come with an easy-to-use LED power button. Some, like the Ibiza, come with built-in control buttons that offer several options such as "on/off," "on for 2 hours," or "on for 4 hours." These integrated control options are usually more than enough for most users but you can also consider pairing your towel warmer with a separate towel warmer control.
WarmlyYours offers 3 different primary models right now for our hardwired towel warmers (they also work with dual connection models that have been modified for a hardwired connection): the Hardwired 4-Setting Countdown Timer, Hardwired Programmable Timer, and the Hardwired WiFi Timer.
The Hardwired 4-Setting Countdown Timer, as its name suggests, comes with 4 different countdown settings including on for 2 hours, on for 1 hour, on for 30 minutes, on for 15 minutes, and an on/off button. It comes with 3 interchangeable faceplates: white (installed), ivory, and light almond and will ship with a white WarmlyYours wallplate.
The Hardwired Programmable Timer is different in that it offers more options because you can program it with up to 50 on/off events possible and built-in astronomical clock. The Hardwired WiFi Timer also comes with 3 interchangeable faceplates: white (installed), ivory, and light almond.
While it may sound hi-tech (and it is), the Hardwired WiFi Switch is extremely intuitive to operate. It can be used with voice control by using Amazon Alexa and Google Assistant. And it works with Nest & IFTTT. Additionally it allows you to control your towel warmer remotely with a smart device. The Hardwired WiFi Switch also has a large number of different design looks including all white, all black, or with one of five different Austrian crystal wallplates that are sure to elevate the look of any room.

Learn more about towel warmer controls here.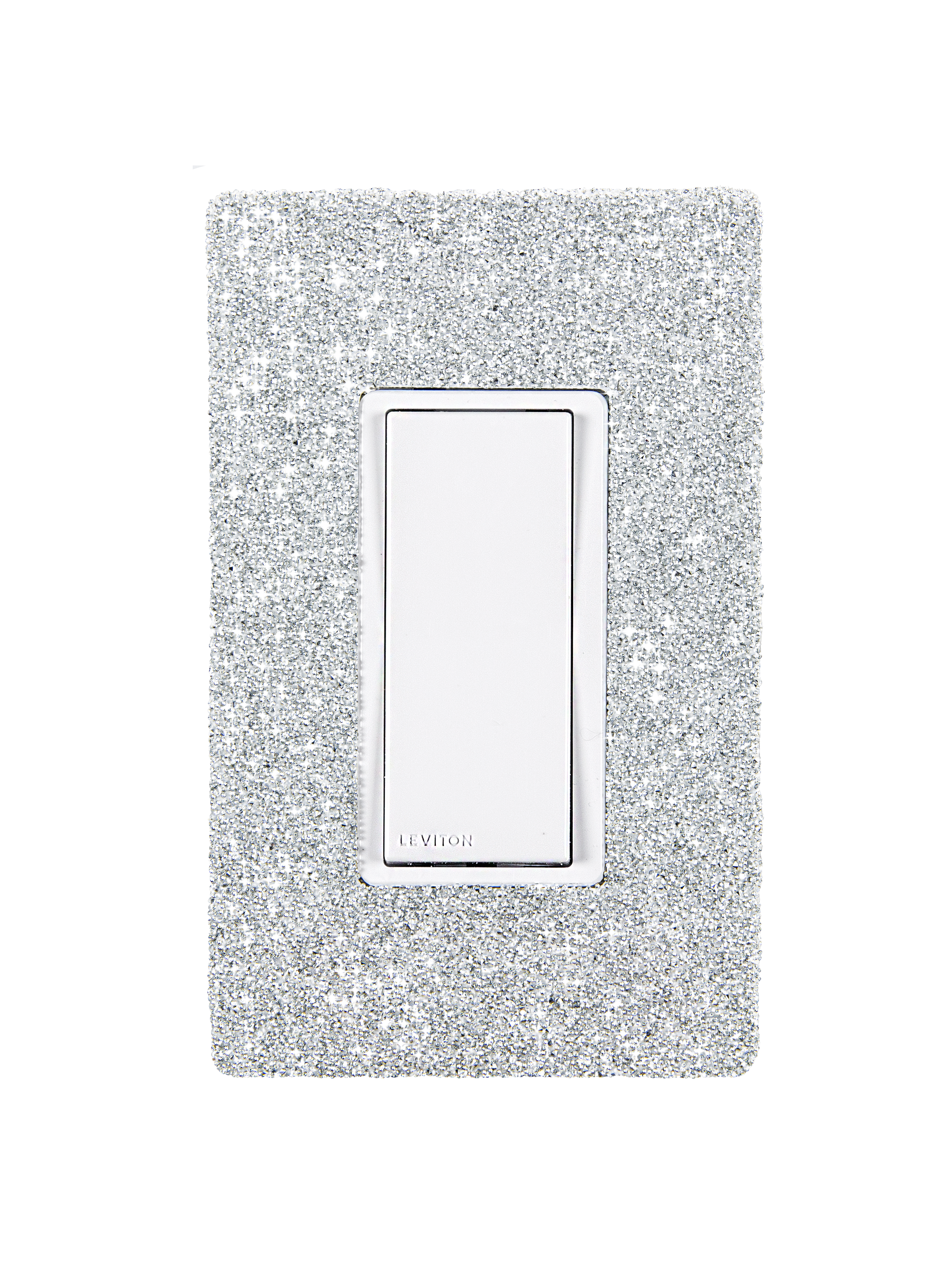 Safety
Another consideration you'll want to make is what kinds of certifications does your towel warmer have. These certifications come from authoritative institutions like the Underwriter's Laboratory (North American certification mark: cULus) and Intertek Testing Laboratories (North American certification mark: cETLus). Organizations like these will test the devices under rigorous conditions to make sure that they are safe for consumers. WarmlyYours offers both cULus and cETLus certified towel warmers.
An additional feature that nearly all WarmlyYours towel warmers include is TempSmart™ overheat protection which prevents the units from overheating. 
You'll also want to make sure that your towel warmer is installed in a manner compliant with the manufacturer's instructions along with local and National Electric Code (NEC) requirements.
Conclusion
Every choice for a towel warmer is going to be a balance between form and function. The design aesthetic of some models may be the most important aspect to you or maybe it's the size and warming capacity. Whichever towel warmer you choose, you will be guaranteed a more enjoyable bathing experience with a warm towel waiting for you.
Check out our entire line of towel warmers here.
---
Tell us About your Project
Our team of Radiant Experts is ready to help! Just tell us a little about yourself and your project to get started.
---
Did you find this post helpful?
Let us know by giving it some applause.
---
---