Did you know there's more than one way to use a towel warmer? Sure, most of the time it's used to warm towels in a bathroom. That's why the towel warmer was created. However, did you know it can also be used to warm other items like swimsuits and wet clothing? And that some people use it in other areas of the house besides the bathroom? Plus, did you realize that while a towel warmer is on, it's also adding supplemental heat to the room?
How to Use a Towel Warmer
Towel warmers — also known as heated towel racks — are amazing appliances. How you use one depends on you and your home.  
For instance, every home has a shower or tub, which means there's generally an opportunity to install a towel warmer in every home. If you can locate an empty wall, then your bathroom is a candidate. 
Towel warmers allow any homeowner to experience the luxury of toasty warm towels or hand towels every time they step out of the shower or tub. The stainless steel that most towel warmers are made of is also very low maintenance. Plus, they offer the added benefit of acting as space heaters by providing some supplemental heat, which is ideal when you're dealing with tile that's inherently cold to the touch.
While they are attractive additions, towel warmers aren't only for bathroom decoration. They're also great for sunroom additions or even in laundry rooms (next to the washer and dryer), mud rooms, or indoor pool areas. It's important to note that heated towel racks are most compatible with natural material towel sets so they shouldn't be paired with microfiber towels or synthetic quick dry towels. 
Installing a towel warmer in a laundry room is great for homeowners who regularly wear "delicate" clothing. Instead of putting the items in the dryer on a "delicate" setting, you can let them gently dry on a heated towel rack.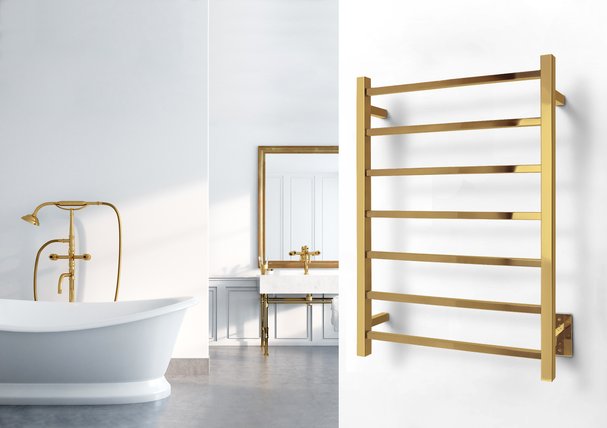 If your home has a mud room, imagine the convenience of setting wet coats and gloves on a heated towel rack to dry on a rainy or snowy day.
Or, if your home has a pool, think of how convenient it would be to set wet towels or bathing suits on a towel warmer to dry after coming in from a swim. The days of schlepping wet garments through the house to the laundry room are gone! Homeowners with pools also can choose to warm their towels before they go for a swim so they'll have a warm towel waiting for them when they step out of that cold pool water.
Depending on where your towel warmer is located, you can decide whether you want to program it to turn on every day at a specific time or if you'd prefer to turn it on manually when you need it. A programmable thermostat and/or a WiFi switch is available for pairing with any WarmlyYours towel warmer.
Are Towel Warmers Worth It? 
If the benefits of a towel warmer are piquing your interest, you may be wondering how much do towel warmers cost. At WarmlyYours Radiant Heating, a towel warmer costs between $149 and $499, depending on the style you choose.
To operate the unit, it typically costs only pennies a day because the units have very low energy consumption. Based on the national average electricity rate, the cost of operation is about 15 cents per day, but the cost will vary depending on the price of electricity in your area.

Hydronic Towel Warmers or Electric Towel Warmers?
If the price of a towel warmer is more affordable than you thought, it's time to narrow down your options. There are two types of heated towel racks on the market: hydronic and electric.
Hydronic towel warmers use water to heat the rack. As a result, they must be connected to hot-water plumbing. This option can be a bit more complex to install. That's why it's generally best to install a hydronic towel warmer during a remodel. If you already have a hydronic radiator, the easiest way to install a floor-mounted hydronic towel warmer is to put it in place of your radiator, according to DIY.com. This will prevent you from having to drain your system or tear up your flooring.
WarmlyYours offers electric towel warmers, which use an electric heating cable to warm up the rack. They can be plugged into a standard outlet or hardwired to the home's circuit. Hardwiring a towel warmer requires some electrical work; however, plug-in towel warmers only require a three-prong outlet. As a result, they're as easy to hang as a picture frame. A freestanding option also is available, which simply rests on the ground with no installation required. Just plug it in, switch it on, and you're ready to go.
To see how to install a hardwired towel warmer, check out the video below.
Plug-in Towel Warmers vs. Hardwired Towel Warmers
There are two main things to consider when choosing between a plug-in towel warmer and a hardwired towel warmer: appearance and installation.  
If you want a clean, sleek look without any wiring showing, a hardwired towel warmer is for you. The wiring for these models is tucked away entirely within the wall. Plug-in models, on the other hand, will show the wire leading from the unit to the nearest outlet.
However, plug-in towel warmers are the easiest to install because they don't require any electrical work. They can be mounted on the wall like a piece of art, and they only require an existing three-prong outlet to work. In contrast, hardwired towel warmers must be connected to a junction box, which requires some additional work. Additionally, if you're interested in freestanding towel warmers, these will will be plug-in. 
WarmlyYours offers a range of four hardwired towel warmers and three plug-in models in various styles and sizes. One of the plug-in models is freestanding, but the rest are all wall mounted options.
Click here to more about about a WarmlyYours towel warmer. 
---
Tell us About your Project
Our team of Radiant Experts is ready to help! Just tell us a little about yourself and your project to get started.
---
Did you find this post helpful?
Let us know by giving it some applause.
---
---