Ontario is a province in east-central Canada that borders the U.S. and the Great Lakes. It's home to Ottawa, Canada's capital, known for Parliament Hill's Victorian architecture and the National Gallery, featuring Canadian and indigenous art along with the nation's most populous city, Toronto, which is also Ontario's provincial capital.
Ontario can be conceptually divided into two regions, Northern Ontario and Southern Ontario. The great majority of Ontario's population and arable land is in the south. In contrast, the larger, northern part of Ontario is sparsely populated with cold winters and heavy forestation.
 
The surrounding Great Lakes largely influence the climatic region of southern Ontario. Consequently, the winters can bring unforgiving cold so any respite from the harsh weather is appreciated. With electric radiant floor heating you can add warmth and soothing comfort to help minimize winter's cold effects. Floor heating rolls or mats cost between $10 and $12 per sq. ft. in Ottawa, Ontario. An entire electric floor heating system can be purchased for under $700 for a typical tile bathroom in Ontario, while an underfloor heating system can cost approximately $1,000 for an average kitchen. The average operating cost for underfloor warming in Ontario will be about 11 cents per hour. (All prices shown are in CAD).
Create a Spa Bathroom with Radiant Heating Solutions
For these Toronto, Ontario homeowners, adding radiant floor heat to their master bathroom was an affordable and efficient way for them to bring the relaxing warmth and comfort of floor heating to their daily lives. To warm their cold tile floors, they installed TempZone™ floor heating cable in their 56-square-foot bathroom for $691.00 at a cost of $12.30 per square foot. They also chose to add the Prodeso membrane underlayment (54 sq. ft. for $209.00, inclusive in the cost above) as it ensures water proofing and crack suppression for their beautiful tile flooring.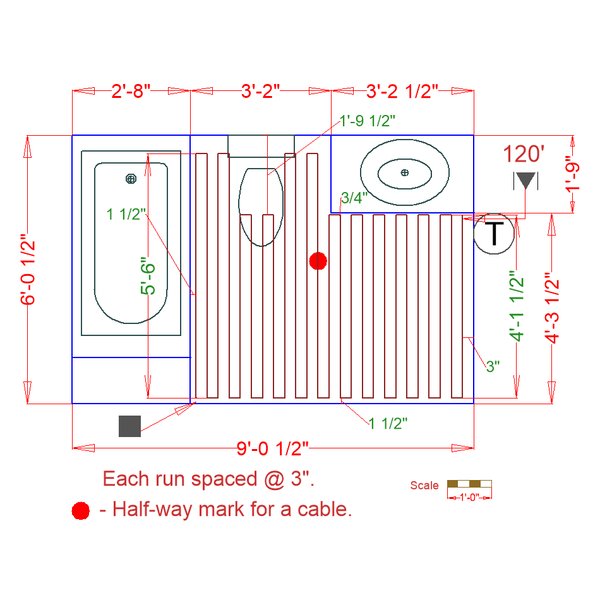 With the reasonable cost of materials above, see how affordable the operating cost is. Based on WarmlyYours's Operating Cost Calculator, it only costs 26 cents a day to heat this bathroom for four hours. Overall, it's a very economical way to add the comfort and luxury of a radiantly heated bathroom with soothing warm floors while upgrading your home at the same time.

While remodeling your bathroom go one step further and create your own in-home spa with the simple addition of a towel warmer or mirror defogger. To complete the effect, there are shower floor and bench mat heating systems. Your comfort is well worth the small additional cost. 

Now That You've Brought the Heat, Choose the Perfect Control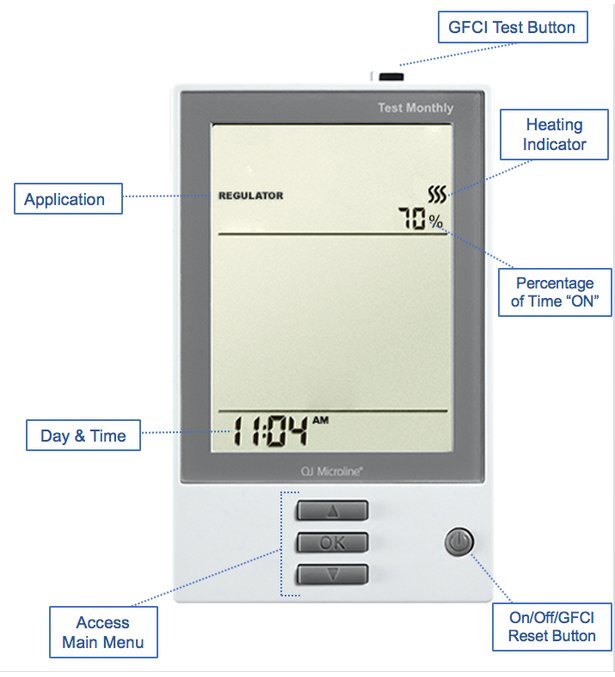 WarmlyYours offers a full range of controls with the nSpiration Series of Thermostats. The series includes programmable models including those that will allow you to easily monitor and manage your home comfort remotely from any device. There are also models that allow you to set it and forget it if that's your preference. All our controls are designed to help you get the most out of your floor heating system with a model for every application and every lifestyle. Make sure your floor heating control is as inspired as you are. If you have any questions or just want advice on what would be the best option for your lifestyle, call us at (800) 875-5285 and one of our friendly, knowledgeable staff will be happy to help you decide what works best for you.

Transform your Kitchen with Affordable Radiant Heat
These Ottawa homeowners had been planning to upgrade their kitchen for quite a while so when it came time to turn those plans into a reality, it made sense to enhance their remodeling project with underfloor heating. The cost was $1026 for a 1.5' x 60' TempZone™ Flex Roll to heat 90 square feet of the beautiful wood floors in this medium-size kitchen. That equates to less than $12 per square foot.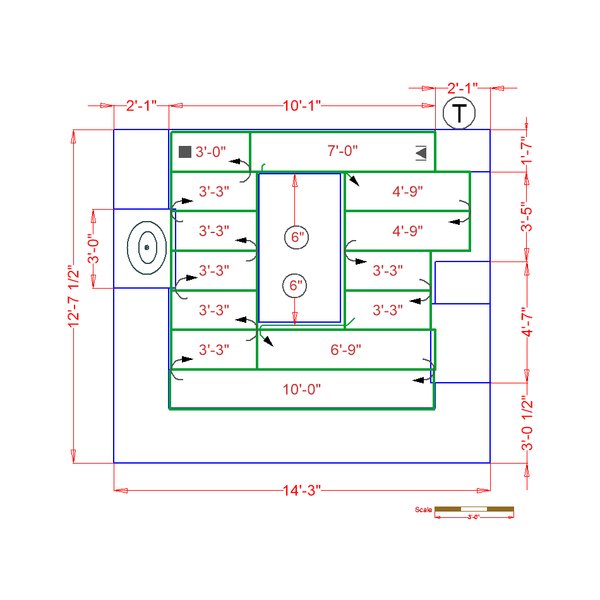 Another benefit is that the cost to operate the system is relatively low. It costs 26 cents a day to heat the kitchen for 8 hours, according to WarmlyYours' Operating Cost Calculator. This tool factors in the average kWh cost in Ottawa of approx. 14 cents. 26 cents per day is a small price to pay for the cozy comfort it brings to one of the most active rooms in the home. And radiant heat doesn't end with the floors. In addition, WarmlyYours offers Countertop Heating to take the chill off cold stone and granite counters. The best part is that you can add the heat underneath your existing counters so it's easy to install – there's no additional cost of remodeling necessary.
Radiant Floor Heating Enhances a Dual Purpose Basement Room 
These Thunder Bay homeowners decided to turn a basement room into a library that would also serve as a bedroom for visiting friends and family, which made it the perfect time to consider in-floor heating to warm up the cold basement floor. They purchased a WarmlyYours Environ™ flex roll floor heating system to keep the library/guest bedroom comfortably cozy during the winter rainy season. The 1.5- by 46-foot Flex Roll fills 69 square feet of floor space and costs just $828.00, which equates to around $12.00 per square foot. The Flex Roll is easy to cut and turn to effectively fill the floor space with 12 watts per square foot of soothing radiant heat.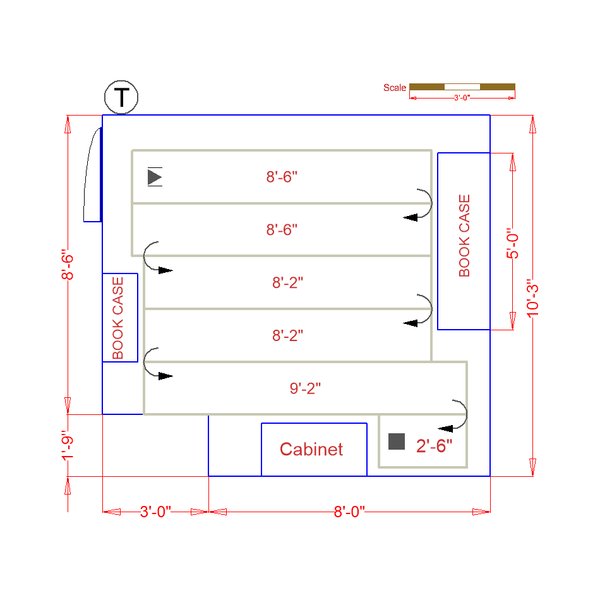 Operating the floor heating is also very economical. According to WarmlyYours' Operating Cost Calculator, it only costs 26 cents a day to heat this library/bedroom for eight hours. Another bonus is that the floor heating system can be the primary heat source for this room, so there won't be any additional heating bills.
Compare Radiant Heat Pricing with Online Quote Builder Tools
To learn much it would cost to heat any room in your home just check out WarmlyYours' Radiant Floor Heating Quote Builder tool online. By supplying some basic information like square footage of the room and flooring type, you'll receive all the radiant heating options for your room in a side-by-side comparison with corresponding costs. 

To get a more detailed installation plan, you can also upload your floor plan online which shows exactly how the floor-heating system should be laid out. This plan makes installation easier for you or your installer and also gives our technical team more information to help you during your installation if you have any questions. Our technical support experts are available 24/7 at 800-875-5285. 
If you are considering an outdoor heating application such as a heated driveway, walkways, or patio we have a Snow Melting Quote Builder to make your project planning easier too. 

24/7 Installation Support Assures A Smooth Project and Peace of Mind
WarmlyYours wants to be there for you whenever you need help or have any questions about your in-floor radiant heating system. To best assist you, we provide technical support 24 hours a day, every day, for any inquiries you have about installing your electric radiant heating cables, mats, controls and accessories, as well as fixing any issues or simply operating your system. No matter what your needs are, our team is ready to help keep you satisfied while getting the most out of your floor heating system.
---
Tell us About your Project
Our team of Radiant Experts is ready to help! Just tell us a little about yourself and your project to get started.
---
Did you find this post helpful?
Let us know by giving it some applause.
---
---