As homeowners begin planning remodeling projects, one question that often comes up is whether electric in-floor heating systems can be used as an effective primary heat source for a room or a home — especially when they find out about the affordability of radiant heat.
Can radiant floor heating heat an entire house? We're happy to say that it absolutely can, in the right scenario, which is an exciting prospect, especially considering radiant heat's benefits of no air blowing (which reduces indoor allergies) and soothing whole-room comfort (no cold air pockets in your room). 
"When you install radiant heat in your floor, the warm floor can act as a large heating surface, radiating heat into the whole room from the floor up" 
And one of the best things is that the installation cost for a radiant heating system will typically be less than the duct-work required to add on to an existing central air system. 
"Instead of overheating the room's perimeter in the hopes that the warm air will travel throughout the space before rising, subfloor heating serves up heat from below," explains This Old House's Joe Provey in a BobVila.com article. This results in the entire room, including furniture and objects, being warmer with radiant heat.
However, to determine if this chain reaction will effectively heat the room as a primary heating source, you must account for at least these primary variables such as 1) climate, 2) insulation, 3) position of the room(s) in the home, 4) whether cement slabs or crawl spaces are present under the room, and 5) whether the type of flooring you'd like to use in the room is compatible with the requirements of radiant heat. These variables and more will collectively determine radiant heat's potential effectiveness in the room.
1. How to heat a room in winter?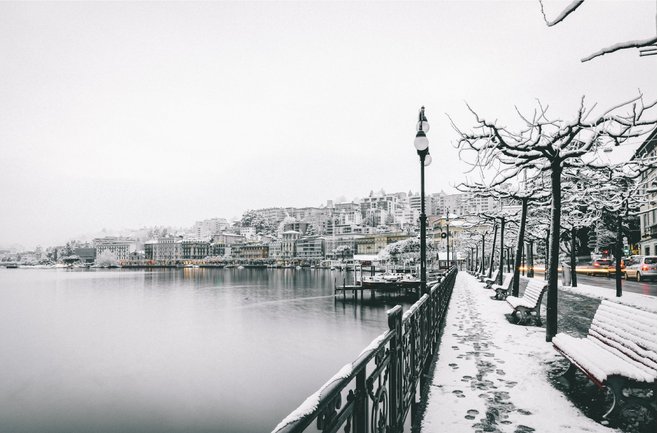 The colder the climate you live in, the more airtight your room will need to be in order to use radiant heat as a primary heat source. How cold does it get during winter? The colder it gets outside, the more perfectly all the other variables will have to be achieved (tight rooms with minimal heat loss and quality insulation, etc.) in order to create and maintain the level of heat needed cost effectively. A WarmlyYours Heat Loss Calculation is always based on the coldest month of the year, to ensure that room will stay warm even during these few bone-chilling days in the winter.

2. Why insulation is important? 
The insulation quality of the room(s) will play a major role in the successful use of radiant heat as a primary heating source. Some rooms will have very poor insulation overall — and this doesn't just include the insulation behind the walls. It includes how well windows and doors are sealed, how many windows there are, the number of doors or fireplaces, etc. For instance, sunrooms often have large windows, very thin walls and a lot of heat loss. In these types of rooms, electric floor heating may not provide quite enough heating capacity to keep that room at a comfortable 70 or 75 degrees, even when insulation is installed. Consider the sum of all the areas of insulation in a room. If the heating capacity is just slightly lower than the heat loss, then a WarmlyYours radiant floor heating system can usually be the primary heat source for three seasons of the year. However, additional heating sources, like a radiant panel or a portable heater, may be needed to keep the room at the desired temperature during the coldest days of winter.

3. Room(s) Position in the Home
Is the room on the interior of the home without any exterior walls to the outdoors? This will affect how much heat you need to produce and how much heat loss will occur. Typically a small area in the interior of the home, like a bathroom, can be easily heated with just floor heating. Also, you need to ask if the room is located over a cement slab or a crawl space? These typically get very cold, and will absorb most of the heat. The floor will not get very warm unless special considerations are made, including the type of insulation used. We recommend you add a layer of cork underlayment (a type of insulation) under the floor. Learn why in this video. It will dramatically increase the energy efficiency of your electric floor-heating system, and the floor will get a lot warmer.
4. What is the best flooring to use with radiant heat?
The type of flooring you wish to install in a room will impact the temperature that you can set the radiant heat to and how often you need to have it running. When setting the temperature of your floor-heating system, you should ensure compliance with the floor covering manufacturer's required maximum temperature limit, if applicable to your floor covering type. Due to some flooring manufacturers' maximum temperature limitations, some floor covering types may not serve as an optimal choice for a primary or sole heating source.
Different Floor Heating Products with Different Wattage and Coverage Options
WarmlyYours also offers a variety of floor heating products with different wattage per square foot (from as low as 11W to 20W). When planning a project where in-floor heating will be a primary heating source, the higher wattage product can be used and coverage can be maximized to bring as much heat into the room as possible. From easy mats for small areas, as in front of the sink that offer affordable coverage and comfort, to custom mats for irregular shaped rooms, different sizes and wattages help you customize your radiant floor heating system to your specific needs and budget.
Additionally, the installation cost of a radiant floor heating system is typically less expensive than the duct work associated with a new furnace. Installation costs generally run between 3.75 to 5.75 a square foot depending on the job size. However this is an estimate and it's advisable to contact your local trade professional for costs in your area.
While you are weighing all these considerations, you can take advantage of a convenient online tool from WarmlyYours to quickly determine if the room you want to heat could be effectively heated with radiant heat — the Heat Loss Calculator.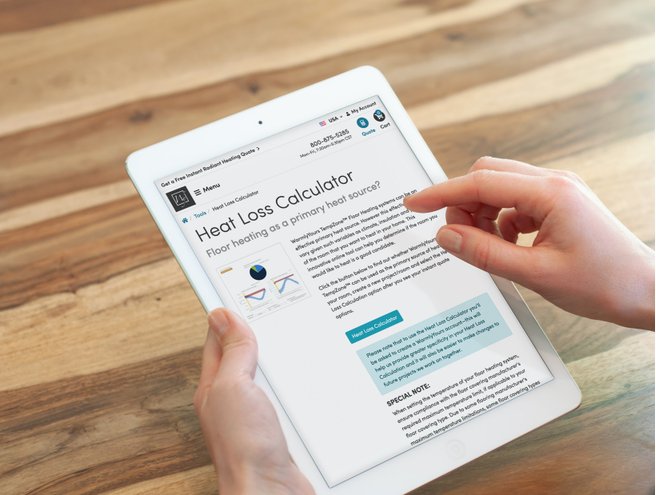 The calculator will provide a custom report that gives you valuable data and recommendations, including the average heat loss (a BTU/hour estimate) versus the BTU available from a WarmlyYours system based on the details of the room, the operating costs of the system, and a recommendation of whether radiant heat can be a primary heat source.
Taking advantage of the room(s) in your house that are viable radiant floor heating candidates is an exciting prospect. Do your research, use the heat loss calculator, and remember that you can also call our technical support staff and we will be happy to do the heat loss calculation and answer any questions for you at no cost. From there, if the room meets the requirements discussed above, get ready to move forward!
Do you use radiant heat as a primary heat source in any rooms in your home? Let us know on our Facebook page, or tweet us at @WarmlyYours.
Sources: http://www.bobvila.com/articles/2161-radiant-floor-heating-101/#.VOVyu_nF8u8
---
Tell us About your Project
Our team of Radiant Experts is ready to help! Just tell us a little about yourself and your project to get started.
---
Did you find this post helpful?
Let us know by giving it some applause.
---
---