Wet rooms and curbless showers are some of the most popular bathroom upgrades thanks to demand for universal design and open floor plans. Wet rooms typically consist of a freestanding tub and shower space divided from the rest of the bathroom with a pane of glass. Curbless showers, on the other hand, look like traditional showers but they have no threshold and typically feature a clear glass wall and door.
Homeowners have always been trying to make their bathrooms look and feel larger than they are. By remodeling their bathroom with a curbless shower or full wet room, it opens up the room, making it feel large and airy. Plus, when there are no thresholds to worry about, that means the design is accessible to everyone, which is a necessity for many homeowners — and a great feature for resale as well.
Once the decision has been made to remodel a bathroom with a curbless shower or wet room, it's inevitable that flooring will have to be removed and replaced. Therefore, this is the perfect opportunity to select a new material that's specifically suited for the new shower or wet room. It's also the ideal time to add in-floor heating to the project. Electric floor-heating systems can be installed right under the new floors and, depending on the system, can be outfitted with a waterproof installation membrane. Under tile, the membrane has the added benefit of being an uncoupling membrane, which means it will prevent the tile above from cracking.  
To help you choose the best flooring for wet rooms and curbless showers and explain how to integrate radiant floor heat, we've separated the information into two sections: wet room flooring and curbless shower flooring.
Wet Room Flooring
Tile is always a great option for bathrooms and showers. However, in the case of
wet rooms
, we're going to focus on vinyl and — believe it or not — concrete flooring. Because wet rooms are larger spaces, the slip factor is more important to consider. Stepping out of a bath tub inside a wet room can be hazardous if you haven't chosen the right flooring material. A large-format, glossy tile will create very slippery conditions, versus small mosaic tile or hex tile, which will use a wide array of grout lines to add skid control. However, vinyl and concrete offer superior slip resistance, plus they're highly resistant to water.
Vinyl floors come in sheets or planks/tiles. Sheet vinyl is the most affordable option. It is extremely waterproof because it has few — if any — seams for moisture to infiltrate. Luxury vinyl tile (LVT) and vinyl planks, on the other hand, are trendier offerings because they mimic the look of real wood or stone at a fraction of the cost and without any maintenance. Many of these products have mold and mildew inhibitors, waterproof guarantees, and a slip resistance warranty, according to RestorationMaster. Vinyl floors can also be heated with a TempZone™ floor-heating system.
Concrete recently made its way onto kitchen countertops, so it shouldn't be a surprise that it's making its way into wet rooms as well. Concrete can be stained or stamped to suit your decorative taste. And as long as it's sealed properly, it delivers excellent protection against water. Best of all, an electric floor-heating system can be embedded right in the concrete during installation to ensure that your wet room floors are always warm despite concrete's "cold" reputation.
Curbless Shower Flooring
While vinyl and concrete can also be used in a curbless shower, tile is typically the go-to option for curbless shower flooring. Whether you like large-format tiles or small tiles with plenty of grout lines, the slip resistance within the shower should be sufficient as long as you don't select a particularly glossy tile.
Porcelain tile is the most durable option. It's made from denser clays than ceramic and fired for longer at a higher temperature, making it stronger and less porous. As a result, it's highly resistant to water. Porcelain tile is also low maintenance, which is an upside for many homeowners.
Ceramic tile is very similar to porcelain (since porcelain is actually a form of ceramic tile), but it's slightly less durable. It's also highly resistant to water and low maintenance, but often comes at a lower price point than porcelain.
Natural stone is the most luxurious option, but also the most expensive with the highest maintenance. Some of the most popular options include marble, limestone, travertine, sandstone, slate andgranite.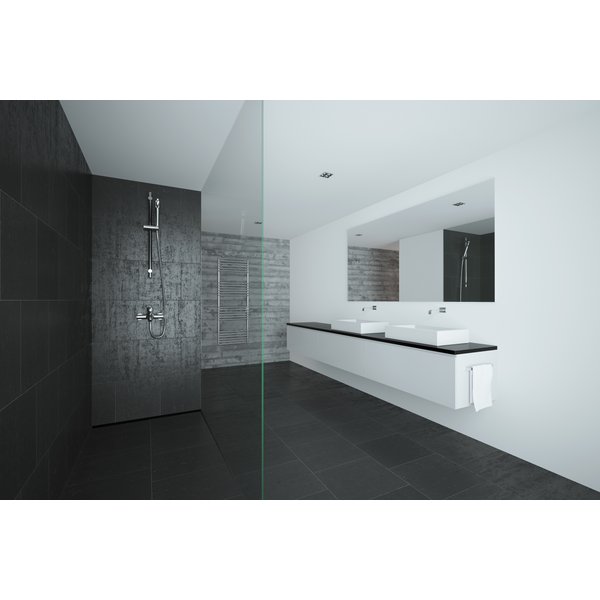 Regardless of the type of heated shower tile you choose, all types of tile can be heated with an electric floor-heating system.
To find out how much it would cost to put heated floors in your wet room or curbless shower, use the WarmlyYours Radiant Floor Heating Quote Builder.
---
Tell us About your Project
Our team of Radiant Experts is ready to help! Just tell us a little about yourself and your project to get started.
---
Did you find this post helpful?
Let us know by giving it some applause.
---
---