Around the country, home prices and interest rates continue to increase, new construction is often difficult to find, and much of the baby boomer generation plans to "age in place." As a result, the Home Improvement Research Institute expects remodeling activity to continue to increase through 2021.
Typically, the most significant remodels occur in the kitchen and bathrooms; however, flooring and paint colors are also ever changing. That's why we've identified the top home remodeling trends of 2019 and narrowed them down to these three areas: flooring, kitchen/bathroom and color. If you're in the market to remodel, these upcoming trends are a great place to start!
Flooring Trends
Light Wood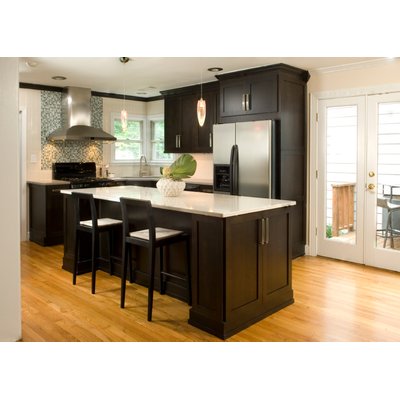 Unlike dark, revealing wood floors that have gained popularity more recently, 2019 will see a shift back to lighter wood floors like birch, beachy white and light oak. These floors give the home a warm, open and airy feel.
Terrazzo
In kitchens and bathrooms, terrazzo is back in style. Terrazzo is a composite material made from chips of marble, quartz, granite and glass set into cement, resulting in a confetti-like appearance. It gained a lot of popularity in 2018 and is expected to continue to trend in the new year, delivering color and interest to kitchen and bathroom floors.
Kitchen & Bathroom Trends
Dark Kitchens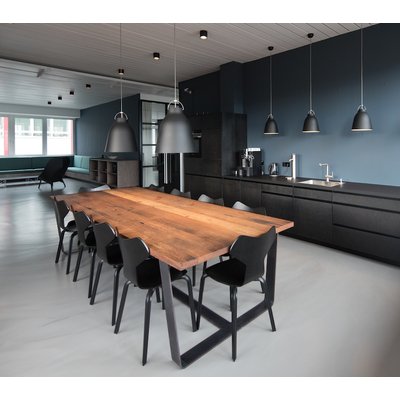 Just as we've gotten accustomed to seeing white kitchen cabinets with white backsplashes and white countertops, it's time for kitchens to go dark. Painted blue, gray and black cabinets will be popular, along with dark appliances and backsplashes. According to Décor Mag, these dark and "moody" kitchens will add a sense of elegance and drama to the home, while being easier to maintain than white kitchens.
Concrete Countertops
Quartz will remain the trendiest countertop material, but concrete countertops are gaining ground.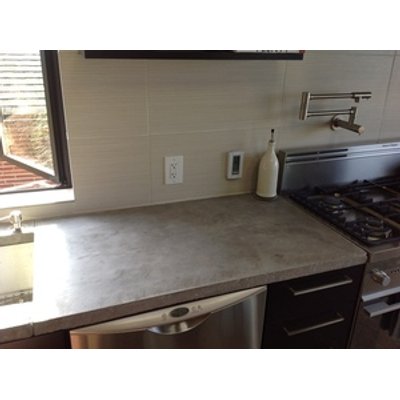 Elle Décor expects to see concrete used in sinks, countertops and floors. When used in combination with wood and metal finishes, concrete offers an industrial, stylish option for homeowners. When used as the floor, it can be polished, stamped or stained, and even heated so that you get the look you want without being cold to the touch.
Upper Shelving Reconfiguration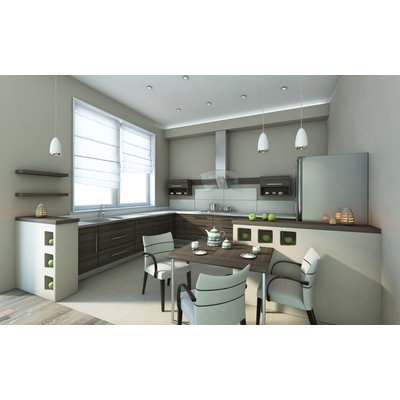 This year, many kitchens will ditch their upper cabinets and replace them with open shelving. As a result, we'll see especially tall backsplashes and undercounter microwaves to accommodate this trend. When selecting a backsplash for such a large space, you can expect it to be the focal point of the room, so be sure you're happy with the pattern — or lack thereof — you choose. You may want to stray from subway tile and chevron patterns, which might soon reach their peak, according to some experts. Geometric patterns will still be trendy, and a new option may be to use colorful grout. Colorful grout offers a hint of color without being overwhelming and also accentuates the shape of the tile you choose.
Kitchen Seating
The kitchen table might even be reimagined in 2019. Built-in kitchen seating is becoming more popular — for instance, creating a booth in the corner of the room. This offers a casual, cozy atmosphere for families to gather and share a meal. Another option is repurposing the kitchen island as the table. We're used to an overhang on one side of the island for bar stools; however, this approach consists of extending the countertop on two or more sides (depending on how much space you have). This effectively gives you a multi-purpose island/kitchen table.
Standout Pendant Lighting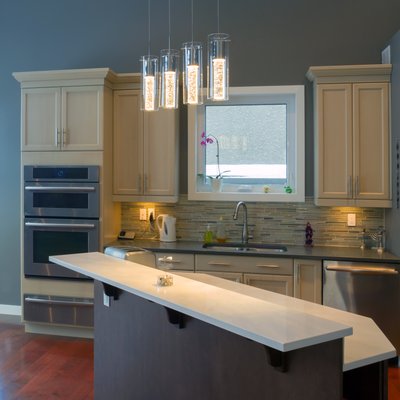 If you're remodeling your kitchen this year, be sure to select some unique pendant lights to hang over your island (if you have one) and kitchen table. If you go with a monotone kitchen, pendant lighting allows you to bring in some jewel tones for a pop of color. Or, if you're going the colorful route with the kitchen cabinetry or backsplash, selecting some unique lights that highlight your style will add some flair to the room.


Color Trends
Hunter Green Cabinetry
While blue, gray and black cabinets are trending, designers also expect to see hunter green kitchen cabinets gain popularity. Although this color is dark, because it's an earth tone it gives off a warm, welcoming feeling. Pair it with some leather pulls and light wood floors and you'll have a nature-inspired retreat to cook in every day.
Wall Paint
There's nothing like a coat of paint that makes everything feel new again. For 2019, Décor Mag suggests the following paint colors for walls throughout the home: hazelnut, lilac gray, dark greens, muted pastels, soft clay, subtle blues, mustard, mist, mushroom and pewter.
If your new year's resolution is to remodel your home, be sure to reference this list of trends for ideas before you begin!
---
Tell us About your Project
Our team of Radiant Experts is ready to help! Just tell us a little about yourself and your project to get started.
---
Did you find this post helpful?
Let us know by giving it some applause.
---
---