At WarmlyYours, there's nothing we love more than hearing from our customers — especially once they've had the chance to enjoy our finished product. We know they're going to love their heated floors, and we're happy to be a part of that experience. We pride ourselves on being there for our customers from the beginning of the project to the end, but once everything is up and running, we don't always get to hear customer feedback. That's why we created the "Share Your Story" program. This gives our customers the opportunity to share their experiences with us as well as other current and prospective customers.
This story comes from a customer in New Jersey, who installed Environ™ Flex Rolls in his master bedroom. His submission is as follows: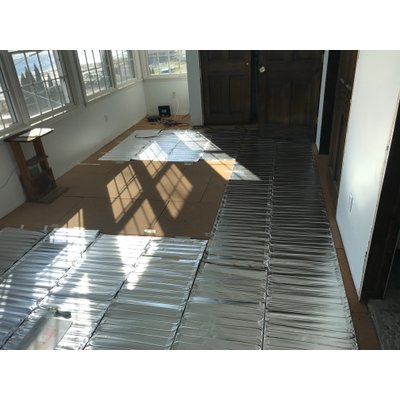 My name is David, a DIYer who started doing his own home renovation projects a couple years ago. I never did heated flooring below a floating engineered/bamboo floor before, so I knew the process wouldn't be too difficult but that I would have a handful of basic technical questions throughout the process to make sure I did it properly. (Definitely didn't want to have issues with the heat once the flooring was fully installed!) 
I had a handful of technical questions throughout the entire process, but the bulk were near the end of the installation process when I had all of the wires meeting in the thermostat area behind the sheetrock. The questions ranged from how to cross the wires before they go behind the wall to how to properly hook up the wires to the thermostat. I probably called tech support 10 times within 24 hours! I called so many times for all of these basic little questions that the tech support person (I believe his name was Matt) knew me by name and treated me as a friend who was a customer, rather than just a customer. It was a great experience! In fact, the one time I called and happened to get someone else, they ended up forwarding me to Matt. He then said to call him directly, and he gave me his extension! I couldn't have been any more satisfied with the tech support! 
I am likely going to do another heated floor project soon, and I am definitely going to use WarmlyYours again! One of the main reasons is due to the A+ tech support, which is critical to a DIYer!

Now all I need is someone to help me figure out a way to keep my dog off the heated floor! :) 
Thanks again WarmlyYours, 
David

To gain more information about David's project, WarmlyYours followed up with a few questions. The interview is as follows:
1. Can you tell us a little more about the room in which you installed floor heating? What kind of room is it and why was floor heating included? 
The room is our master bedroom. We typically do not run the heat very hot in the house for economic and energy reasons. So, this is an easy way to just give this room a little extra heat during the hours we want, while not having to worry about turning up the thermostat and giving extra heat to the entire house. 
2. How did you settle on the Environ™ Flex Roll heating element for your project?  
I forget the exact reason, but I think after speaking with a couple companies, your product made the most sense for what I was trying to do. I believe one of the factors was I would only need two rolls, which meant a lot less wires running behind my wall, which makes for an easier and cleaner installation. And as a bonus, I was able to run on a single 15-amp breaker at 120 volts — this was critical because my electric panel has limited space. 
3. Were you surprised (or did you learn anything unexpected) about installing electric floor heating from this project?  
I learned that the support from your company was unparalleled. It was such a nice surprise to have somebody available to assist you with just a simple phone call.  
4. Have you had a chance to use the new heating system yet? If so, how's it been?  
Yes! It's been perfect so far! 
Although people typically hear about heated bathroom floors, heated bedroom floors are another great option. Like David mentioned, a floor-heating system in the bedroom allows you to lower the heat for the rest of the home while you sleep comfortably, thereby saving energy. Electric floor heat can be installed under virtually every flooring type, including carpet (in the United States), floating wood, laminate and tile. To find out what system suits your flooring type and how much it costs, be sure to check out the free and easy Radiant Floor Heating Quote Builder.
Already have experience with a WarmlyYours floor-heating system? We'd love to hear your story! Click here for details on how to share your story and get your own blog post like this one!
---
Tell us About your Project
Our team of Radiant Experts is ready to help! Just tell us a little about yourself and your project to get started.
---
Did you find this post helpful?
Let us know by giving it some applause.
---
---