Lake Zurich, Ill., June 12, 2019 ⎯ WarmlyYours has launched a new digital tool which helps users identify how much it would cost to operate an electric snow melting system in their area.
 
The Electric Snow Melting Operating Cost Calculator was launched by WarmlyYours, a radiant heating manufacturer, last week after a short beta-testing period. The tool allows users to enter a few project details, such as the zip code and the dimensions of the area to be heated, which then gives the user a breakdown of the projected operating costs for the system. The costs are broken down by hour of operation and by snowfall duration. 
 
Julia Billen, owner and president of WarmlyYours, said the tool's development was as a direct response to increased consumer interest in sales of snow melting systems for heated driveways and walkways, which in Q1 2019 were up 174% from prior year period. According to Billen, the increased interest in snow melting is due in large part to the most recent winter which was particularly harsh in terms of both temperatures and precipitation across a lot of the U.S. and Canada.
 
"Anytime there's increased interest in a product, there's a corresponding increase in the questions that people have about it," said Billen. "For us, one of the most common questions we've been asked has to do with the energy use of a snow melting system and this tool was created to answer that question."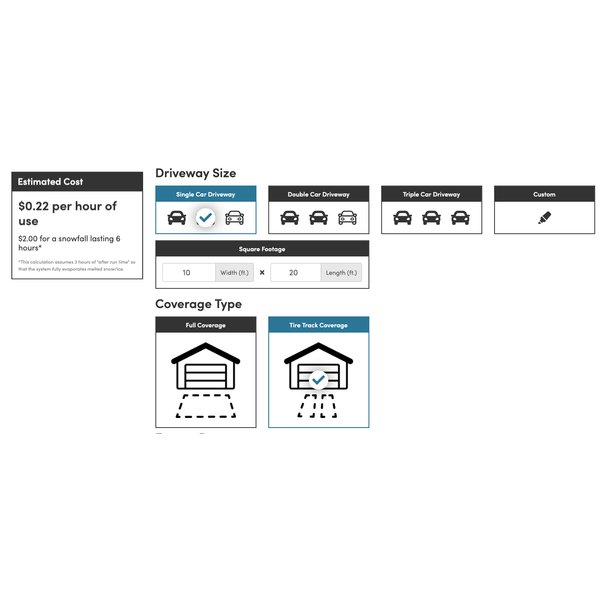 This interest in the operating cost of snow melting systems can be measured by increased traffic for a WarmlyYours blog about energy use for heated driveways, which was up 21.75% when compared to the prior year period. Billen said another benefit of the new Electric Snow Melting Operating Cost Calculator is that it helps clear up misconceptions about energy use.
 
"The most common misconception we hear is that running the system is going to be prohibitively expensive. Sometimes people think the system has to be on all the time or sometimes they just over-estimate how much electricity it'll actually use," said Billen. "This tool helps demonstrate how truly affordable a snow melting system is compared to paying for a snow removal service or even chemical melting agents, which can be hazardous to pets and the environment. Of course, shoveling it yourself is probably the cheapest option but I can tell you this: in all the years that WarmlyYours has been selling snow melting systems, we've never had a customer call us back to complain that they miss shoveling snow." 
 
Check out the new Electric Snow Melting Operating Cost Calculator here: https://www.warmlyyours.com/snow-melting/cost-calculator
 
###
Hi-res images are available upon request.
About WarmlyYours Radiant Heating: 
For over 20 years, WarmlyYours Radiant Heating has offered the industry's most innovative solutions in radiant heating technology, from our flagship floor heating systems and radiant wall panels to snow melting systems, as well as comfort products, including towel warmers, mirror defoggers, shower floor and bench heating, and countertop heaters. With locations in the United States and Canada, WarmlyYours provides unrivaled personalized customer support from start to finish, featuring measuring and design services, 24/7 technical support, and our No Nonsense™ Warranty. 
 For more information, visit www.WarmlyYours.com.
Media Contact: 
Cameron Witbeck   
Marketing Communications Manager   
590 Telser Rd, Suite B   
Lake Zurich, IL 60047  
cwitbeck@warmlyyours.com   
P: (800) 875-5285 ext. 878
---
Tell us About your Project
Our team of Radiant Experts is ready to help! Just tell us a little about yourself and your project to get started.
---
Did you find this post helpful?
Let us know by giving it some applause.
---
---