Detroit is the largest, most populous city in the state of Michigan, and the largest city on the United States–Canada border. The metropolitan area, known as Metro Detroit, is home to 4.3 million people, making it the second-largest in the Midwest after the Chicago metropolitan area. Regarded as a major cultural center, Detroit is known for its contributions to music and as a repository for art, architecture and design. For all of its cultural influence, Detroit is still best known as the center of the U.S. automobile industry, and the "Big Three" auto manufacturers General Motors, Ford, and Chrysler are all headquartered in Metro Detroit. 
The climate in Detroit is considered humid continental which is influenced by the Great Lakes. Winters are cold with moderate snowfall. Detroit ranks fifth in coldest cities in the U.S. and falls within the top ten snowiest cities in the U.S. based on data from currentresults.com. To lessen the harsh effects of cold floors during the winter, electric radiant floor heating is often installed underneath those surfaces bringing the comfort and luxury of warm floors to any room in the home. 
Typical Costs for Radiant Electric Floor Heating 
In Detroit, floor heating rolls or mats will cost between $10 and $12 per sq. ft. An entire electric floor heating system for a typical tile bathroom can be purchased for under $700. A radiant heating system for an average kitchen can cost less than $1,000. The operating cost for infloor heating in Detroit will be less than a dollar a day based on the average kWh cost of 10.72 cents. 
Please check out this previously published blog on how much radiant heating costs in a Detroit kitchen to get an added perspective on the effectiveness of underfloor heating when added to one of the most used rooms in the home.
A recent blog 'How Much Does Radiant Floor Heating Cost in 2019' will give you an overview of the scope and costs associated with underfloor heating. To see how much radiant floor heating would cost in any room in your home please visit our Radiant Floor Heating Quote Builder with your project details. 
Below are various examples of different rooms and the costs for adding radiant floor heating to each, with contrasting types of flooring. 
Create an In-Home Spa with Radiant Heat in Your Bathroom Remodel
Adding floor heating to a large master bathroom was essential for these Detroit homeowners who wanted to bring additional warmth and luxury to their daily routine. 
Only 47 Cents a Day Warms This Cold Bathroom Tile
So they chose to warm up the elegant but cold tile in their newly remodeled bathroom by installing a 1.5- by 66-foot TempZone™ Flex Roll in their 123 sq. ft. bathroom for $940.00 at a cost of $9.49 per square foot.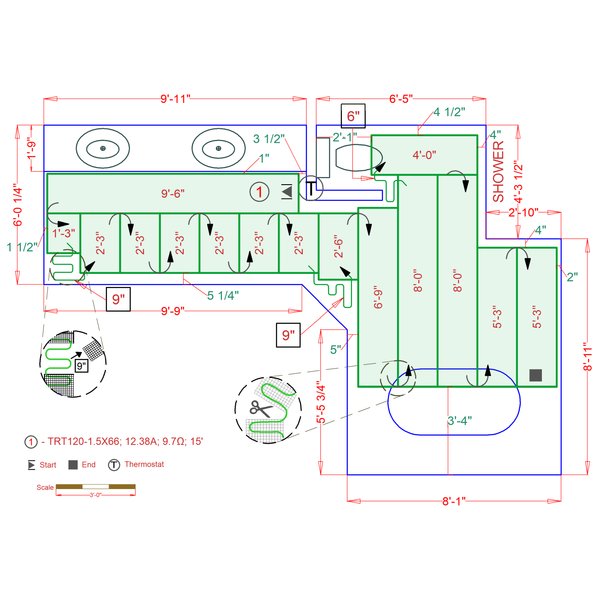 In addition to the affordable cost of materials, the operating cost was also low. Based on WarmlyYours's Operating Cost Calculator, it only costs 47 cents a day to heat this bathroom for four hours. Overall, it's a very economical way to add the comfort and luxury of a radiantly heated bathroom with soothing warm floors while upgrading your home at the same time.

You'll be amazed at the benefits a spa bathroom has to offer. When remodeling your bathroom, consider adding a towel warmer, LED mirror or mirror defogger to create your own in-home spa. WarmlyYours now offers new Shower Kits with floor heating to complete the effect. 
Metropolitan Towel Warmer
The Metropolitan towel warmer is particularly large in size with 10 sleek heated rails that are perfect for warming large towels and bathrobes.
For added convenience, it can be purchased with an optional programmable timer, giving you the ability to set it in advance so that your towels are warm as soon as you step out of the shower or bath. Metropolitan towel warmers are available in a polished stainless steel finish.

Calculating Costs for Adding Radiant Floor Heating to a Detroit Kitchen 
As their kitchen was one of the most used rooms in their home, these Detroit homeowners knew it made sense to add electric in-floor heating when planning their kitchen remodeling project.  
In-floor Heating Under Laminate Costs Less than $10.00 per Sq. Ft. 
To warm up their new stylish but cold laminate flooring, they chose to install an Environ Flex Roll floor heating system in the 123 sq. ft. space (94.5 sq. ft. heated area) for $865.00 at a cost of $9.15 per sq. ft. There were two rolls specified, each one consisting of an insulated heating cable sandwiched between two layers of reinforced, durable aluminum foil that radiates 12 watts per sq. ft.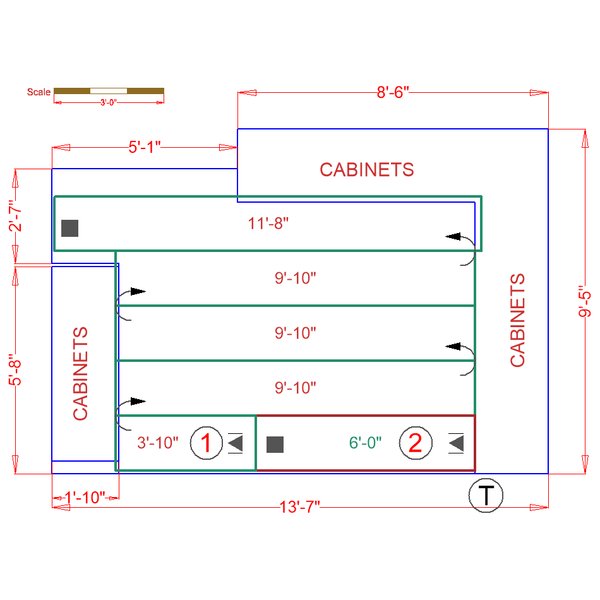 It's a good idea to factor in the cost for operating the system when considering your budget. WarmlyYours has these useful online tools to help you do just that. Based on WarmlyYours's Operating Cost Calculator, just 60 cents will heat this kitchen for eight hours a day. An added bonus is that this system can be a primary heat source for the room without incurring additional heating bills.  

Save on Energy Costs with Radiant Heat as the Primary Heat Source
To determine if radiant floor heat can be your primary heat source, WarmlyYours's Heat Loss Calculator will ask about your desired room temperature, how well your room is sealed, and other details to determine how much heat is being lost. 

No Additional Heating Necessary with Floor Heating as a Primary Heat Source 
In this instance, the room to be heated is located above a heated room and the ceilings in the room are 9 feet. According to WarmlyYours's Heat Loss Calculator, a floor-heating system can be the primary heat source so no additional heating will be necessary, a considerable cost and energy savings. If the room had a fireplace or other poor sealing factors, radiant floor heat as a supplementary heat source might be recommended. To find out if radiant heat can be your room's primary heat source, check out WarmlyYours's Heat Loss Calculator to see for yourself.

A Home Office made both Cozy and Functional With Underfloor Heating
In this instance the homeowner worked remotely from his Detroit home, so he wanted to warm up his office to make it a more comfortable working environment. He decided to replace his office floors with hardwood and add electric floor heating underneath.

What's the Cost of Floor Heating?
The homeowner purchased a 1.5- by 43-foot TempZone Flex Roll for the 70-sq. ft. office. The actual heated area is 64.5 sq. ft. and the Flex Roll cost $645, which amounts to $10 per sq. ft. Because the heating cable is embedded in mesh in a serpentine design, the roll was easy to cut and turn for layout. It even accommodated the space under the built-in desk!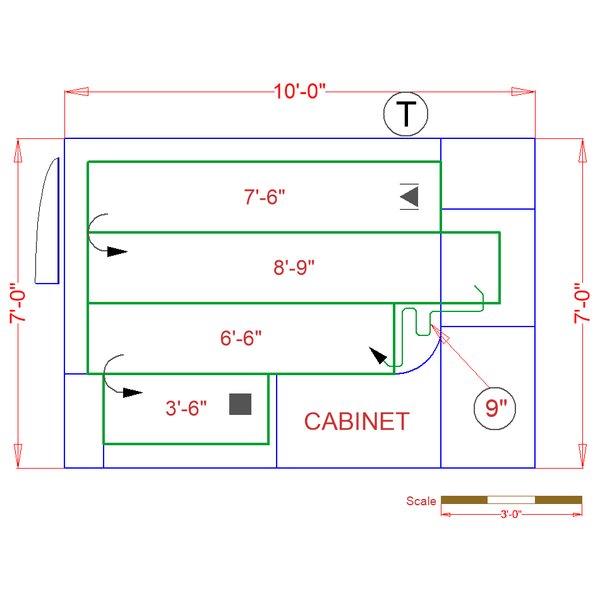 As a result, the system radiates 15 watts per sq. ft. of heat, which is the highest watt density allowed by the National Electric Code. This means the floors heat up faster and get hotter than in-floor heating systems with a lower wattage. The floor-heating system is also very inexpensive to operate. It only costs 39 cents a day to heat these office floors for eight hours a day, according to WarmlyYours' Electric Radiant Floor Heating Operating Cost Calculator. 

Radiant Heat: Perfect Solution to Warm Up Cold Stone Flooring in this Living Room
These Detroit homeowners wanted to remodel their living room and they knew they needed to warm up their elegant new stone flooring to make it more livable and cozy for entertaining family and guests.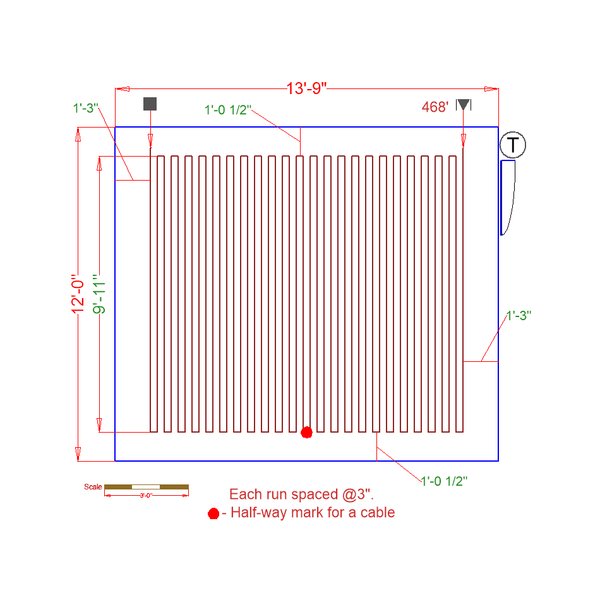 Underfloor Heating Costs Less than $6.00 per Sq. Ft.
They chose a TempZone Cable underfloor heating system that cost under 700.00 for the 117 sq. ft. heated area or just under $6.00 per sq. ft. To heat this living room for eight hours a day, it costs about $.65 per day, according to WarmlyYours's Operating Cost Calculator and based on the 10.72 cents per kWh cost in this Detroit location. 
A question that we are sometimes asked is "Are Heated Floors Safe?" 
Yes. The WarmlyYours TempZone™ floor heating system has withstood rigorous safety testing by the Underwriter's Laboratory and has received UL listing for the U.S. and Canada. WarmlyYours offers thermostats that carry the CSA Mark and the UL listing, which certifies that the product has been tested under extreme conditions and meets applicable standards for safety and/or performance in the U.S. and Canada. All WarmlyYours thermostats contain a Ground Fault Circuit Interrupter (GFCI) which provides fail-safe protection against an electrical shock.
A Wide Variety of Floor Heating Controls and Costs to Suit Any Budget 
The nSpiration series of thermostats from WarmlyYours was created to let you customize your comfort; each control tailored to meet a specific need. From programmable models to controls that will allow you to easily monitor and manage your home comfort remotely from any device, all of our controls are designed to help you get the most out of your floor heating system. For large applications, or additional areas, you may have to pair your nSpiration Series thermostat with the nJoin power module. For more information, please check out the thermostat page on our website.
Underfloor Heating Installation Costs
Installation costs can vary according to square footage.  Typically the larger the project, the lower the installation cost per square foot. An average is between $3.75 to $5.75 a square foot depending on the job size. Again, this is an estimate. For actual radiant floor heating installation costs, consult your local trade professional for specific costs in your area. 
Get Costs To Run Your In-floor Heating System with the Operating Cost Calculator
Is electric floor heating expensive to run? Find out with WarmlyYours Electric Floor Heating Operating Cost Calculator.  It's a useful online tool that will ask basic project questions such as product type, room size, local energy rate and daily usage in order to calculate the daily, monthly and annual operating cost of your system. It's easy to use. To get started, check it out here. 

Make Project Planning Easy with Online Tools: Radiant Floor Heating Quote Builder and SmartPlan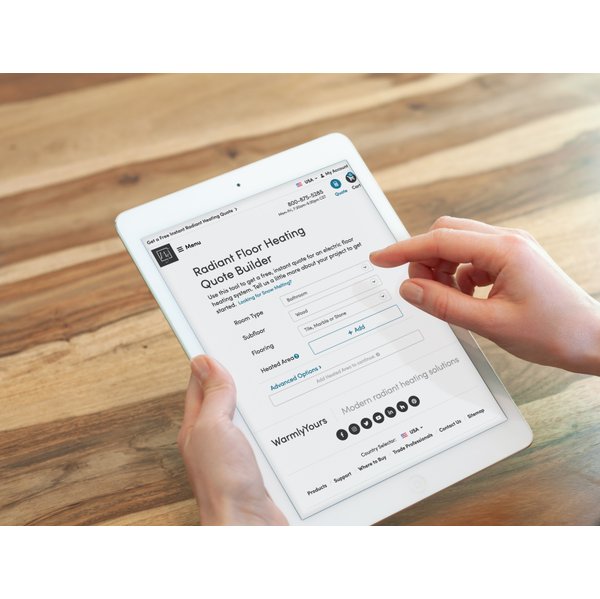 WarmlyYours has developed several user friendly online tools to simplify project planning and streamline the order process. To find out how much it would cost to add in-floor heating to your bathroom — or any other room in your home — check out WarmlyYours' Radiant Floor Heating Quote Builder tool online. This tool will help you select the product you need along with the cost. It also allows you to upload a drawing or image of your room's floor plan so that our sales team can provide you with a free customized installation SmartPlan. 

24/7 Technical Support Ensures Easier Install
Having a SmartPlan makes installation easier for you while giving our technical team more information to help you through your install if you have questions. The plan shows you exactly where the electric floor heating will be located and how it will be laid out for optimal functionality. And to ensure your project goes smoothly, our technical support experts are available 24/7 at 800-875-5285. 

For more information about radiant floor heating products and how they can transform your living space, visit us at WarmlyYours.
 
 
---
Tell us About your Project
Our team of Radiant Experts is ready to help! Just tell us a little about yourself and your project to get started.
---
Did you find this post helpful?
Let us know by giving it some applause.
---
---