As the tallest model in the Classic Collection of electric towel warmers from WarmlyYours, the Metropolitan more than lives up to its 19.75" W x 41.5" H x 5" D size through its elegant style and functionality. The 21st century design includes 10 sleek bars in a flawless polished stainless steel finish and is ideal for heating large bath towels and bathrobes.

There are four control options to choose from to operate the Metropolitan towel warmer; the hardwired 4-setting countdown timer, WiFi switch, WiFi WeMo light switch and programmable timer. This wide array of applicable controls ensures that you'll find  the one that best suits your lifestyle.
Installing a towel warmer just requires mounting it to your bathroom wall and hardwiring it into a 120-volt circuit. Once operational, the Metropolitan towel warmer radiates 150 watts of soothing heat to deliver comfort when you need it most. It's also covered by our manufacturer's warranty for 2-years to offer you peace of mind. 
How Much Does a Towel Warmer Cost?
For WarmlyYours towel warmers, the costs can range from less than $200 for the Elements to just under $1,000 for our Milan and Vida towel warmer models with a wide variety of choices in between.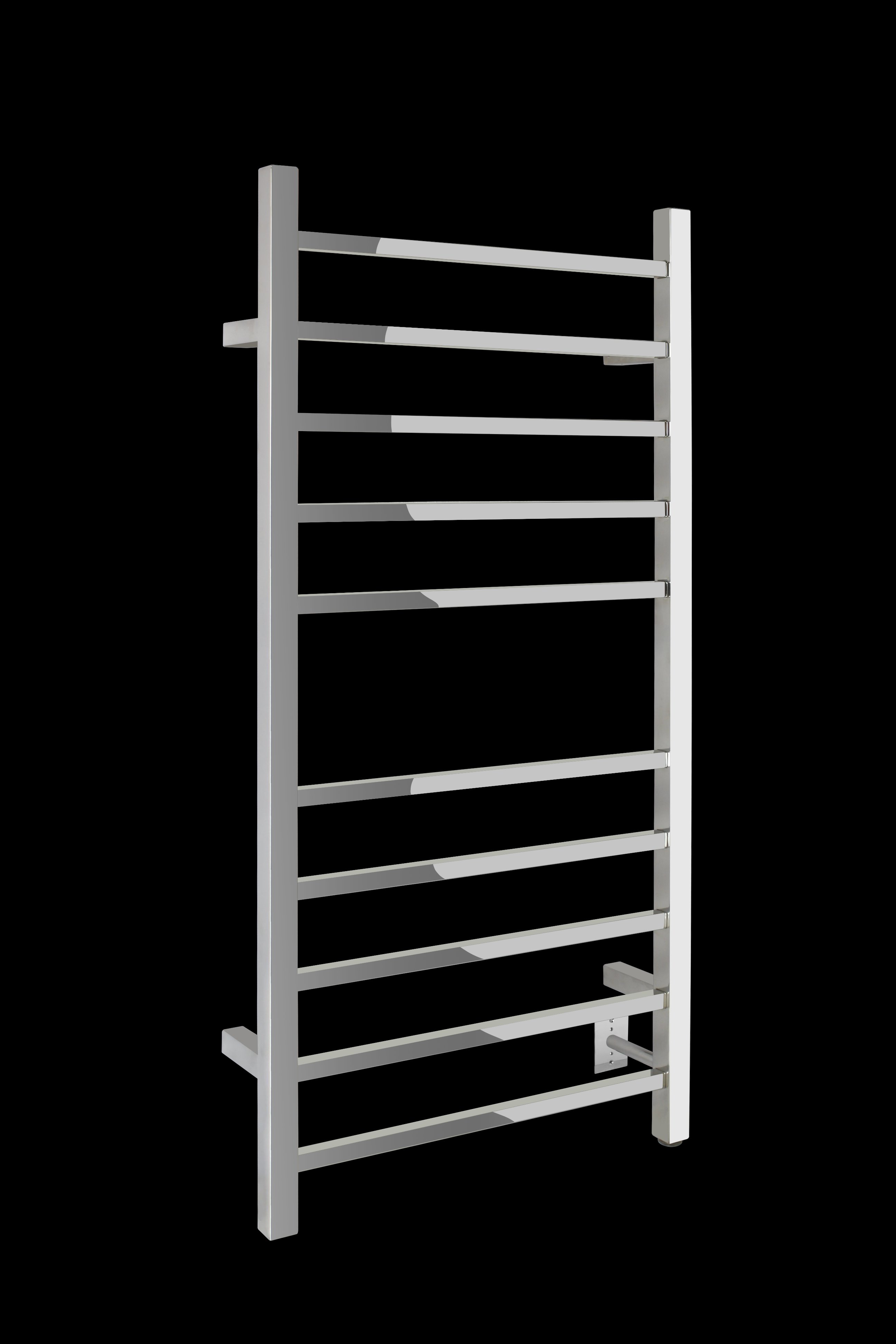 The Spa Benefits of Electric Towel Warmers 
Towel warmers are key additions to bathroom remodeling projects or they can be used to economically upgrade an existing bathroom. An early morning convenience, towel warmers can be programmed before you begin your day so that a warm, soothing towel is ready to greet you just as you finish your bath or shower. It offers the same experience of a toasty towel just out of the dryer, yet it's much more energy efficient. For some small bathrooms, a towel warmer like the Metropolitan, which has a heat output of nearly 512 BTUs per hour, can even provide some space heating benefits.
And, the towel warmer can be programmed to turn off when you are through so that you don't waste energy. Towel warmers bring you a spa bathroom experience at a fraction of the cost of a professional spa. You can find additional bathroom design ideas for large and small spaces by visiting Houzz. 
Frequently Asked Questions
Can I install the Metropolitan myself or do I need to hire someone to do it for me?
By carefully following the included instructions, almost anyone will be able to mount a towel warmer.  However, for hardwired models like the Metropolitan, we highly recommend that you hire a licensed professional who is certified to do electrical wiring for the final hook-up.
How do I use the towel warmer after it's installed?

Our towel warmer design allows for everyday use and all of them include an integrated on/off switch. WarmlyYours also offers a wide array of controls that can be used with your towel warmer. Depending on the control you select, you can program the towel warmer to your schedule or operate it remotely. Keep in mind that the towel warmer is designed to gradually warm towels over the course of a day and does work best when towels are left to hang for about 3 hours.
For best results, we also recommend that you only use towels made from 100 percent organic materials (like cotton) with your WarmlyYours towel warmer.

How much does it cost to operate the towel warmer?
 
The cost to operate your model will depend on two different variables: 1.) the wattage of the model you've selected. 2.) the cost of electricity in your area. 
A quick way to figure out the hourly operating cost is to take the cost of electricity in your area (typically measured in cents per kilowatt hour) and multiple it by the wattage of your towel warmer divided by 1000. For example, the cost to operate a Metropolitan (a 150-watt model) in Lake Zurich, IL (where electricity costs 10.44 cents per kilowatt hour) would be less than 2 cents an hour and the formula to figure that out would look like this: $0.1044 x (150/1000) = $0.0156 per hour. 
Can I install a towel warmer in a room that already has electric floor heating?

The towel warmer is designed as a stand-alone product and will add some warmth to the room. It is, however, the perfect complement to your floor heating system as they will work together to transform your bathroom into a spa-like retreat.
 
If you have any questions, just contact us at (800) 875-5285 or visit our website at www.warmlyyours.com where you can browse or live chat us. We welcome the opportunity to enhance your lifestyle with the luxury and comfort of radiant heating. 
---
Tell us About your Project
Our team of Radiant Experts is ready to help! Just tell us a little about yourself and your project to get started.
---
Did you find this post helpful?
Let us know by giving it some applause.
---
---