---
Shower Waterproofing Kits for Tile Showers
Tile showers are growing in popularity with homeowners and professionals alike because of how they naturally blend practicality and stunning design. However, a tile installation is only as good as the shower waterproofing kit that it's installed with. A great shower waterproofing system ensures that your shower walls, backer boards, and subfloors are protected from water damage while providing additional benefits like eliminating the need for a traditional mud bed by incorporating a pre-sloped shower pan to direct water towards the drain.
The sheet membrane in the waterproofing system completely repels water while redirecting it towards the drain in the shower base, which means the tile and grout dries much faster—virtually eliminating any concerns about mold or mildew.
Because you don't have to build the mortar bed and then wait for it to cure, the use of these kits can greatly decrease the amount of time and effort needed to install a tile shower. Additionally, these kits can be easily installed since they don't require the use of proprietary boards, fasteners, or specialized tools.
---
Combine Electric Floor Heating with a Shower Kit for Ultimate Luxury
For the very first time, electric floor heating can be combined with shower kits to create the ultimate bathroom remodeling kit. Relying on the shower's water to heat a cold tile shower floor can waste time and water without ever delivering even heating. By combining a waterproofing kit and a floor heating kit, you can take the chill out of any tile shower.
If your shower project includes a built in shower bench, don't forget to check out our TempZone™ Shower Bench Mats to make sure that surface is as comfortable as the rest of your heated shower!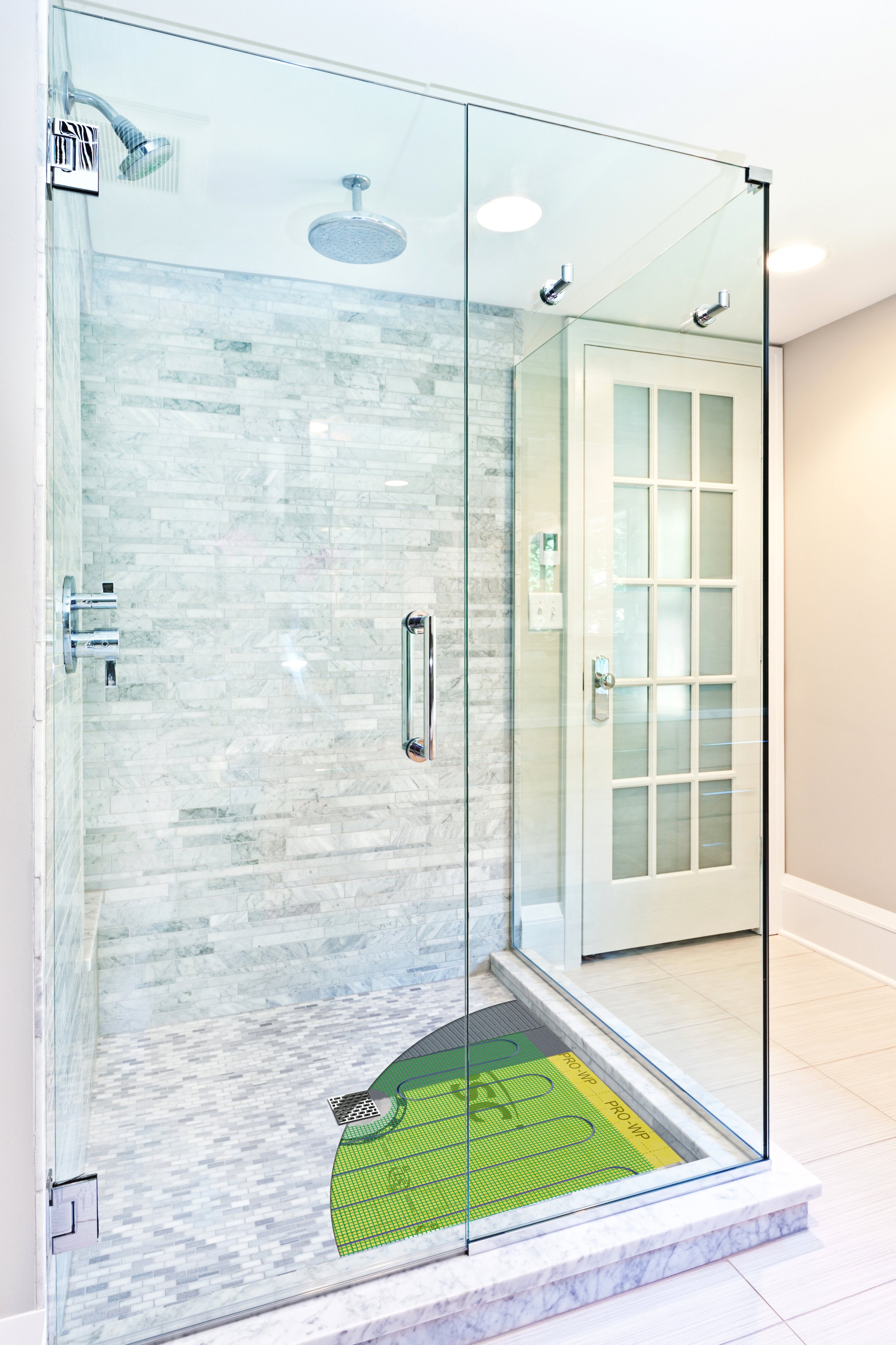 ---
Build your Shower Kit
Our Pro GEN II Shower Waterproofing Kits are made from the highest quality materials and offer several key innovations over comparable tile shower kits such as:
An easy-to-clean integrated

hair trap

in the drain assembly
A stronger

drain flange

(rated at 780 PSI vs. the competition's rating of 250 PSI)
A wider variety of

high quality drain grate covers

A denser

shower pan

(3.5 lb/ft³ vs. the competition's) which allows for the installation of a greater range of tile types, including glass tile
---
To build a complete shower waterproofing and floor heating kit, select 1 item from each of the following categories:
To build a complete shower waterproofing kit, select 1 item from each of the following categories:
If you have any questions about building your kit, please don't hesitate to contact us.
---
1. Shower Pan Kits
These kits include a Pro GEN II shower pan (select the size and drain orientation that best fits your project), shower curb/s, a roll of waterproofing membrane, and a roll of waterproofing band. If you're installing a floor heating kit, make sure its size and drain orientation matches the shower pan kit.
---
2. Drain Assembly Kits
These Pro GEN II kits include a low profile riser, a riser ring, an easy-to-clean integrated hair trap, a yellow construction cover, and a drain flange made from either PVC or ABS to ensure a proper plumbing connection to existing plumbing.
---
3. Drain Grate Covers
These grate covers, available in either the economical Pro Series or the luxuriant Designer Series, are compatible with the Pro GEN II Drain Assembly and will friction fit within the drain riser. The screw-less installation of these grate covers allows for the integrated hair trap to be easily accessed and cleaned.
---
4. Shower Floor Heating Kits
In order to add a floor heating system to your shower waterproofing kit, you must make sure that the dimensions and drain orientation of the floor heating element and shower pan kit match. These kits include a TempZone Shower Mat, a Circuit Check, and an nSpire Touch programmable thermostat.
---
Additional Items
These are additional or replacement items for use with a Pro GEN II Shower Waterproofing System.
---
Frequently Asked Questions
---
---
---
---
---
---
---
---
---
---
---
---
---
---
Shower Kit

Customer Reviews Rated

5

/ 5 based on

1

review.

We take pride in providing both exceptional service and great products. But don't just take our word for it, check out what some of our customers have had to say.
Extremely happy with WarmlyYours
I'm a DIY'r. This product was exactly what I needed. The packaging and pricing with the high end touch thermostat was the selling feature. Shipping was fast and well protected product. The instructions were very easy to follow. No challenges whatsoever during install. It's been several months now and it works perfectly. I would definitely purchase again!
---
Shower kit
I liked the WarmlyYours shower kit it is straight forward and easy to use. Takes one day to get your shower prepped for tile.
---
Water Proof Pipe Seal
This seal works very, very well. It fits so tightly around the pipe that there isn't a possible chance that water can seep by it's seal.
---
Water Proof Seal
Haven't installed it yet, but it's the same as the first one and I expect it will perform flawlessly as well.
---
Pre-made shower pan
I used this pre-made shower pan and waterproofing kit for the first time and liked it. I do about 10-15 mud set tile showers a year and generally build my pan from scratch with pan liner and mortar, then I use hardi backer brand concrete board on the walls, then I tape and mud all seams followed by 3 coats of Redguard. That process takes 3 days always because of cure times. I prepped a 4' x 3.5' shower with 9' walls in one long day the first time I used this system. I put the pan in, hung the concrete board, and put on all the waterproofing on the first day and started setting tile the following day. Obviously this is a big time saver and will go faster the next time I use this system. The one tricky part is hooking up the drain. My job was a second floor bathroom remodel with no access to the drain pipe from below, so I had to make the glue connection as I set the pan. That just made it a bit more challenging the first time out. Setting the pan and drain first and then making the drain connection later is definitely the easier way to go if possible.
---