LAKE ZURICH, Ill., Oct. 3, 2017— Just in time for the upcoming winter, WarmlyYours has launched a brand-new line of DIY-friendly roof and gutter deicing kits.
Ice Shield: DIY Roof and Gutter Deicing Kits, the new product line, was developed by WarmlyYours to compliment the pre-existing Ice Shield: Self-Regulating Roof and Gutter Deicing Cable product line. While both product lines share a similar function, preventing the formation of harmful ice-dams that cause roof and gutter damage, they are distinguished by some important features. The self-regulating cable is cut-to-length, hardwired, and the heating element fluctuates its wattage per linear foot in response to the temperature outdoors. The new DIY kits are available in 4 set lengths, constant wattage (5 watts per linear foot), and feature a simple plug-in electrical connection.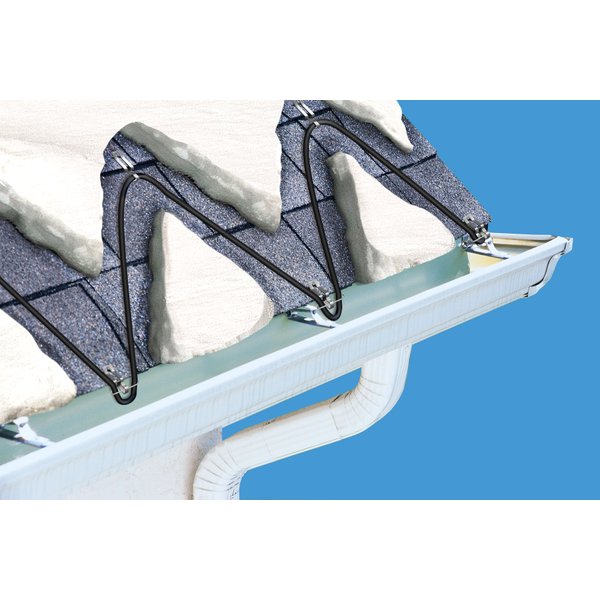 The 4 heating element lengths available for these DIY kits are 30', 60', 80', and 100'. This variety covers the vast majority of residential applications. For example, the 30' kit is recommended for use in gutters and it can heat a 20' gutter with a 10' downspout. The 100' kit could be used to provide heating for both the roof overhang and the gutter for a 22', along with a 10' downspout.
Each kit comes with both shingle clips and cable spacers, which are used to secure the heating element and maintain proper spacing. Each heating element comes with a 6' cord of unheated cold lead that terminates with a 3-prong plug. The heating elements are twin conductor and 120V. The DIY kits are cCSAus listed and come with a 2-year warranty.
These kits were developed as a part of WarmlyYours's continued goal of providing DIY heating solutions for a wide range of customers.
"We really wanted to provide an easy and DIY-friendly solution to our customers that would be a safe and practical solution to the problem of roof and gutter damage caused by ice-formation," said Julia Billen, owner and president of WarmlyYours. "These kits literally put the power to protect your home into your hands, and anyone, from DIY Weekend Warriors to seasoned professionals, can install them."
For more information about the new DIY roof and gutter deicing kits, visit www.WarmlyYours.com.
###
Hi-res images available upon request.
About WarmlyYours Radiant Heating:
For nearly 20 years, WarmlyYours Radiant Heating has offered the industry's most innovative solutions in radiant heating technology, from our flagship floor-heating systems and radiant wall panels to snow-melting systems, as well as comfort products, including towel warmers, mirror defoggers, shower floor and bench heating, and countertop heaters. With locations in the United States and Canada, WarmlyYours provides unrivaled personalized customer support from start to finish, featuring measuring and design services, 24/7 technical support, and our No Nonsense™ Warranty.
For more information, visit www.WarmlyYours.com.
Media Contact:
Cameron Witbeck
Marketing Communications Manager
WarmlyYours Radiant Heating
P: 847-550- 2478 ext. 878
cwitbeck@warmlyyours.com
---
Tell us About your Project
Our team of Radiant Experts is ready to help! Just tell us a little about yourself and your project to get started.
---
Did you find this post helpful?
Let us know by giving it some applause.
---
---