Cleveland, located on the southern shore of Lake Erie, approximately 60 miles west of the Pennsylvania border, was founded in 1796 near the mouth of the Cuyahoga River. It quickly became a manufacturing center due to its location on the lake shore, as well as being connected to numerous canals and railroad lines. 
Winters in Cleveland are usually cold and snowy due to the lake effect. Based on data from currentresults.com, from November to March, Cleveland can remain below freezing all day long. The city typically has 36 days a year when the temperature never rises above 32 °F. Those cold temps are compounded by the fact that during January the average snowfall is approximately 18 inches. A great way to lessen the impact of all that winter snow is by adding a snow melting system when replacing your driveway, walkways or patio.
Snow Melting Concept
Snow melting can be installed directly in asphalt, concrete, or in mortar under pavers. As the snow melting mat or cable heats up, the paving material absorbs the heat, melting the snow and ice on the surface. The systems come in either a mat or cable format depending on your preference. The mat delivers 50 watts per square foot and is quick and easy to install. Mats come in 2- or 3-foot widths and range from 5 to 50 feet in length. The cable delivers 12 watts per linear foot and 50 watts per square foot when installed as per recommendations. The cable is available in lengths ranging from 43 feet to 502 feet and provides maximum installation flexibility.
Relief from Winter Woes with a Driveway Heating System
These Cleveland homeowners were in the process of replacing their driveway and didn't want to face another winter of shoveling and digging out from under the wet snow when a winter storm hit. It was easy to figure out that a driveway heating system would be worth the investment. A free design plan comes with the system to insure that the installation goes smoothly. See below.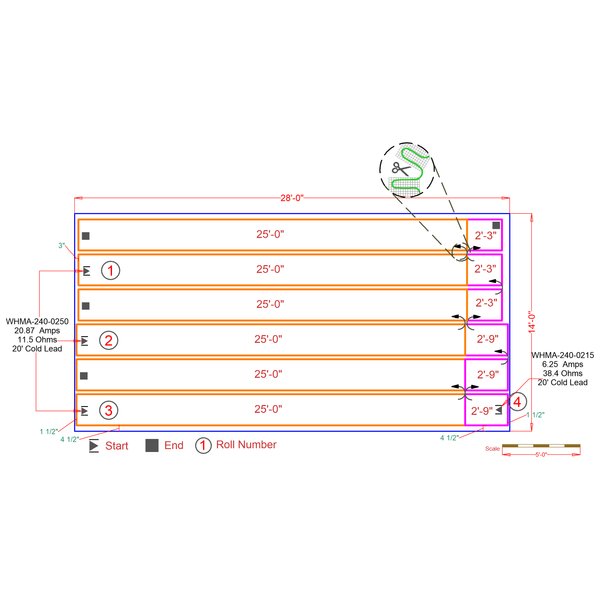 In this case, the cost was $3030.00 for a WarmlyYours snow melting mat to heat 405 square feet of driveway. That amounts to just $9.18 per square foot. To complete the project there are a variety of snow melting controls available to operate the system. 

Snow Melting System Controls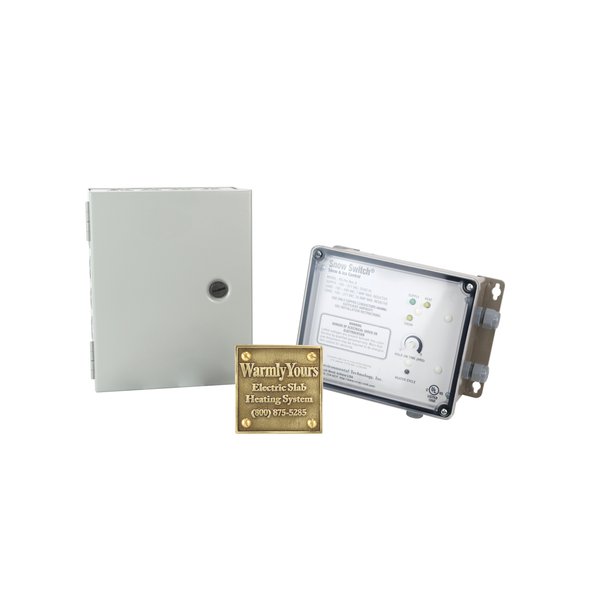 The control used in this project was an Advanced Snow Melt Control System that provides automatic operation and comes complete with a moisture and AirTemp sensor. It includes an adjustable hold-on timer to continue heater operation up to 8 hours after snow and ice accumulation stop to ensure complete melting.
There are a wide variety of controls for WarmlyYours snow melting systems—from a manual system with a timer that will only activate when you turn it on/off, to an automatic option that will turn on when it senses that snow is falling. For more information about the variety of snow melt controls available from WarmlyYours, check out this comparison chart.
Installation Made Easy with A Free 'Smart' Plan
Once you have your quote, we suggest you get a free custom installation, Smart Plan, to insure a worry-free snow melting installation. We make it easy to get your custom Smart Plan; you can submit a floor plan online, contact a WarmlyYours sales representative at sales@warmlyyours.com or simply call 800-875-5285.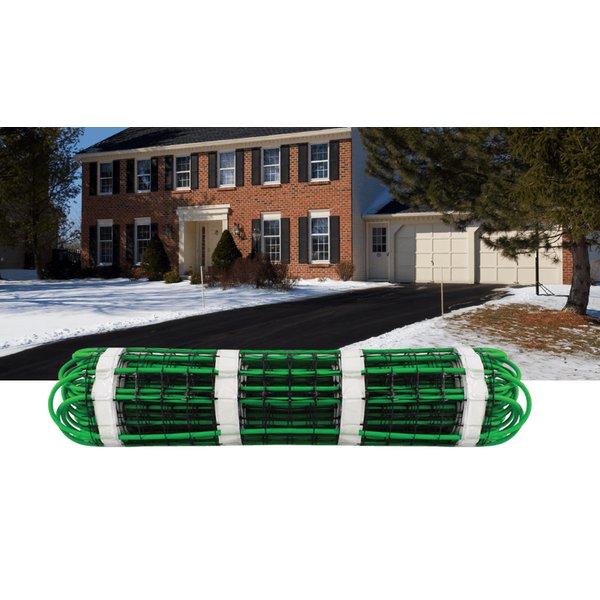 WarmlyYours snow melting systems are backed by our unbeatable 10-year warranty. Plus, you have 24/7 access to our installation specialists so that whenever you need assistance you know you can call upon our technical support experts at 800-875-5285 for the answers to your installation questions.
If you are replacing a driveway, patio, landing or sidewalk, then spring or summer are ideal times to install snow melting. For more information on our outdoor heating or any of our radiant heating products, visit us at www.WarmlyYours.com. You can be sure we have a radiant heating solution designed to make your life easier.


---
Tell us About your Project
Our team of Radiant Experts is ready to help! Just tell us a little about yourself and your project to get started.
---
Did you find this post helpful?
Let us know by giving it some applause.
---
---