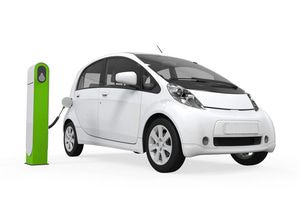 The hybrid electric car was conceptualized and developed as early as 1870 when Sir David Salomon is said to have built a car with both a light electric motor and very heavy storage batteries. It took well over a century for the concept to reach full functionality and the mainstream market, but today hybrid cars are being sold worldwide. When a Baylor University consumer study asked why older consumers were buying electric cars, they indicated that they chose environmentally friendly or "green" hybrid cars because they helped them "save money on gas" and because the cars gave them "a sense of pride for helping the environment."
WarmlyYours' TempZone™ Floor Heating Cable provides those same benefits: flexibility, cost savings and "green" attributes.
Flexibility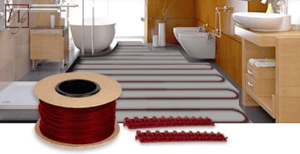 Free-form TempZone™ cable from WarmlyYours Radiant Heating creates total flexibility to provide complete floor heating coverage. It works especially well for rooms with odd dimensions or crazy corners. It also provides an alternative for installers who prefer the flexibility and freedom gained by working with loose cable.
WarmlyYours added the product line early last year to respond to veteran installers' requests for a loose cable product. This followed a trend in the European market showing a 50/50 preference among installers for loose cable versus cable affixed to mesh rolls or mats.
"We believe that the U.S. market will follow in a similar manner," said Julia Billen, president of WarmlyYours Radiant Heating, in a press release when the product was introduced.
The loose cable design makes it easier to handle installations in irregular-shaped rooms with angled or rounded walls. It provides much needed flexibility dealing with spaces with obtrusive plumbing or support structures as well.
The cable also comes in flexible lengths. It is available in a range of 30 different sizes with cable lengths ranging from 30 to 935 linear feet to meet the requirements of any installation.
Energy Efficiency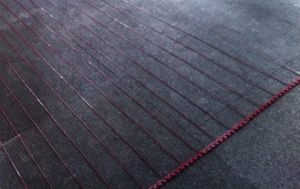 TempZone™ Floor Heating Cable provides energy-efficient, high-quality radiant heat — at the same level found in our other TempZone™ products. But it has another unique energy-efficient twist. Instead of installing the same levels of heat throughout an entire floor, installers have the option to only use as much cable as is appropriate for the area's level of usage and traffic.
It can be installed at either 3-inch intervals for primary or supplemental heat, or at 4-inch intervals for supplemental heat. Generally, 3-inch spacing is preferred in colder climates to increase the wattage per square foot, and 4-inch spacing in warmer climates to decrease the wattage per square foot. When spaced at 3-inch intervals, the cables emit 10-12 watts per square foot; when spaced at 4-inch intervals, the cables radiate 8-9 watts per square foot. By comparison, TempZone™ Flex Rolls radiate 15 watts per square foot. By rule of thumb, the lower the wattage, the more square footage you can cover, which is another perk of working with cable. When spaced 3 inches apart, you can heat 150 square feet using just one 15-amp thermostat. When spaced 4 inches apart, you can heat 225 square feet using a single thermostat. This makes it ideal for installations in large basements and additions. By comparison, with TempZone™ Flex Rolls, you can heat 120 square feet.
The TempZone™ Cable system is designed for both 120- and 240-volt applications.
Cost Saving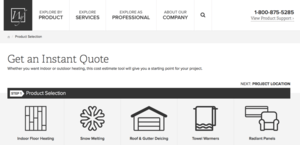 Because the cable is so flexible — it allows installers to only install the right amount in the right places — saving money on materials in the long run. The customized heat levels (3 or 4 inches apart) also saves heating costs (which are low to begin with!). Use our Instant Quote tool to compare the cost and layout differences of the traditional TempZone™ rolls versus the free-form cable. Just enter your project information, such as square footage and dimensions, flooring type, and a few other details and automatically you are provided an itemized list of both options, the TempZone™ Flex Roll design and the free-form cable design, for comparison.
Once you've determined that TempZone™ Floor Heating Cable (Twin) is the right fit for your installation, then fast forward the installation process by starting with a SmartPlan. Submit your request for a quotation and within 24 hours you will receive a detailed quotation and SmartPlan showing how to install your electric cable floor-warming system.
Call WarmlyYours at (800) 875-5285 or visit WarmlyYours.com to learn more today.
Sources:
www.hybridcars.com/history-of-hybrid-vehicles
http://www.huffingtonpost.com/2013/10/11/hybrid-cars-seniors_n_4085045.html
---