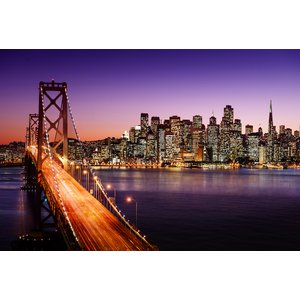 Situated on the tip of a peninsula surrounded by the Pacific Ocean and San Francisco Bay, lies San Francisco, also known as the city by the bay. It's famous for its hilly landscape, year-round fog, iconic Golden Gate Bridge, cable cars and colorful Victorian houses. 
San Francisco exhibits a multitude of distinct microclimates due to its sharp topography and maritime influences. These microclimates also protect neighborhoods directly to the east from the foggy and sometimes very cold and windy conditions experienced in the Sunset District. Regardless of your location, these variable weather patterns make heated floors a smart addition to any remodeling project in the bay area.
The Warmth of Electric Floor Heating Adds to the Heart of the Kitchen
Floor heating has frequently been cited as one of the top amenities homeowners wished they had included when remodeling. That's why these San Francisco homeowners chose to install it under their beautiful tile flooring when upgrading their kitchen. It also made sense to include underfloor heating in the remodeling project to bring their home up to date and appeal to potential homebuyers. Now not only will these homeowners be able to showcase their home with the newly remodeled kitchen, but a kitchen with a warm floor should help seal the deal.

After carefully considering their options, they purchased a WarmlyYours TempZone™ cable floor heating system to bring additional warmth to their elegant but cold kitchen tile flooring. The cable was configured to cover approximately 124 square feet of floor space costing a total of $825.00, which amounts to just $6.67 per square foot. The cable floor heating option also allowed the installer flexibility to effectively fill the floor space with warm radiant heat. (see floor plan)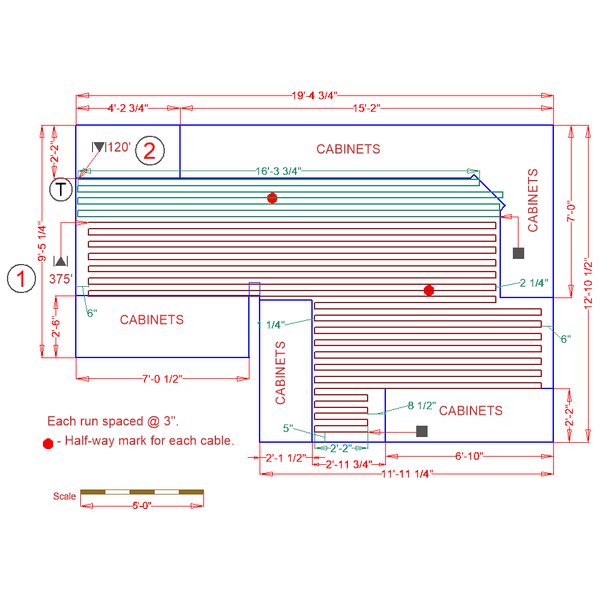 In addition to the low cost of the materials, the operating cost should also be considered when planning your project. According to WarmlyYours' Operating Cost Calculator, which factors in the average kWh cost in San Francisco, it only costs about 12 cents an hour to heat this kitchen for eight hours every day, a small price to pay for the additional luxury it brings to one of the most used rooms in the home. An added selling point for the homebuyer is that this floor heating system can be a primary heat source for the room without incurring an additional heating bill.
Could Radiant Heat be the Primary Heat Source for Your Room/Area?
It's easy to calculate whether underfloor heat can be the primary heat source for any room. First, WarmlyYours' Heat Loss Calculatorwill ask about your desired room temperature, how well your room is sealed, and other criteria to determine how much heat is being lost. Then you'll get your answer. It's that simple.

In this instance, the kitchen is located above a heated room and the ceilings in the room are 9 feet. According to WarmlyYours' Heat Loss Calculator, a floor heating system can be the primary heat source for this room so no additional heating will be necessary which is a considerable cost and energy savings. If the room had a fireplace or other poor sealing factors, radiant floor heat might be recommended as a supplementary heat source instead.

Explore WarmlyYours' Heat Loss Calculator for yourself to see if radiant heat can be your room's primary heat source. 
Easy-To-Use Instant Quote Tool Helps You Start Smart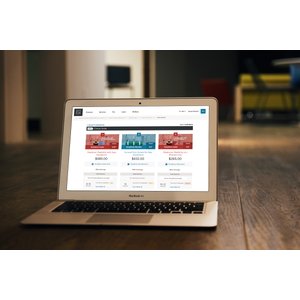 Are you curious about what it would cost to add underfloor heating to a room in your home? Simply check out WarmlyYours' InstantQuote tool. By filling in some basic information about your project, the tool will provide a side-by-side comparison of the recommended products for your room and how much each option would cost.
You can also upload a floor plan of your room to get a custom installation plan. This will give you more detail than an Instant Quote because it shows exactly how the floor heating system should be laid out along with the electrical plan. The custom plan makes installation easier as it helps our technical staff to better guide you through the installation process. Plus free technical support is available 24/7 at 800-875-5285.
Whether you live in the City by the Bay or another city that could benefit from radiant heat, WarmlyYours has a solution designed to meet your needs.
---
Tell us About your Project
Our team of Radiant Experts is ready to help! Just tell us a little about yourself and your project to get started.
---
Did you find this post helpful?
Let us know by giving it some applause.
---
---