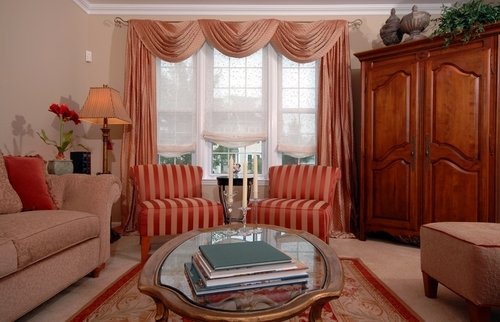 Most homeowners want one room that is always in order and looks special when guests arrive. That place is often the living room. But making this room into the showpiece of the home risks creating a cold and distant atmosphere in the very space that's intended to welcome visitors.
Decorating with formal living room furniture requires a need for balance so the room doesn't seem too stuffy, according to InfoBarrel.com. In such cases, the decorating scheme for the main area of the room should be symmetrical. For a more casual look, arrange the room in an asymmetrical pattern. 
Warm it Up
Adding several conversation areas is one way to provide balance and add a touch of coziness. In front of a living room window or in a corner of the room, for instance, a small niche can be arranged with two chairs and a small table between them.
While furniture arrangement and color choice can create an atmosphere of warmth, real heat from radiant floor heating will make any living room a toasty place that visitors and family members will enjoy. The warm floors will distribute heat evenly into every section of the room.
A Way to Focus
If there is a fireplace in the room, it can serve as a focal point with an equally weighty piece of furniture - such as a large bookcase or hutch - to counteract it across the room. Having two love seats face each other in front of the fireplace is often more inviting than placing one long sofa along a wall.
Sometimes, a large expanse of windows is a natural focal point because so much natural light streams in and it is immediately seen when someone enters the room. A wood cornice across a sizeable window brings an architectural detail into the room. For a softer touch, a valance may be upholstered in a fabric coordinated with other patterns in the soft furnishings.
Mix Old and New
Another suggestion is to use furniture that's already in the home, but upgrade pieces with new upholstery, a selection of pillows or slipcovers, which can be changed seasonally. The fabrics on a sofa and a loveseat can be different as long as they are well coordinated.
A living room can become an elegant space by the simple addition of special details - curved arms and backs on seating, metallic accents or a glass-topped coffee table. These are the types of details that add something special to a room.
---
Tell us About your Project
Our team of Radiant Experts is ready to help! Just tell us a little about yourself and your project to get started.
---
Did you find this post helpful?
Let us know by giving it some applause.
---
---