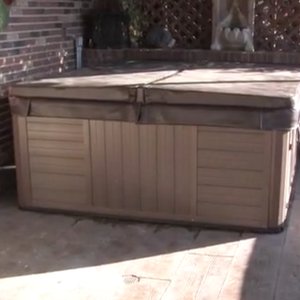 WarmlyYours customers the Billen family now have a heated outdoor patio at their residence to use and enjoy all year around. Having the luxury of radiant heating is great and there are various unique projects that can be done with our radiant heat systems. Whether designing a heated patio or driveway, WarmlyYours has a radiant heating solution.
The Billen family owns a home, located in Kildeer, Illinois, an area known for its cold winters. The family wanted to install the WarmlyYours Snow Melting Mat system in their outdoor patio, for year-round use. After installing the radiant heating system, they also installed a hot tub on a section of the patio.
Alongside, Tom Fitzgerald, from Able Concrete Correction Inc. and WarmlyYours Lead Technical Support Manager, Scott Rosenbaum, the Billen's are able to experience the warmth and relaxation of their outdoor patio comfortably during any season. The existing patio needed to be removed, in order to install the radiant heat system, under the new decorative concrete patio.
Using a 12-inch wide wood grain stamp from Butterfield Systems, the decorative concrete process added the finishing touch. The decorative stamp gives the impression of a beautiful wooden deck.
Now that the Snow Melting project has been completed. The Billen's are able to enjoy their outdoor patio in cold, wintery weather and sunny, summer weather, alike.
ART: Adaptive Radiant Technology
Radiant heat is an ART to WarmlyYours Radiant Inc. from the heating technology, the product, the flexibility in installation, and the aesthetic design; we believe that radiant heat is a true ART-form. Based on the principle of the warm heat from the sun, radiant heat is a sustainable healthy heat that is absorbed. Radiant heat is not prone to losing heat and does not overheat any surface. With the use of radiant heat as a primary heating source, temperature levels are on an average of 5.6% lower than any other form of heating. That means, for every degree you lower your thermostat, you can save 5% off your current heating bill. That's a 25-30% annual savings.
Radiant Floor Heating systems have been an affordable source of luxury for many years and will continue to be for many years more. There is little that can compare to the feeling of a warm floor under your feet on a cold morning or those long frozen winter nights.
---
Tell us About your Project
Our team of Radiant Experts is ready to help! Just tell us a little about yourself and your project to get started.
---
Did you find this post helpful?
Let us know by giving it some applause.
---
---