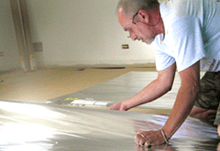 Where Do I Start?
As with any project, starting can be half the battle, but having a plan and some support to back you up will make all the difference when it comes to execution. First things first; having the right materials is key before starting a job. You wouldn't cook an extravagant meal without first checking to see if you've got all of the ingredients, right? Although for some of you, the beginning of an extravagant meal may only consist of a take-out menu and a telephone. But anyway, you get the idea.
If you don't have the right materials, you can spend your day wasting time running back and forth to the hardware store. We know how frustrating that can be so we've provided a materials and tools list for you on our website according to the radiant flooring product you'll be installing TempZone™ for under tile & stone floors, TempZone™ for under hardwood floors, Environ II™ for under carpet & floating floors, and Slab Heating for under concrete.
What's My Plan?
Okay, so you've got your materials and tools and you're ready to start. The manual that comes with your WarmlyYours product will be a wealth of information and easy to follow but maybe you're a visual learner and you need to see installation in action. We created some short videos for just that reason which will help to map out the electric floor heating installation process. Check out our 5 Step Guide to Installing Your Floor Heating, click on the thumbnails to the left to view the video.
| | |
| --- | --- |
| | Step One: Preparing Your Floor |
| | Step Two: Installing Your Floor Warming Roll |
| | Step Three: Ensuring a Good Installation |
| | Step Four: Wiring Your System |
| | Step Five: Installing Your Flooring |
"Hey, uh, I need a little help here.'
Looks easy enough, right? Well, we know that even though our heating systems are consistently ranked by flooring professionals as the most worry-free and easiest to install system on the market, people still encounter questions and challenges. In that case, if you do run into a do-it-yourself hiccup, our 24/7 technical and installation support service manned by professional installers is always available to help when you need it, day and night (weekday or weekend)! Just call (800) 875-5285 to ease your mind!