These days, the options for flooring seem endless, making it even more difficult to choose the perfect type of flooring for your home. In addition to design, color, cost, and surface appeal, there are also other important qualities such as comfort and durability that need to be taken into consideration. So how do you go about choosing the right flooring? It all comes down to weighing the pros and cons.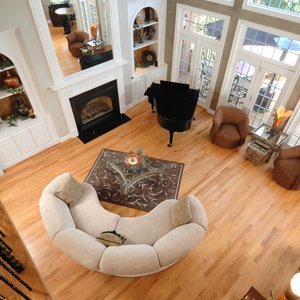 Hardwood
Pros: Hardwood floors add a sense of timelessness and warmth with a wide variety of styles available. Not only is hardwood durable, as it can last for decades, but it also retains a great resale value. Virtually maintenance free, with just some sweeping or vacuuming, it is easy to clean and to maintain.
Cons: Once in a while, real hardwoods need refinishing in high-traffic areas and standing water can cause damage to the wood as well. Hardwood can also be a costly option and noisy underfoot. Adding an area rug is a great way to muffle the sound and add a cozier feel. To compliment the strength and beauty of hardwood, WarmlyYours TempZone™ radiant floor heating is an ideal option to create a warm and comforting home.
Natural Stone
Pros: Natural stone is durable and easy to clean, while adding elegance to your home. It is also highly stain resistant and offers a variety of formal appearances.
Cons: Stone flooring is a pricy option and calls for a strong subfloor. Stone is also naturally cold which can be uncomfortable. Installing TempZone™ radiant floor heating can easily warm up stone floors creating a soothing, comfortable environment.
Cork
Pros: Cork comes in various colors and patterns that add a unique charm to your home. Cork is a good insulator, making it warm, soft, and sound absorbing. Being a natural material, it is environmentally friendly and safe.
Cons: Since cork is a natural material, it will fade in direct sunlight. Over time it is possible for it to turn yellow with age. Also, with its moldable nature, it may get damaged underneath furniture pressure points or swell with standing water.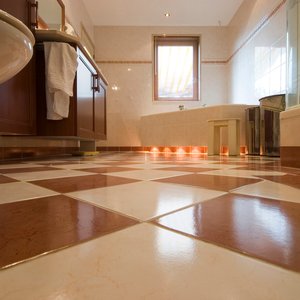 Tile
Pros: With its versatile design and colors, tile can make for a beautiful choice. It is also easy to install by yourself! Virtually stain, water, and scratch resistant, tile is durable and easy to clean.
Cons: Tile can be very loud to walk upon as it echoes. It is also very slippery when wet. It can crack and be difficult to repair. Additionally, the grout takes more work to maintain. Another problem is that tile is naturally cold, but our TempZone™ floor heating is a quick solution!
Carpet
Pros: Carpet is available in a wide selection of materials, styles, and colors. It not only feels soft, but it also gives a soft look to a room. By installing our Environ II™ under carpet, you can create the perfect warm and comforting atmosphere. Carpet naturally absorbs sounds, so it's quiet to walk on and prevents echoing throughout a home. There are also many inexpensive options available. The installation process is quick and simple and it can even go over uneven sub-floors!
Cons: Carpet can retain dirt, even when vacuumed frequently. It also stains easily. To keep carpet fresh, it needs to be steam-cleaned occasionally and vacuumed frequently. Since carpet traps dirt and allergens, it may not be ideal for people with allergies.
Now that you have all the Pros and Cons, which floor is the best choice for you?
---
Tell us About your Project
Our team of Radiant Experts is ready to help! Just tell us a little about yourself and your project to get started.
---
Did you find this post helpful?
Let us know by giving it some applause.
---
---