Luxurious comfort is not just for the bathroom anymore. While the bathroom is one of the primary rooms of the house WarmlyYours customers choose to heat, our electric floor heating systems can be custom made to fit any room of the house. Prepare for the long winter ahead of us by planning the remodeling project that will not only transform your room into a cozy and warm living space, but also reduce moisture in high impact areas.
The Basement
According to The American Society of Home Inspectors, about 38% of homes have mold and fungus growth due to elevated moisture. And basements, or concrete slabs, are the largest sources of moisture. This happens because concrete is permeable and the pores within concrete draw moisture inside. Whether from heavy rainwater or a water table underground, moisture will find holes, cracks, or gaps in foundation no matter how small. This is where the WarmlyYours electric floor heating system comes in handy. The drying effects of our WarmlyYours Slab Heating system will reduce the moisture coming from the concrete slab. So stop the problem before it starts on your next remodeling project. Install these electric cables right in the middle of your concrete pour for a dryer and warmer underground room.
The Kitchen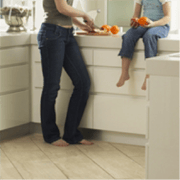 What other room in the house gets more time spent or wear and tear than the kitchen? With the constant cooking, spilling, cleaning, spilling, and entertaining, this room seems to get the most 'on your feet' action. And while the floor covering choices may vary from tile, stone, hardwood, and laminate, the natural cold surface remains the same. Make the kitchen a little more enjoyable and drier with an upgrade from our Environ II™ floor heating system if you're installing laminate or floating wood or TempZone™, if you're installing the more popular floor covering options, such as, tile, stone, or hardwood.
Entrances and Hallways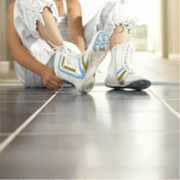 Landings, halls, and front entrances benefit with electric floor heating much more than just in providing a toasty, warm surface. These areas might be some of the first places to encounter the outdoor elements. Just like basements, these spaces tend to see a lot of moisture, especially in the winter when shoes and boots bring in the slushy snow. Our ValueMat™ is ideal for smaller areas where full coverage isn't necessary, like the entryway foyer or a mudroom. Avoid slips and falls by choosing an electric floor heating system for a warmer and drier welcome.
The Living Room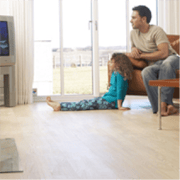 The living room: a place to relax after a long, busy day. Whether it's with a good book or your favorite show on TV, it's a place meant for kicking back and getting cozy. Portable heaters, fireplaces, and blankets are normal items that you'd find in a living room. And while these things are great for providing warmth, you may find that after installing an Environ II™ floor heating system under your carpet, a good book and the remote control are the only things you'll need for a warm, quiet night.
There may be other rooms of the house that aren't mentioned in our quest to open the realm of possibilities with WarmlyYours radiant floor heating, but you get the idea. The versatility is unmatched because of our diverse range of indoor heating systems as well as our other heating solutions. Take a look at our Products page to find out more.