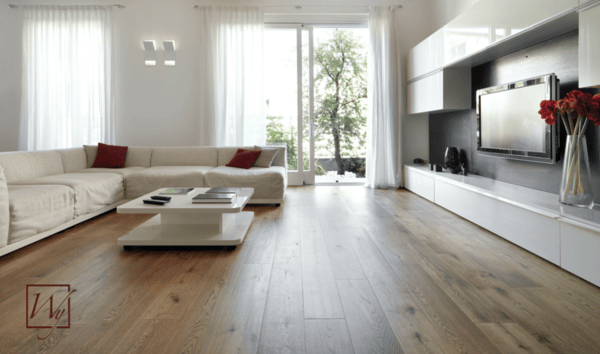 After a long day at the office, there's nothing like kicking off your shoes and lounging in front of the TV to wind down for the evening. And as much as we'd like to deny it, many of us even eat dinner in front of the TV. That makes the living room the place to be in the evening. That's precisely why, when it's cold outside, some extra warmth inside can make the room even more hospitable.
Radiant heated floors in a living room are particularly useful because they're quiet and they distribute heat evenly throughout the room. Depending on the flooring type, there are multiple types of systems available.
In this instance (see floor plan), the homeowner selected a TempZone™ Flex Roll to heat his 106-square-foot living room. The Flex Roll fills 78 square feet of flooring space and works under tile, stone or hardwood floors.
The Cost of Floor Heating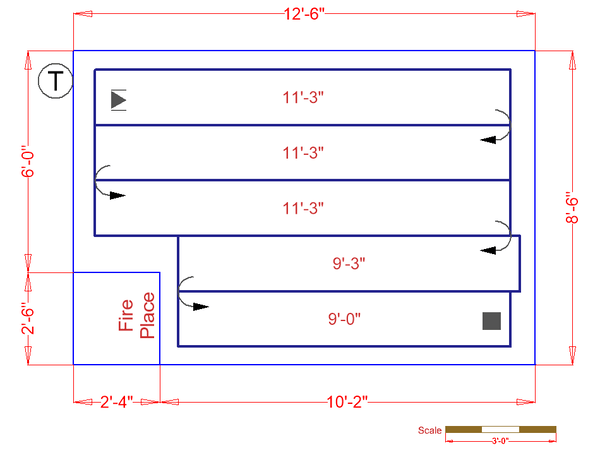 The question is: How much does it cost to heat this living room? The answer: Under $1,000.
This 1.5- by 52-foot Flex Roll cost $741, which is likely less than it cost to purchase a couch for the room. Adding a SmartStat™ programmable thermostat adds $169 to the purchase, which brings the total to $910. Without the thermostat included, the price of the heating element equates to just $9.50 per square foot.
The cost to operate the system is also low. According to WarmlyYours' Energy Use Calculator, on average, it costs 41 cents a day to heat this living room for eight hours each day.
How to Get a Quote
To determine how much it would cost to add in-floor heating to your living room — or another room in your home — check out WarmlyYours' Instant Quote tool. In just five steps, you'll have a quote to help you get started on your project.
Select Indoor Floor Heating and name your project.
Select the room type. (For a living room, choose Other, and then select Living Room.)
Enter your role in the project, the project zip code, whether or not you'd like the floor-warming system to be your primary source of heat, what the subfloor consists of, and what the floor covering is.
Submit the project dimensions by either entering the square footage or width and length of the area, or by drawing the room, uploading your floor plan or scheduling an in-home measurement.
Get your quote! We'll provide you with the electric floor-heating options that best suit your project in a side-by-side format that shows the price of each and the differences between them.
In this instance, the homeowner chose to go with a TempZone™ Flex Roll, but he could have selected TempZone™ Cable if he wanted to save money but put in some extra labor. Generally, WarmlyYours TempZone™ Cable is the least expensive but most labor-intensive offering, because the cable cannot be rolled out in bulk like Flex Rolls, Easy Mats and Custom Mats can. The cable also emits a lower watt density than Flex Rolls (8-12 watts vs. 15 watts for Flex Rolls); however, it has the flexibility to be spaced at 4 inches instead of 3 inches, when only supplemental heat is needed.
Regardless of the choice you make, all the options will be laid out for you in the Instant Quote tool.
Once you've received your quote, we also encourage you to get a custom installation plan from one of our account managers. If you don't have an account manager or don't know who your account manager is, you can reach out to sales@warmlyyours.com and one of our friendly sales staff will be happy to assist you. A custom installation plan shows you exactly how your floor-heating system should be laid out for optimal functionality, which will be very helpful during installation for both the installer and our technical team, in case any assistance is requested. Our technical support team is available 24/7 to answer any installation questions you have. Feel free to give them a call any time at 800-875-5285.
For more information, visit www.warmlyyours.com.

Links:
Instant Quote: www.warmlyyours.com/my_projects/new
Energy Use Calculator: www.warmlyyours.com/tools/cost-calculators
Heat Loss Calculator: www.warmlyyours.com/tools/heatloss-calculator
Related Articles:
Edmonton, A Capital Place for Radiant Heat
www.warmlyyours.com/posts/bathroom-remodeling--Edmonton-A-Capital-Place-for-Radiant-Heat-1178
Easy Floor Heating in an Entryway
www.warmlyyours.com/posts/easy-mat--Easy-Floor-Heating-in-an-Entryway-1174
St. Louis A Radiant Gateway to Affordable Luxury
www.warmlyyours.com/posts/bathroom-remodeling--St-Louis-A-Radiant-Gateway-to-Affordable-Luxury-1172
Cool Nights Call for Warm Bedrooms
www.warmlyyours.com/posts/bedroom-remodeling--Cool-Nights-Call-for-Warm-Bedrooms-1170
How to Exhibit Hollywood Swag in a Vancouver Kitchen
www.warmlyyours.com/posts/floor-heating--How-to-Exhibit-Hollywood-Swag-in-a-Vancouver-Kitchen-1165