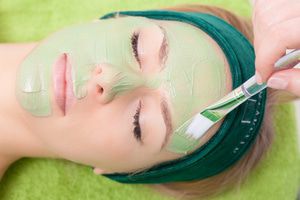 A trip to the spa can quickly make any man or woman feel like royalty. The soothing music, the calming cucumber water and — above all — the pampering services make for a luxurious experience that leave you feeling care-free and relaxed the rest of the day.
However, a trip to the spa can be expensive. A typical massage, facial or body wrap costs around $100, and that doesn't include tax or tip. This pricing makes the spa a special occasion for most. But what if you could simulate the spa experience in your own home?
Spa-like bathrooms continue to be a hot trend among homeowners, according to a July Kitchen & Bath Design News article. In order to take full advantage of this trend, homeowners should invest in the following accessories.
1. Electric radiant heating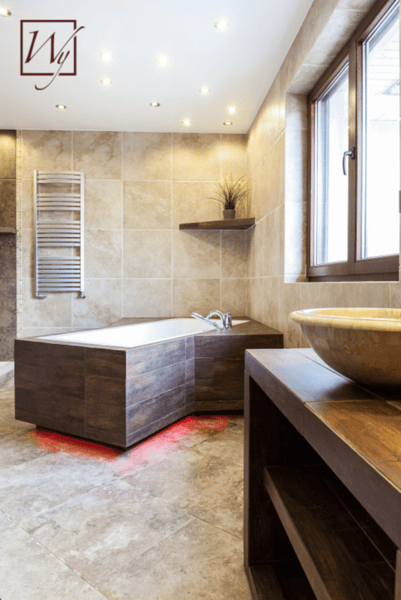 Comforting accessories like heated floors, fog-free mirrors and towel warmers are in high demand because of their ability to add warmth and luxury to a bathroom, according to the Kitchen & Bath Design News article.
Electric floor-heating systems can be installed underneath tile, stone, vinyl or hardwood to offer clean, warm heat from the floor up. In a bathroom, that means your freshly pedicured feet will never get chilly. Electric floor heating systems also reduce dryness, because they don't pump air along with dust and other allergens through vents in the room.
Mirror defoggers add luxury and functionality to a space, because they ensure that your newly masked face will be clearly visible after every home spa treatment.
To top off the luxury, warm bathrobes allow you to feel cozy and pampered throughout the "spa" experience. They also help with the transition out of your aromatherapy tub. Just place a towel warmer in your bathroom and spa-like comfort awaits you.
From start to finish, your home spa experience will never be a chilly one with these trendy accessories.
2. Storage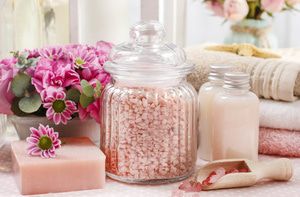 The Kitchen & Bath Design News article also points out that multi-functional products that look stylish while adding storage capacity to a room are in demand. For instance, the article calls out grab bars that double as towel bars or shower shelves, and toilet paper holders that hold two rolls.
Linen-lined baskets are also great options for hiding unsightly clutter, according to an HGTV article. On the other hand, beautiful spa products, like bath petals and bath salts, can be stored and showcased in glass vases to create a refined spa look, it adds.
Minimizing clutter and maximizing functionality is vital to creating a spa-like look in your bathroom.
3. Calming aromas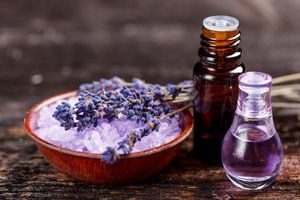 When you walk into a spa, one of the first things you notice is the aroma. With just one whiff, your tension already begins to melt away. Bringing these scents to your own bathroom recreates the same relaxing atmosphere. To infuse calming scents into your at-home spa routine, HGTV suggests infusing aromatic essential oils in Epsom salts.
Some of the most popular spa scents include eucalyptus, lavender, peppermint, vanilla and lemon. HGTV also suggests tea tree to refresh and revitalize, and ylang ylang and neroli for relaxation before bed.
4. Lighting and music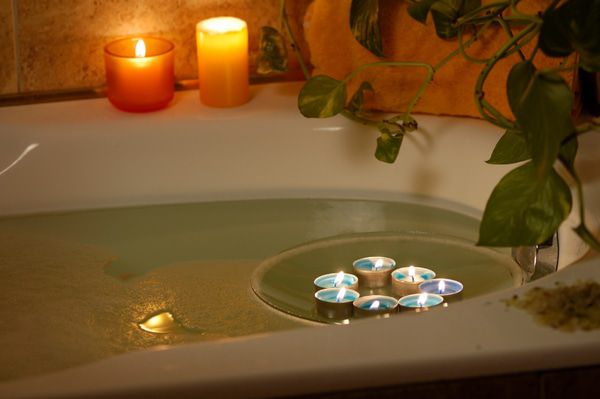 To lower stress and tension even further, consider shutting off the lights and igniting some candles instead. When was the last time you walked into a spa and noticed harsh fluorescent lighting? By dimming the lights, your bathroom develops a peaceful and calming ambiance.
Along these lines, tranquil music further aids in relaxation. Acoustic music and soothing sounds of nature, like the rainforest or a babbling brook, put your mind at ease and transport you to a place of serenity.
5. Tub accessories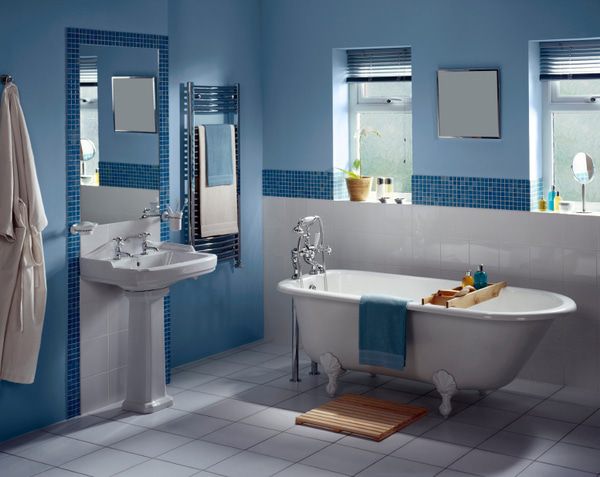 Finally, a jetted tub helps to reduce stress and anxiety. These tubs can even help ease muscle pain and improve circulation, according to a livestrong.com article.
However, if you don't have a jetted tub and don't wish to replace your current tub, there are other options. Portable spa motors are available that attach to the side of a bathtub and pump heated air bubbles into the water, making it feel just like a jetted tub. Another option is a mat-style bath spa unit, which offers an underwater bubble massage.
A wooden tray for your tub will finish off the spa look. Place items like soap, bath salts, a loofah and a pumice stone on the tray for easy access to your favorite cleansing products.
By incorporating these five accessories into your bathroom, your personal spa will always be waiting just around the corner.
To share how you've transformed your bathroom into an in-home spa, check out the WarmlyYours Facebook page or tweet us at @WarmlyYours.
Sources:
www.forresidentialpros.com/article/11587107/accessories-enhance-spa-like-baths
www.hgtv.com/design/rooms/bathrooms/give-your-bathroom-the-spa-treatment
www.livestrong.com/article/157372-what-are-the-benefits-of-sitting-in-a-jacuzzi/
www.bedbathandbeyond.com/store/guide/buying-guide-to-bath-spas/pubbbg510022
---