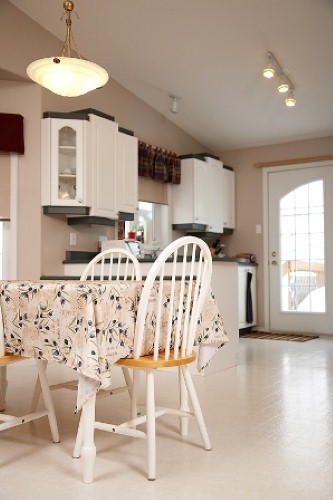 Green lifestyles are more than a trend, they're an imperative part of the future. As climate change and resource limitations begin to affect the majority of the developed world, you'll want to be certain that your home is still comfortable, functional and not adding to the problem. One of the best places to start your greener lifestyle is in your kitchen. Next to the dryer, your fridge is one of the major energy-guzzling machines in your home - but it's just the tip of the iceberg when it comes to your kitchen.
If you're looking to make the switch to an eco-conscious lifestyle in your kitchen, you'll need to start by upgrading your appliances, then remodeling your space with sustainable and earth-friendly products. Finally, you'll want to dedicate yourself to an organic and local diet. Ready to take the plunge?
Maximum energy-efficiency
Start with the fridge. Getting an Energy Star Certified fridge will make all the difference down the line, as this behemoth takes a lot of electricity to keep your food fresh. Next move on to the dishwasher. Energy-efficient dishwashers don't just cut down on energy use, they minimize wasted water as well. Most of your appliances can be easily upgraded into newer and more efficient models, from the microwave to an electric blender. Have a water cooler? Go green with that too (and don't use paper or plastic cups)!
Once your appliances are upgraded, consider taking green steps below the floorboards. Investing in radiant floor heating is a great option for any home. Improved air quality (no more dusty ducts and vents), energy efficient, outfitted with fantastic smart controls and easy to install, there's no reason not to take the leap on radiant heat in your kitchen.
Sustainable products
While you're making major changes below the floorboards, take a moment to consider the rest of your furnishings and décor. Now may be the right time to remodel your kitchen with sustainable and non-toxic materials. Start with the walls - whatever colors you want to dress your kitchen in, be sure the paint is VOC-free. Volatile Organic Compounds (VOCs) are hazardous materials found in a number of products around the home, including paints. While you may not need to worry about paint chips in your home, secure your air quality with VOC-free paint.

Need new furniture but also want to help out the planet? Look into sustainable woods like bamboo or those certified by the Forest Stewardship Council (FSC). You can also buy counter tops or décor made out of recycled glass. Remember to try to use local products to help reduce the carbon emissions of shipping.
Organic and local produce
Sure, sometimes you're going to want an avocado and it's the dead of winter, but you should do your best to promote local food nonetheless. The transportation of produce and meat around the country contributes an immense amount to the United States' collective carbon footprint, and eating locally grown and raised food can help reduce that. Not to mention, as anyone who's hit up the farmers market knows, local food tastes fresher. While it might mean some dietary changes, this is a great way to give farmers and Mother Nature a helping hand.
While you're at it, switching to organic products - from your carrots to your dish soap - is a great way to help the environment and promote better farming and production methods. 
Like this post? Subscribe for regular updates
Make sure you don't miss out on the latest news in radiant heating by subscribing to our blog. We'll send you an email with links to the newest posts from WarmlyYours.
We won't share your information and you can unsubscribe at any time with a single click.
---
Did you find this post helpful?
Let us know by giving it some applause.
---
---