As the remaining hours and minutes of 2013 slipped away, we eagerly looked forward to celebrating the New Year with it all the hope and excitement it brings. With memories of holiday celebrations still fresh in mind, many of us say goodbye to the old year and reach for the new by setting resolutions and celebrating second chances. The future looks radiant, and we here at WarmlyYours hope that 2014 is everything you dream it can be.
New Beginnings
While we anticipate all the possibilities of the New Year, we naturally pause to reflect on the past 12 months. Take some time to appreciate all that you've accomplished before imagining the things you can do in 2014. WarmlyYours had an exciting year in 2013. We are proud of all we accomplished this year, and we can't wait to move forward to see what 2014 has in store for us as a company and a community.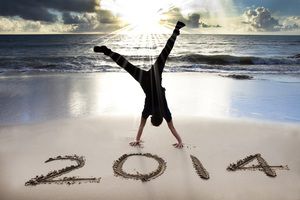 This coming year is the perfect time for you to try something new as well. What are the things you've always wanted to do?
Making Resolutions
Many of us see the New Year as an opportunity to make a few resolutions to improve ourselves, our lives, or even our homes. Many people choose weight loss goals or monetary benchmarks, such as saving a set sum or paying off a loan. Or maybe you've been putting off a remodeling project. The New Year can be the time when you install that floor warming system .
Whatever your plans, think big, but not impossible. After all, you have a full 12 months to work on your goal, or, perhaps, the change you make this year could last a lifetime.
Staying On Track
It's easy to be optimistic in the midst of New Year's celebrations. Keep that spirit and positive attitude as you work toward your goals. Breaking your resolutions down into smaller segments or subgoals can make it easier to stay focused in your efforts. These subgoals can be used as benchmarks, making the overall project seem less overwhelming and allowing you to measure your progress.
Create opportunities to achieve your goals. Set aside time specifically to work on your resolution, whether it's once a day or once a week. Be consistent and stick to your plan.
Ask others to hold you accountable. Find a workout buddy to keep you going when your motivation wanes. Take a class or learn a new hobby with your partner. Have your best friend check in to see how you are doing on kicking that smoking habit. Enlisting the support of friends and family can help you stay energized and focused as you work toward realizing the changes you envision.
Exciting Developments at WarmlyYours
Completing your home remodeling resolution will be easier than ever in the New Year. WarmlyYours will be introducing some new products in 2014 to provide more ways to turn your home into a radiant haven. Our first new product is expected to become available early in the first quarter of 2014. Check WarmlyYours.com regularly for updates on all the exciting new things we have planned for the coming year.
Celebrating Small Victories
Whenever you achieve a goal, no matter how big or small, be sure to celebrate that accomplishment. By recognizing how far you've come, you will find the motivation to continue further. Even if the steps you've taken seem small, you are on your way to a better life. Let every resolution and goal you set bring you closer to scaling that mountain of an undertaking before you. Before long, you'll be standing at the top, looking down, and feeling proud of how far you've come.
Whatever your hopes and dreams for 2014 may hold, we wish you the best of luck in your reaching your goals and much success on your journey.
Warmest wishes for a radiant new year!
---