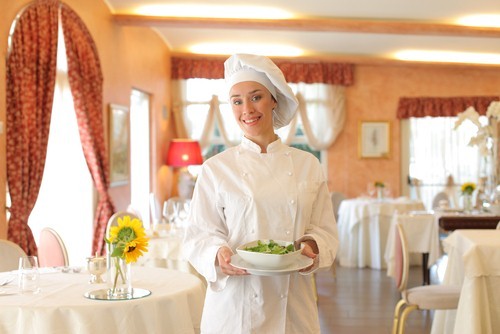 Local produce, vegan beers, allergy-conscious menus - these are just a few examples of restaurant touches that have improved the palettes, eating trends and food industry awareness of eaters across the country. But while there's a lot that can be done to make a menu green, what about that actual space of the restaurant? How does one best keep the architecture and design eco-friendly?
Luckily it's just as easy as greening your menu. Consider these tips to help you on your way to a sustainable restaurant.
1. Keep a garden. With limited space, this might not be the most appealing of options, but a garden is more than just a source of super-local produce, it's also décor - and some of the best you can find at that, recommends StarChef.com. Use trellises for tomato vines, a roof for an herb garden or simply grow flowers you can cut and place at tables. As far as green goes, it's hard to surpass a few plants.
2. Radiant floor heating. A sustainable and cost-effective option to other forms of heating, radiant floor heating can be placed under almost any surface. It's one of the most efficient methods of heat a space as large as a restaurant's dining room and also one of the greenest.
3. Eco-friendly restrooms. There's the obvious electric hand dryer option to cut down on paper waste, but also look into green toilets. High-efficiency toilets can save you money and avoid excess water usage.
4. Salvaged furniture. Consider repurposing furniture from a flea market or salvage site for a green way to give your restaurant some life, suggests StarChef.com. Sanding, painting and restoring old wood can turn any antique new again and the variations of style can be refreshing when they're tied together by a solid color scheme.
5. Compostable doggy bags. Take a step beyond recycling to make sure your visitors and staff have an easier time being green themselves. Using compostable containers mitigates your potential waste.
There are a great variety of options available to restaurateurs who want to incorporate green design improvements. Something as small as energy-efficient kitchen appliances can both save money and improve a kitchen's carbon-footprint. Sustainable design is trendy, so consider the best way to incorporate green into your business, even if you just start with some eco-friendly non-toxic paint.
Like this post? Subscribe for regular updates
Make sure you don't miss out on the latest news in radiant heating by subscribing to our blog. We'll send you an email with links to the newest posts from WarmlyYours.
We won't share your information and you can unsubscribe at any time with a single click.
---
Did you find this post helpful?
Let us know by giving it some applause.
---
---