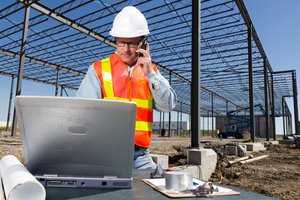 For the first time since the recession, things are really looking up this year when it comes to the remodeling industry, housing markets, and affordability. At last optimism is now returning to contractors!
Within the next 3 years, a 7% increase in revenue per job is predicted for residential contractors, which is a significant difference compared to last year's declines. With the anticipation of a revenue increase in the future, many contractors are starting to change how and where they shop to maximize those results.
L.E.K. Consulting surveyed more than 500 building and construction contractors across the United States for its second annual Contractor Behavior Survey. The survey revealed that contractors are continuing to have strong loyalty to their trusted products and that they are still frequently shopping across channels for the best prices. And as the economy improves, contractors are returning to the pro-channel rather than the big boxes. Pro channels have established credibility which makes contractors more willing to increase their spend on that channel.
The data from the survey revealed that contractors continue to be more than twice as likely to channel shop for the best price on individual products that are trusted, high-quality products rather than trade down and purchase less expensive alternatives.
Yet, the data also shows that contractors are more than three times as likely to seek out specific quality products before they will purchase lower-grade/cheaper alternatives in the same product line or brand.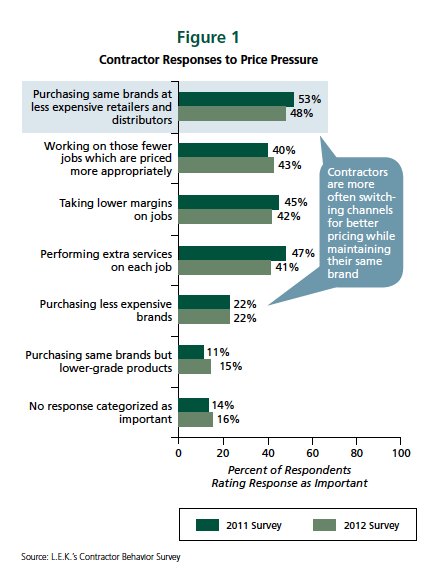 Professionally, the Internet is also expected to play a greater role. During the next three years, a 48% increase is expected of online research for price comparisons and 40% of contractors are expecting to conduct more purchasing online. Both the Internet and social media will continue to play a greater role in educating contractors and homeowners about product attributes and related information that is significant to influencing purchasing decisions.
After a long period of decline, the building and construction market in America is beginning to expand. Contractors will have greater flexibility to resume their preferred purchasing habits without the stresses of the economy. Yet, the old ways of manufacturing and supply are slowly diminishing which can be seen in the rate of channel shifts, the opportunity for product/channel segmentation, the energy and sustainability trends and the mega-trend of social media. L.E.K. believes that five years from now, the most successful contractors will be those whose actions and strategies encompass the shift to the internet for price comparisons and purchasing decisions.
---
Tell us About your Project
Our team of Radiant Experts is ready to help! Just tell us a little about yourself and your project to get started.
---
Did you find this post helpful?
Let us know by giving it some applause.
---
---