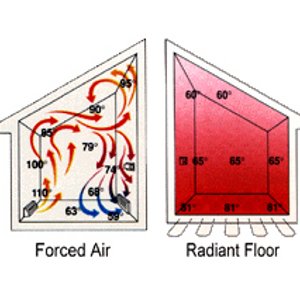 Few things are worse than the shocking feeling of stepping on an ice-cold floor. If you have concrete floors, you are no stranger to that not-so-pleasant sensation. Luckily, this is when radiant heating comes to save the day.
Radiant heat is among the most comfortable, efficient, and healthy heating options, especially with concrete floors. You may be familiar with hydronic under-floor heating systems which require tubing to run a hot liquid beneath the floor, along base board heaters, or through radiators to heat your home. Yet electric radiant floor heating is an easier and more cost effective alternative.
Great news! Radiant heating comes with many efficiencies and advantages. Radiant heating is healthier and more efficient than a forced air furnace, and can be used as a primary heat source. Ducts from a forced air furnace leak and push around allergens throughout your entire house, triggering allergies. A healthier alternative is baseboard heating which radiates heat by running hot water through pipes, but this uses more energy. Electric radiant heating is a more cost effective and energy efficient heating system because there is no need for a boiler to heat up water. Radiant heat cables and wires are invisible, eliminating the need to place furniture away from heater vents or baseboards.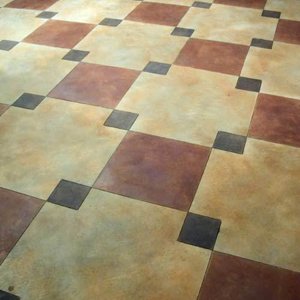 Now what about the subfloor? The U.S. Department of Energy recommends the use of concrete sub-floors for radiant heat. Concrete slabs have plenty of thermal mass; therefore, they can retain heat over time, which is ideal for radiant under-floor heating. For hydronic heating, water pipes run through the top layer of concrete, so heat is not wasted below the surface. Water tubes or electric cables are easily embedded in concrete slabs. The same principle applies when pouring concrete over a sub-floor, but the added weight of the hydronic system typically requires additional foundation support. A structural engineer can help you determine if the floor will be able to support the weight of the concrete.
Let's not forget about alternative flooring surface options. Like concrete, tiles conduct and retain heat well, also making them an ideal flooring surface for radiant heating. As for other flooring surfaces, WarmlyYours Environ II™ is a great heating system to install under carpet, while our TempZone™ system is ideal for tile, hardwood, and stone. However, if you are installing a concrete surface, our Slab Heating system is the most ideal radiant heating option. Decorative (polished, stained, and stamped) concrete has become a very popular flooring choice in the last few years - typical applications are basements, garages, and sunroom additions. And with radiant heating, you can heat that beautiful, but traditionally cold decorative concrete.
Whether it's new construction or a remodeling project, you should consider adding radiant heating. Your feet and your family will love you for it.
---
Tell us About your Project
Our team of Radiant Experts is ready to help! Just tell us a little about yourself and your project to get started.
---
Did you find this post helpful?
Let us know by giving it some applause.
---
---