The largest city in Connecticut, Bridgeport is located at the mouth of the Pequonnock River on Long Island Sound. Renown for its public park system led to Bridgeport's official nickname as "The Park City". It's worth noting that two of the numerous parks in the area were designed by the same landscape architect who designed Central Park in New York City.
As a coastal city, Bridgeport typically doesn't see extremes in temperatures. But according to currentresults.com during the winter season between December and February, the average monthly snow fall is between 5 – 8 inches, while temperatures drop below freezing at night. Dealing with snow removal or slick surfaces can be both strenuous and stressful. That's when an outdoor heating system can work wonders. When replacing or installing a new driveway, adding a snow melting system can be a wise investment. 
Driveway Heating in Bridgeport Takes the Sting Out of Winter
These Bridgeport, Connecticut homeowners had heard rave reviews about driveway heating and had also seen the results firsthand when a neighbor installed a system. Impressed by the way the snow and ice melted away, it was an easy decision to include one when they had to replace their driveway recently. They chose WarmlyYours snow melting mats to heat the concrete driveway area as outlined in the installation plan below: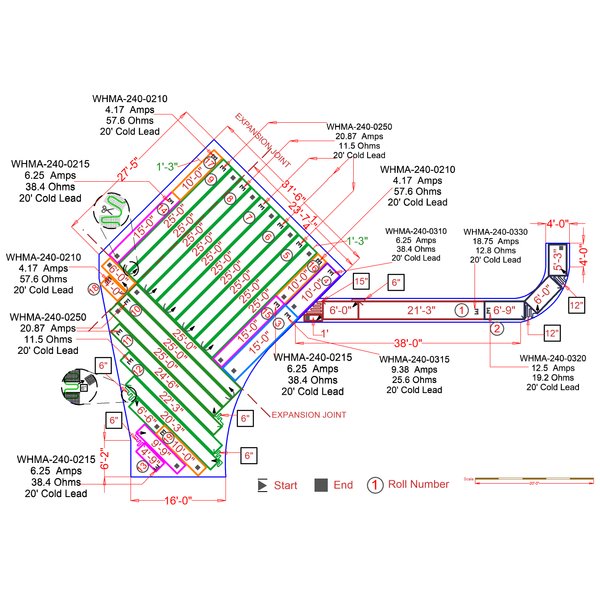 For this project, the cost was $11,455.00 or equivalent to $9.59 per square foot to heat 1195 square feet of driveway. Now it was time to select a control from a wide array of available snow melting control options to operate the system. 
Snow Melting Controls to Complement Your System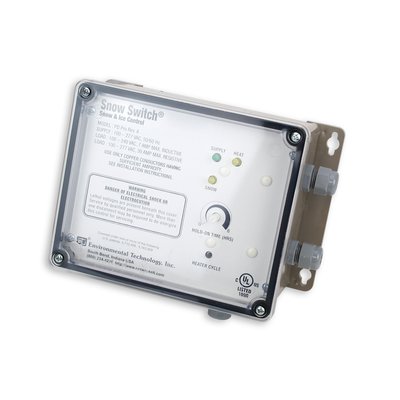 From manual and economy to advanced and premium, there are a variety of snow melting controls to suit any budget and lifestyle. The WarmlyYours manual snow melt control is a simple, affordable option featuring a 12-hour, adjustable timer and a NEMA 1 enclosure with hinged cover. At 120 VAC operational voltage, the manual control is UL Listed and suitable for use with relay panels. 
These Bridgeport homeowners chose the advanced snow melt control to minimize operating costs. With automatic and manual override operator controls, this advanced control includes an adjustable hold-on timer to continue heater operation up to 8 hours after snow and ice accumulation stop to ensure complete melting. You can compare all the snow melting control options on our products page.
Free Quote and Installation Plan Simplify the Process
Now is an ideal time to install snow melting so this coming winter your system can do the work for you. If you'd like to see what's available and/or get a quote, just visit us at www.warmlyyours.com and check out our Instant Quote Tool.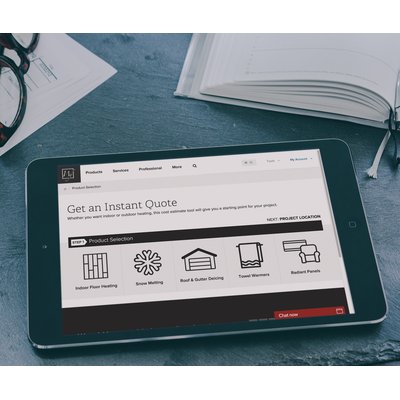 By entering some basic information about your project the tool will quickly provide your quote. Next, we suggest you get a free installation plan to ensure your snow melting project goes smoothly from start to finish. 
It's easy and convenient to get a custom installation plan for your project, 1) you can submit a floor plan online, 2) contact a WarmlyYours sales representative at sales@warmlyyours.com or 3) simply call 800-875-5285. 
WarmlyYours snow melting systems are backed by our unbeatable 10-year warranty. In addition, if you have any questions during installation, we're here for you. You have 24/7 access to our installation experts so that you can call them with any questions at 800-875-5285. Why wait? This winter you'll be ready for whatever comes your way.

Already installed a snow melting system under your driveway, walkway, patio or other outside area? Tell us about it by sharing your story on the WarmlyYours Facebook page or tweeting us at @WarmlyYours.

---
Tell us About your Project
Our team of Radiant Experts is ready to help! Just tell us a little about yourself and your project to get started.
---
Did you find this post helpful?
Let us know by giving it some applause.
---
---