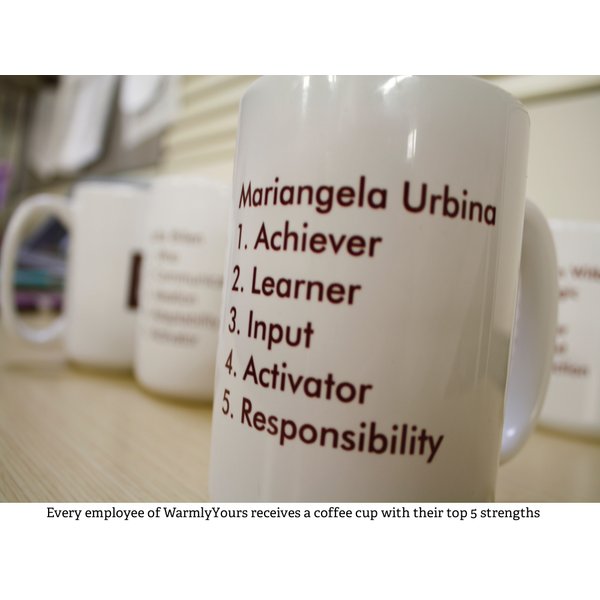 When you're starting a new business, everything is a matter of trust. 
About 50% of new American companies don't make it past their first five 5 years, according to a Gallup study. Data from Forbes goes even further: 80% of entrepreneurs who start businesses fail within the first 18 months. 
Many things could go wrong: the market changes faster than the company, the entrepreneur is over-extended, or there is no proper internal and external communication. Knowing this information can make running a new company seem scary. For over 15 years, WarmlyYours has found that the surest way to overcome that fear is to anchor your business to the strengths of your people. 
There's no "I" in "team, but there are plenty of individuals 
"Our research shows how important it is to understand and measure an individual's role in driving business performance," explains Sangeeta Badal, Ph.D., a senior researcher, at Gallup.
When you're trying to build your team, a lot of questions may occur to you. How do I know who to hire? What combination of team members do I need to make this project a success? An entrepreneur, particularly when the company is taking off, needs to find people she or he can trust.
At WarmlyYours, we solved this problem with a little help from positive psychology. Everything started five years ago. Julia Billen,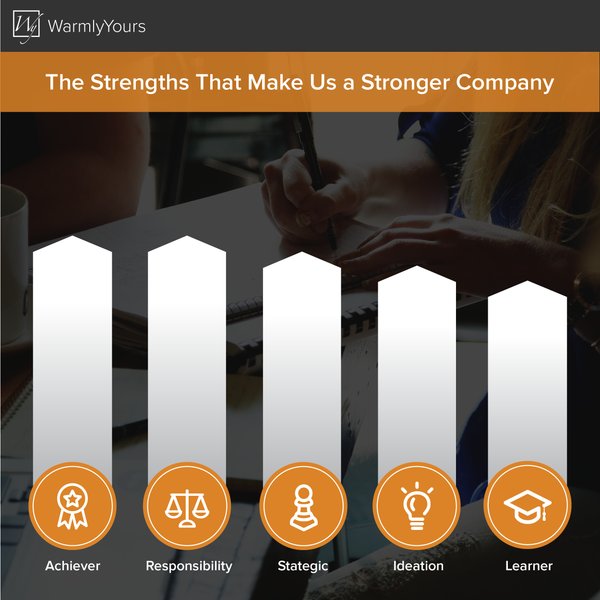 the owner and president of WarmlyYours, was very skeptical of the kinds of tests in which the goal is to label someone. 
However, one of her employees showed her the "Clifton StrengthsFinder" test: a web-based assessment of personality. Julia answered the test's 177 questions. Each item consists of a pair of potential self-descriptors, such as "I read instructions carefully" versus "I like to jump right into things." 
She was asked to choose the descriptor that best described her, and to identify the extent to which that option was descriptive of her. These answers help rank the 34 different strengths, like "Relator" and "Achiever," that the test measures. 
Once the test is completed, the user will see their top five strengths as ranked by the test. You can always unlock the rest of your 34 strengths, but the top five are a good starting point.  
Get the right people in the right place to maximize productivity 
"I didn't think that the test could capture my essence," Julia says.
However, after seeing the results, Julia felt that she understood herself in a better way because of the test. Since then, the StrengthsFinder test has become an important resource at WarmlyYours. You can't build a company if there's not a solid team to help. Nobody likes to fire people; it can be damaging to a company's morale and budget. That's why every applicant we consider hiring at WarmlyYours must take the test. 
"We use StrengthsFinder to understand ourselves in our professional and personal life," says Julia.
Once you know how someone scored, the next step is to understand what the best position would be for your new employee inside the company. As you better know your people, you will be able to make the most of their strengths and skills. You will increase their engagement by using all of their abilities. All of your employees' strengths will be working together properly.   
"At WarmlyYours, we hold regular meetings where we discuss a specific strength and how it affects the work that we do," Julia explains. For example, everyone with ideation is invited to a brainstorming meeting; no matter what department they belong to. In that way, we use our strengths to gain insights and develop strategies interdepartmentally. 
Leading by Example: Julia Billen's Top 5 Strengths

·      Woo: As a "woo," her goal is to get people to like her. She will try to use her charm to connect with people so they feel valued.
·  Communication: As a leader, she's able to communicate her vision — the direction of her company, and to express how to get there.
·  Ideation: She can quickly put together abstract thoughts and formulate an idea. "They might be a dime a dozen, but it does feed into my ability to create a vision for the company." Her brain never stops.
·      Adaptability: Julia thinks that being adaptable is a must-have strength of a leader: "you must be able to adapt to change —as the market changes— as technology changes and as competitors come into the market, or as new products disrupt the market."
·      Activator: She sees her everyday job as coming in and making  sure that things get done. This is where her activator strength is extremely helpful.  Activators like to get things done and, as a result, they are often impatient.

"But, not me, wink wink," Julia says.
---
Tell us About your Project
Our team of Radiant Experts is ready to help! Just tell us a little about yourself and your project to get started.
---
Did you find this post helpful?
Let us know by giving it some applause.
---
---